Sony Bravia X75K TV series has officially announced for Indian consumers with loads of features; along with four different display sizes. The four new models in the Bravia X75K TV series come with KD-43X75K, KD-50X75K, and the KD-55X75K and KD-65X75K will soon be available.
The TVs in the newly launched Sony Bravia X75K series come with their self-developed X1-processor that enhances the image quality of the display. Besides, the TVs from the Japanese makers come with Dolby Audio support and an enticing design. The minimal bezels on all the sides of the display give a premium feel to the new Bravia series.
Sony Bravia X75K TV Series Specifications
The Sony Bravia X75K TV Series comes in four different display sizes that include 43-inch, 50-inch, 55-inch, and 65-inches. The model numbers for each of the different sized display sizes are KD-43X75K, KD-50X75K, KD-55X75K, and KD-65X75K.
The TVs in the newly announced series come with the support of 4K Ultra HD resolution along with a Sony X1 processor. This proprietary chipset on the Bravia TV line-up helps in giving a more quality boost.
The Sony X1 processor, paired with the X-Reality Pro technology; helps the TV to upscale Full HD and 2K content to 4K quality. Besides, the TV series features the Motion flow XR technology as well; which will produce extra frame rates for giving a real-like look to the content. Moreover, the TVs run on the Android TV platform that comes with Google Chromecast for screen mirroring.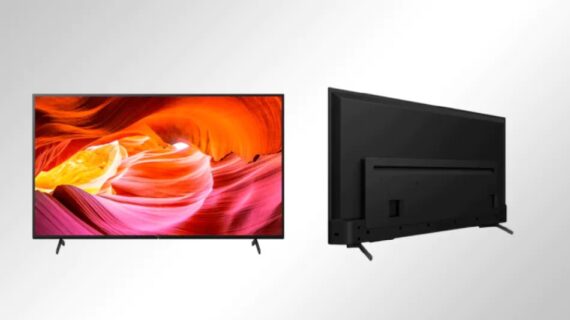 The Sony Bravia X75K TV series supports Apple AirPlay 2 and HomeKit; which makes it easy for video playback and support for home appliances pretty much convenient. The speakers provided on the Sony Bravia X75K TV series boasts a 20W tweeter that supports Dolby Audio. The support of the Dolby Audio on the TVs give the users an enhanced feel while playing games and watching games.
Price and Availability
The Japanese brand as of now has brought only two models of the Sony X75K TV models in the country. The 43-inch TV with a KD-43X75K model number gets a price tag of Rs. 55,990. Moreover, the KD-50X75K model numbered TV with a 50-inch screen size costs Rs. 66,990.
The new TVs from the Sony Bravia line-up are currently available in major online and offline stores across India.