What we think about
Softros LAN Messenger
Transform business communication to drive targeted results. Stay on top of every vine and control distractions to improve business efficiency and team productivity
Softros LAN Messenger is an intranet communication application that does not require a server to function. I came across Softros LAN Messenger while searching for an intuitive tool to improve productivity and real-time communication within the team. I downloaded Softros and had used it for fifteen days before penning down this review.
What Is Softros?
Based in Santa Barbara, California, Softros Systems Inc. was founded in 2000 with the purpose of developing network applications for medium- to large-scale enterprises. Apart from the LAN Messenger, they offer other products that include Network Time Server (for client-vendor projects dependent on time inputs) and LogonExpert (for monitoring the work of any virtual team).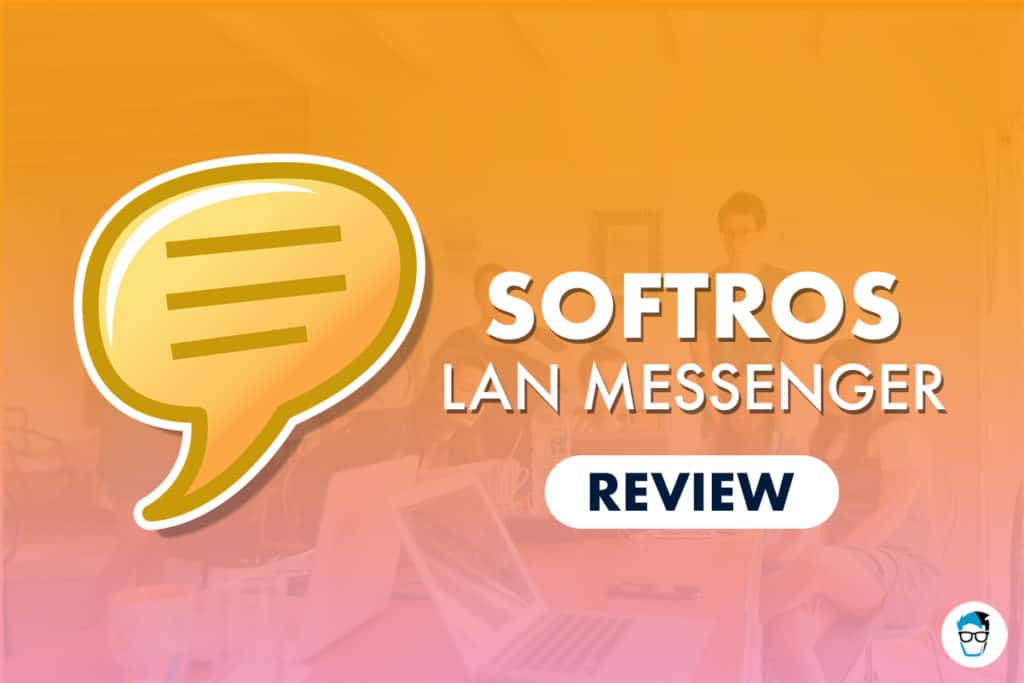 What Is LAN and Its Application?
Local area network (LAN) is an offline network that connects computers and other devices visible in a closed group area, such as an office. It can connect to a network with a couple of computers or hundreds of them.
The primary function of a LAN-based messenger is to enable instant communication without the need for Internet connectivity. The computer/device remains a part of the LAN unless it is removed from the closed group.
File transfers, message broadcasting, event notifications, and efficient team management are some other features of LAN-based applications like Softros.
Download and Installation
Softros LAN Messenger application is straightforward to download and install. Follow the installation wizard, and when done, all the team members of your organization will automatically show on the front screen.
Softros LAN Messenger Features
The following nine LAN messenger features are incredibly useful for any business owner or team manager.
1. Remote Desktop Sharing
I was intrigued to see that remote desktop sharing can happen without the internet. The stand-alone, peer-to-peer-based applications help you to connect with the desktop of other team members.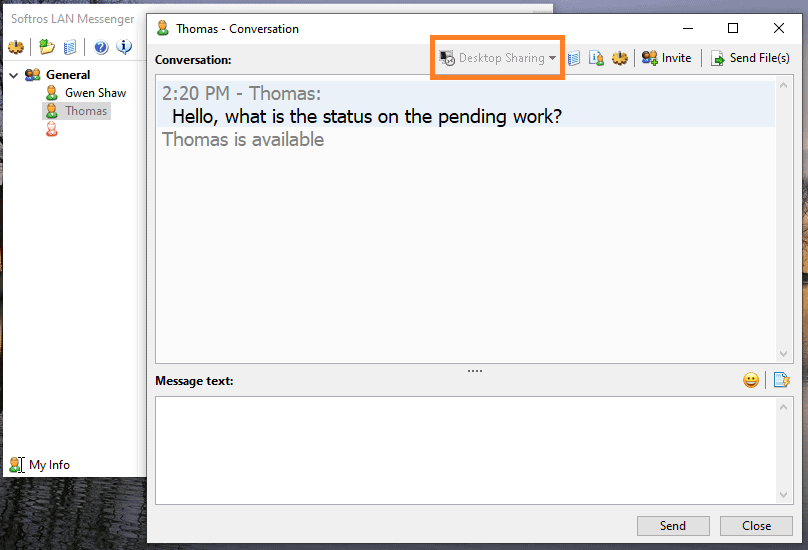 With just one click, I can now connect with and access the desktop of my colleague and help her sort out a technical glitch, which I might have been unable to explain by sending a text. Adios to TeamViewer!
2. File Sharing
Softros LAN Messenger eliminated the need to depend on multiple software to share and communicate.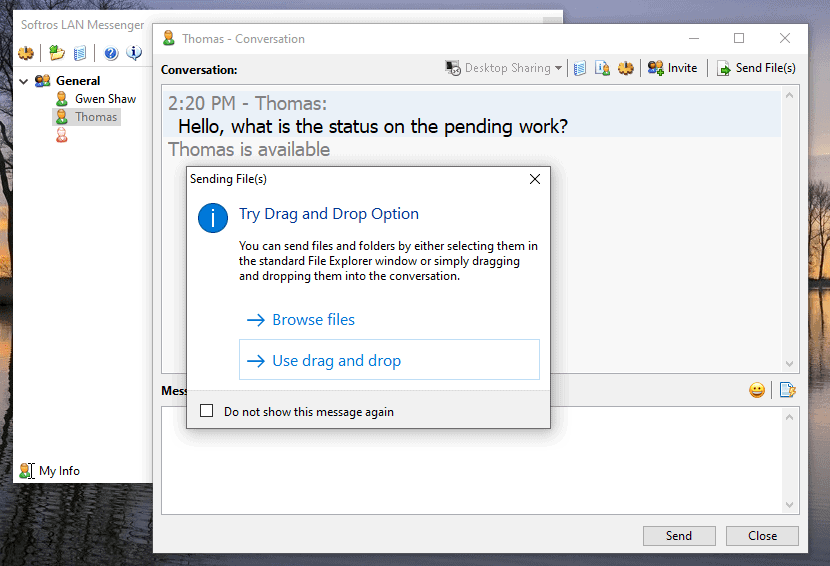 I no longer need to open any e-mail application, attach a file(s) and image(s), send them, and wait for a response. I no longer need to use other tools like WhatsApp or Skype either. Basically, I no longer need to rely on the Internet to get things moving.
On the chat window, I can share file(s) and image(s) with just a click, and it is accessible to my team member within a second!
3. Off the Grid
Even if the person I want to communicate with has shut down the computer system, I can still send messages that I know will get delivered once the computer is turned one and the application is active.
4. Security
All the intranet communication with Softros is encrypted with AES-256 standard, which ensures that the data flow remains within the chosen network and is not hacked or leaked publicly.
I can send messages and files safely without using any Internet bandwidth or being worried about privacy concerns.
5. Minimize Time Loss
Minimizing the loss of time is the primary reason I was compelled to download the Softros LAN Messenger application. With both remote and on-site teams, it is easy for team members to get distracted from work and open a browser on the side to access social media updates, shop online, or stream videos. It causes a loss of precious time.
And frankly, as a business owner, I am paying hard-earned cash to get projects off the floor and not to stream videos! Harsh, but true.
With the Internet being out of bounds now, I have seen my team perform way better in the last fifteen days than ever before.
They are focused, quick, and committed to the work. Tasks that took hours before are now getting done in an hour or less—that is a big feat to achieve! The higher the productivity, the greater the revenue.
6. Group Project Management
Apart from private one-on-one communication, I can create "Groups" with whom I can discuss specific projects and their progress. This is preferred over relaying the same information multiple times to different individuals.
It simplifies project management as I can now have the contributors, files, and updates on a single interface.
Also, I can use the Broadcast option to share multiple files with multiple users at the same time. Its drag-and-drop file-sharing interface provides a seamless experience.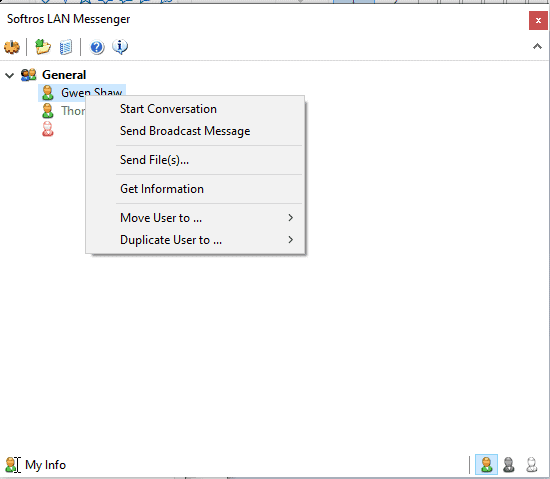 7. Setting Up Departments
I have thirty people in my team, and they have multiple distinct responsibilities and are a part of different projects. For example, Thomas handles client communication and five other projects. I can create various projects and add Thomas in each of them.
I can also create departments—such as Client Communication, Accounts, Sales, Marketing, and others—and add him there too. In this manner, I can segment the information I am sharing with him and keep it all well documented. Moving team members within departments and projects is now a lot easier.
8. Administrative Access
As the administrator, I can choose to give full access to everyone connected with the network or selectively choose the features to be visible and usable in LAN. This feature helps me to keep a few project activities private and restrict unnecessary intranet communication within connected team members.
9. History
Last but not least, its History Viewer option saves all communication on my system, and here I can search for any messages or files that went through the Softros LAN connection. Nothing gets deleted, and the interface is print-friendly.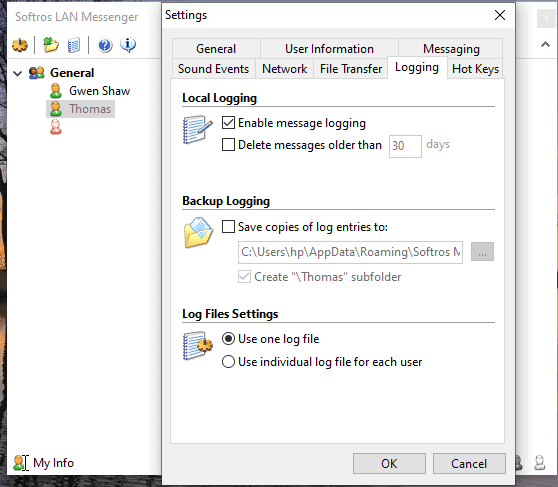 Technical Aspects
Here are some technical aspects to remember:
There are no deployment costs since the Softros LAN Messenger tool has a serverless architecture. No need to buy expensive servers and configure them. I had to buy the license, download the software, and install it. It barely took five minutes to get started.

There is absolutely no need for the Internet. Of course, you have to be connected to download and install it. In a home office network-enabled with WiFi routers, all the devices get automatically connected to the LAN system.
Softros LAN Messenger supports Windows, Mac, and Android.
Softros LAN Messenger supports Intranet, LAN, VLAN, and WAN networks.
Apart from English, it supports more than fifteen languages such as German, French, Serbian, Bosnian, and Indonesian.
There is full support of Microsoft and Citrix Terminal Services environments.
Active Directory is used to establish a domain controller environment. Active Directory retrieves the full names of users, and their SIDs are used for program identification.

Group Policy is used to establish license and network settings system-wide.
Android mobile application is available. It does not support iOS and Windows mobile users for now.
Download on Google Play
Final Words
I was looking for a private, pocket-friendly, and secured communication tool that would hopefully lead to higher productivity, and I got it all with the Softros LAN Messenger tool.
If you are looking for the same tool as I had been, download Softros. It is the best business investment one can make. Transform business communication to drive targeted results. Stay on top of every vine and control distractions to improve business efficiency and team productivity. Softros offer exhaustive support in case if you incur any problems while installing or running the software in day-to-day activities.
What we think about
Softros LAN Messenger