Skype has always been the first choice for most of the users around the world who are doing video calls. But as they say, nothing is perfect and nor is Skype. Yes, there are certain drawbacks regarding Skype too which the avid users will understand. Therefore, you must be looking for alternatives to Skype for making group video calls. We have, therefore, compiled a list of 10 best Skype Alternatives which have similar or even better features and functionality than Skype itself.
Video calling has always been a popular mode of communication for people who are living distant to each other. But in recent times, video calling has become the official mode of communication as well. This is to say that video calling is an official mode of communication for conducting interviews by companies who have employees working remotely.
For this, most of the companies have been using Skype as their preferred video calling application. Recently, a security researcher found out a major exploit inside Skype which could give an attacker access to the user's entire PC. After this, many companies have started to find apps like Skype as they cannot take the risk of being attacked.
If you are one of the users looking for Skype alternatives, you can have a look down below at the list we have compiled
10 Best Skype Alternatives
We know that Skype is the most popular video calling application out there. This application acquired by Microsoft in 2011 certainly offers a lot of features for all types of users. But as we mentioned earlier, a security exploit was discovered inside Skype which gave attackers access to a user's PC. This means that you must use the trusted Skype Windows app available from the Microsoft Store which is not vulnerable.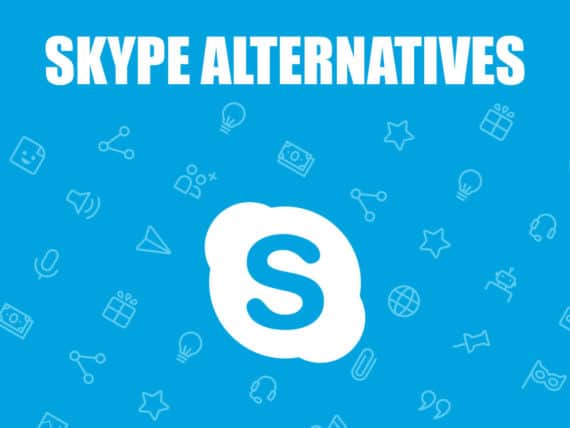 On the other hand, you can try out some of the free alternatives to Skype for Windows, Mac, Android, and iOS which we have listed down below. Our list of Skype alternatives includes a variety of applications such as WhatsApp, Facebook Messenger and even Facetime which is available only on iOS. Therefore, you will find an alternative for Skype even if you are using Android, iOS, Windows or Mac.
1. WhatsApp
First free alternative to Skype in our list is WhatsApp. WhatsApp is currently the most popular application around the world for social messaging. But it should be noted that WhatsApp offers voice and video calling too. Moreover, this video calling feature is available for individuals as well as groups and is totally free as well.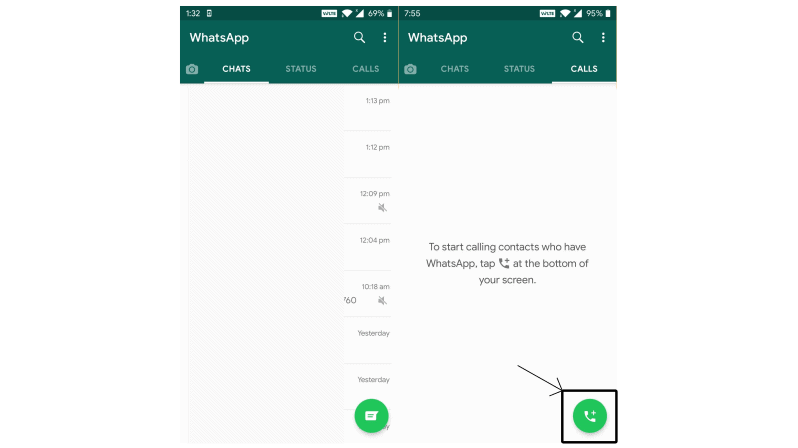 As far as features are concerned, you get everything Skype has to offer. For example, you can make a video call to your WhatsApp contacts living in any part of the world. Recently, WhatsApp got the update for making group video calls to your friends and family as well. This has been one of the biggest features available on Skype. Therefore, WhatsApp becomes one of the free alternatives for Skype that is currently available for both Android and iOS.
Cons
Group video calling is limited to 4 people only
No standalone web application
2. Facebook Messenger
Facebook Messenger is yet another great alternative to Skype. Interestingly, it is also a Facebook-owned application same as WhatsApp. However, the implementation of voice and video calling is different on Facebook Messenger. Facebook Messenger lets you video calling any of your Facebook friends. This means you do not need to have their phone number or email address to make a video call.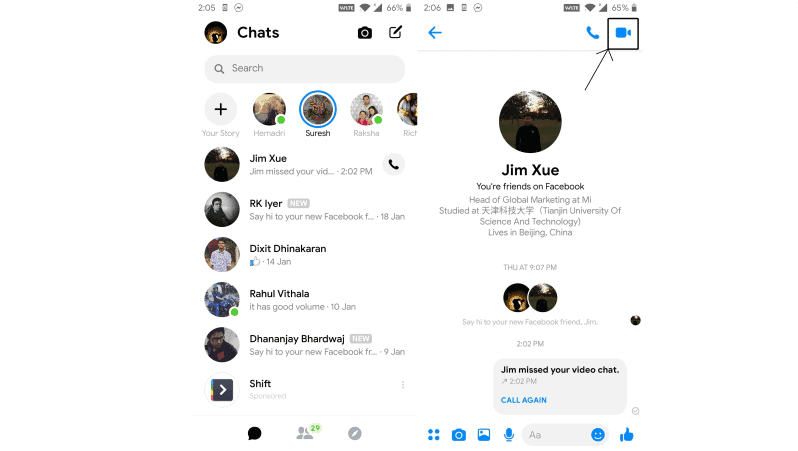 Regarding Facebook Messenger, it is available on the Web as a standalone application. Apart from that, we have the official Facebook chat app for Windows 10 as well. Obviously, Facebook Messenger is available on Android and iOS too.
Pros
Supports group video calls
In-app money transfer facility available
Cons
Video calling data can be used for personalized ads
Download Facebook Messenger for Android
Download Facebook Messenger for iOS
Get Facebook Messenger for Windows
3. Viber
Viber is a great application and another alternative to Skype. It also supports group video calling and it is completely free to use as well. Also, Viber is available on Android, iOS, Windows as well as macOS. Therefore, it should not be a problem to use this application even if you are on different platforms.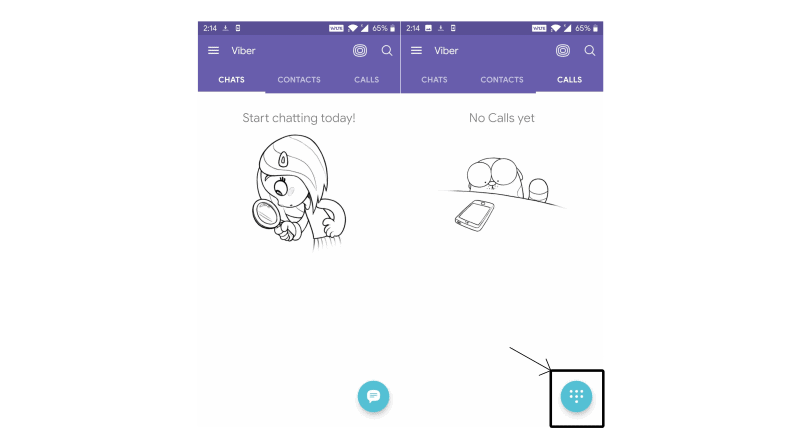 Viber has a desktop application too so that you can make group video calls even without your smartphone. This is an ad-free application so you do not have any issues regarding privacy and ads.
Pros
Ad-free
Supports group video calls for up to 40 people
Available on Android, iOS, Windows, and macOS
Cons
Viber Auto subscription required to call any phone number in the world
4. Google Hangouts
Our next alternative in this list of Skype alternatives is Google Hangouts. Google Hangouts is a flagship voice and video calling app from Google and is used by millions around the world. Google Hangouts also offers almost everything that is available on Skype.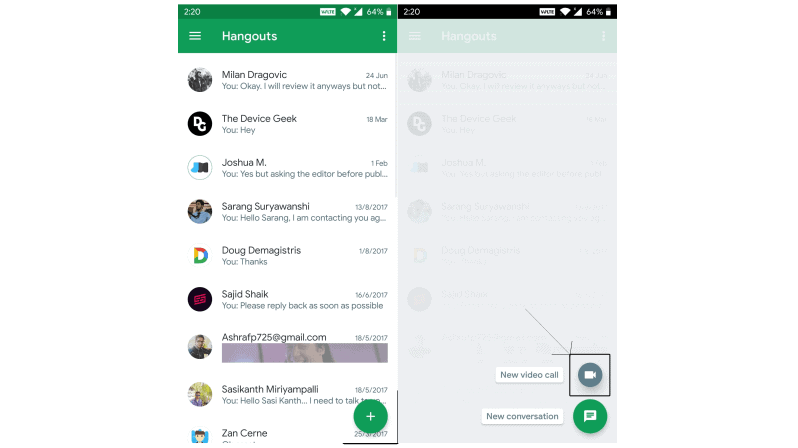 Moreover, Google Hangouts comes with cross-platform availability. You can use this application on iOS, Android and web browser simultaneously and they are synced in real time. One area where Google Hangouts comes out on top of Skype is live streaming. You can live-stream your hangouts with the help of Hangouts on Air. Later you can even upload the live hangouts on your YouTube channel with ease.
One of the biggest drawbacks, however, is that Google is halting support for Hangouts for regular and G-suite customers. But the G-Suite users will still be able to use Hangouts in the form of Hangouts Chat and Meet.
Pros
Supports group video calling with up to 10 people
Live hangouts with Hangouts on Air
You can also upload recorded Live Hangouts on your YouTube channel
Cons
Not available separately on Windows or macOS
VoIP calls outside of US and Canada are not free
Google Hangouts will shut down for regular users by 2020
Download Google Hangouts for Android
Download Google Hangouts for iOS
5. Facetime
Facetime is one of the flagship products from Apple. This feature is bundled with Apple's iPhone and it cannot be used from any other device. Facetime is the best alternative to Skype if you are using iOS or macOS. However, it is not possible to use Facetime at all if you are using Android devices or on Windows machines.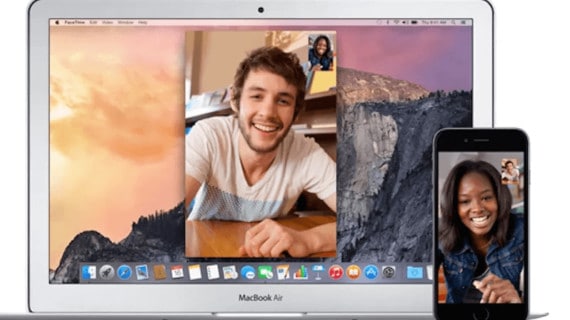 On the other hand, Facetime is one of the best group calling software out there for people in the Apple ecosystem. We would go on to say that Facetime is the best Skype Alternative for iOS users. Recently, Apple announced an update to Facetime with the launch of iOS 12 and now it supports group video calling with up to 32 people at the same time. Obviously, all 32 users must be using iOS or macOS.
Pros
Supports group video calling up to 32 people
Installed by default on all iOS and macOS devices
Cons
Restricted to iOS and macOS only
6. Slack
Slack is one of those Skype Alternatives which can be used as a great video calling application and it also supports third-party app integrations. You can easily make video calls through Slack, individually as well as in the group.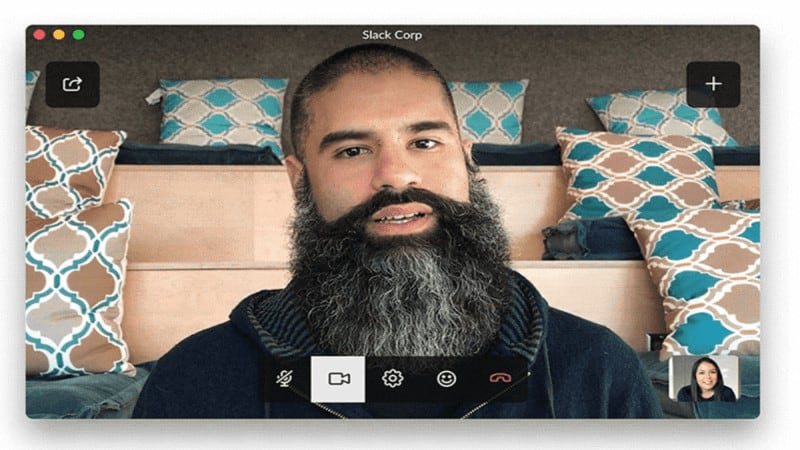 As far as compatibility is concerned, it is available on iOS and Android. The simplicity of Slack makes it a great alternative to Skype. Moreover, Slack interacts with services like Google Hangouts and Intercom for making video calls which is an added benefit.
Pros
Ability to use third-party apps
Supports group video calling
Integrates with Google Hangouts
Cons
Useful mostly for businesses and professionals
7. WeChat
WeChat is the next application that you can try instead of Skype. This application is available on iOS, Android and Windows. Talking about popularity, WeChat is hugely popular among Chinese users. Therefore, if you are making a group video call to China than you should definitely use WeChat.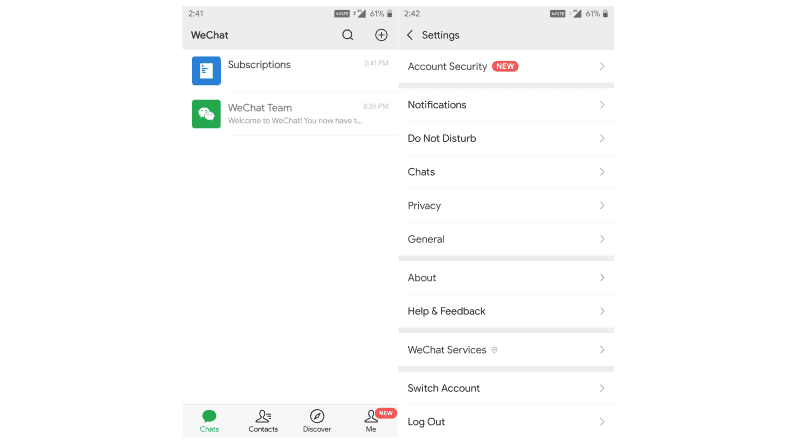 WeChat also allows you to invite your Facebook friends to this application. Once the invitation is accepted, you can make video calls among your group in a single tap. It is worth noting that the Indian Government has issued a warning against the use of WeChat in India due to the threat of spying.
Pros
Ability to make VoIP and Group video calls for free
Social Media integration to invite Facebook friends to WeChat
Cons
Not popular outside China
Spying concerns in India
8. GoTo Meeting
GoToMeeting is a video conferencing platform which not many may be aware of. However, if you are making a lot of video calls then you must have come across this platform at least once. This platform is available on every major platform including Android, iOS, Mac, and Windows.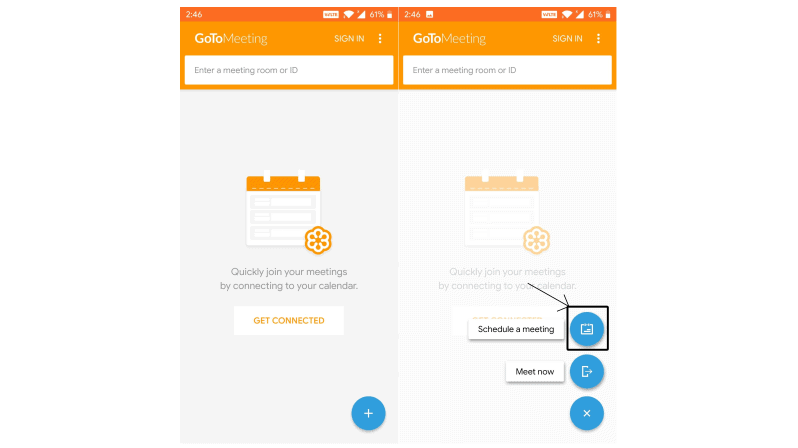 As far as video quality is concerned, it gives a very high quality of group video conferencing. You can connect up to 25 people at the same time at any conference. You can also share the screen, keyboard, and mouse on GoToMeeting which is great for business meetings.
Pros
Ability to share Screen, Keyboard, and Mouse
Can connect up to 25 people at a time for group video calls
Cons
GoToMeeting is a freemium application and not entirely free
Price starts from $19/month when billed annually or $24/month for a single month
Download GoToMeeting for Android
9. Voca
Voca is another platform which is entirely made for video/voice calling making it one of the best alternatives for Skype. You can make free VoIP to any part of the world through Voca. Therefore, if you are looking for apps like Skype for VoIP calls then Voca is the one for you. But the condition is that both the users should have Voca installed. If not, Voca has calling plans for internationals non-Voca users.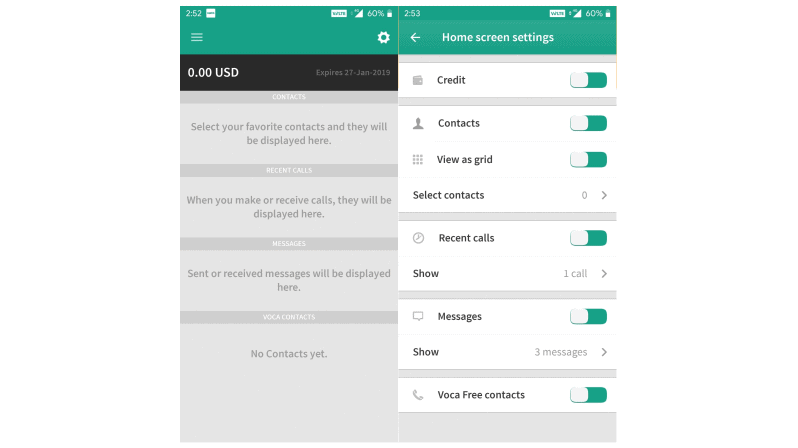 Voca is available for Android and iOS. Also, it comes with a very clean and simple interface which is easy to navigate. All your calls on Voca are guaranteed to be encrypted so you should have no privacy concerns.
Pros
Encrypted calls
Clean and Simple interface
Free VoIP calls for Voca users
Cons
Available on Android and iOS only
Video Calls to non-Voca users are chargeable
10. Talky.io
Talky is last in our list of Skype alternatives but it is also a great one. Talky, as the name suggests, is a video call platform based on Web. Most of the Talky users are businesses or professional and you can make group video calls on Talky as well. This platform supports group video calls for up to 15 people.
Talky is a web-based platform and it is also available for iOS. However, Talky does not have any Android or Windows application yet.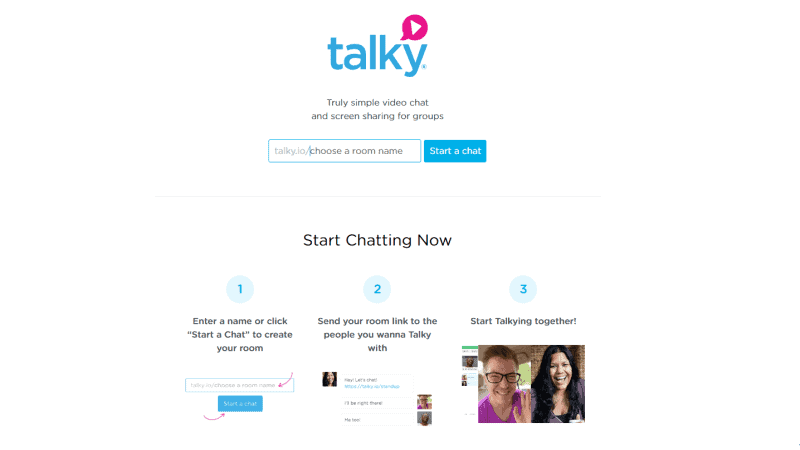 Pros
Support screen sharing
Locked video calling rooms for privacy
Supports Group Video calls for up to 15 people
Available for iOS
Cons
Talky.io does not have Android or Windows applications
Conclusion for Skype Alternatives
We know that Skype is definitely the most popular application when it comes to video calling. But if you are in search of alternatives to Skype, you can try any of the applications listed above. Make sure to read the pros and cons of each and every application so that it becomes easier for you to make the switch.
Also, we might have missed a great application or two from this list. So if you know of any other Skype alternatives which are not in this list then feel free to comment below. We will make sure to try out the application ourselves and include it on this list.