Since wireless charging technology was introduced several years back, many tech enthusiasts have expected it would soon go mainstream and give the conventional plug-in charger a run for its money.
But unfortunately, it hasn't happened yet. A lot of smartphone owners still hold on to their wired chargers, and it seems they can't easily let them go, at least for now. This begs the question: is wireless charging really useful? Or is it just an unnecessary solution for a non-existent problem?
Photo by Ted Eytan / CC BY-SA 2.0
To come up with a fair, balanced answer, let's look at the two opposite views about wireless charging.
Just a Hype?
A market research shows that 25% of mobile phone users (or one in every four people) use wireless charging, and almost all of those (98%) will use it again on their next device. That means three out of four people, who comprise the 75% of people who own smartphones, are still using the traditional wired charger.
Every new technology comes with its own issues and limitations, and the same goes for wireless charging.
One common complaint about wireless chargers is that they aren't fast enough. It takes hours to fully charge a phone without a wire, while wired charging can do that in about half an hour.
Another stumbling block to the widespread use of wireless power technology: no iPhone model supports wireless charging as of yet—not even the iPhone 7 that was speculated (prior to its release in September 2016) to be wireless charging compatible.
The competition between the two wireless charging standards, Qi and PMA, which use the same technology but with different specifications, makes it difficult for smartphone and electronics manufacturers to integrate wireless charging technology into their products.
Photo by aetherspoon / CC BY 2.0
The Next Big Thing?
While there are many misconceptions about wireless charging, it should be given credit for making one's life simpler and even greener.
You just plop your mobile device on a wireless charging pad and leave it to recharge. No dealing with bent, frayed, and messy power cords as well as loose and and broken charging ports. Charging without a wire is also safe, as there's a lower risk of tripping over a cord while the charger is being used.
Photo by Mark Atwood / CC BY-NC 2.0
Another advantage of the wireless charger over its wired counterpart is that the former enables mobile device users to charge their units on the go. In the recent years, wireless charging stations have become accessible to the public in various locations such as airports, hotels, cafes, and restaurants. Mobile wireless chargers are an option for people who often need to power up their devices on the go.
A less obvious advantage of wireless charging has to do with the environment. Although it's not really a green technology, it can make electronic gadgets become more energy efficient and sustainable, reducing e-wastes dumped on landfills.
The Future of Wireless Charging
Despite its slow adoption rate, the future of wireless charging seems to look up. In fact, it has been predicted that the global wireless power market will grow by 40 times in a five-year period, from $216 million in 2013 to $8.5 billion in 2018.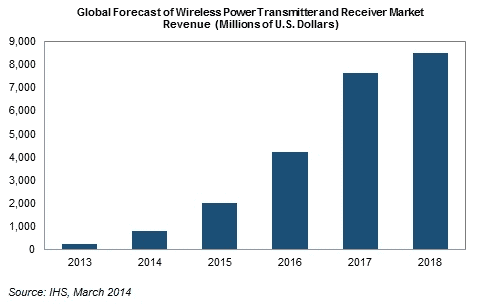 Image Source: IHS Technology
This won't be far from happening, with the rising number of mobile devices being directly integrated with wireless charging capability, as well as the issues affecting wireless charging (such as slow charging times) being resolved.
"For consumers, this means easier charging of their mobile devices and the elimination of pesky power cables," noted Ryan Sanderson, IHS Technology's associate director and principal analyst for wireless power.
Is Wireless Charging Worth Investing In?
While it's still a work in progress, wireless charging technology has definitely changed the game. The on-going developments and innovations in wireless charging still give us many reasons to be excited and hopeful about what else it can do the coming years.
Whether the future of mobile wireless charging is bleak or bright, it's too early to dismiss this technology despite its initial setbacks—or birth pains, so to speak. Who knows, in the not-too-distant future, wireless chargers will work like a Wi-Fi hotspot, automatically and simultaneously powering up multiple devices without direct contact with a charging pad? Only then can we probably kiss wired charging goodbye.