WhatsApp has started rolling out a new live location sharing like Google Maps feature to notify others about where you are. The application already has a feature to share a location with your contacts, but the live option is whole-new. Your friends and family can track you down with this new feature only if you prompt them the access.
The option WhatsApp already has allows you to statically share the location. And, you can't imply when you leave a particular place unless you send another message. On the other hand, the new feature allows you to update a person with your live-location even when WhatsApp is in the background.
WhatsApp Started Rolling out Live Location Sharing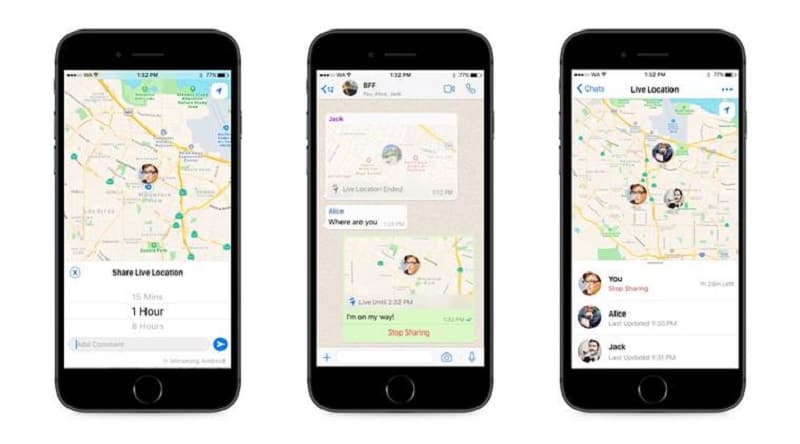 WhatsApp isn't the first to bring the live location sharing to the table. Their significant competitor Telegram already has this feature. Facebook's own Messenger app allows you to share the live location with your friends, but only for a fixed time of one hour. Apple's iMessage also has this feature with one-hour, one-day, and indefinite time limits. Even Google Maps added an option to share the location in real-time earlier this year.
Once you tap the attach button (or the plus button on iOS) and select the live location sharing button, you will have to choose the duration for which the person on the other end can track you. The app has three preset options; 15 minutes, one hour, and 8 hours. You can't enter the time manually, though. In case you don't want to do this, it is possible to share the static location as well.
The new feature brings another new option in the Account Privacy settings, which gives you an overview of the people you are sharing your live location with.
Also Read:- How to Download WhatsApp Stories on Android and iPhone
If you are on the receiving end, you can see the live location in a chat as a thumbnail that shows the initial location and 'Live Until' time. Tapping 'View Live Location' inside a group chat shows the location of all the people, who shared their live locations. Below the map, you can see all the names, a timestamp, and the margin of error (for example, accurate to 50 meters). The button right next to the name allows you to communicate with him/her using different means in WhatsApp.
You can stop the live location sharing anytime you want. And, the company officials have confirmed that they have worked hard to minimize its impact on battery life.
Although they have started rolling out the feature, many users reported they didn't get it. If you haven't got the feature yet, you need to wait a few more days.