The smartphone world never stops astonishing us. Gone are the days we used cellphones only to communicate with each other. We now have quad cameras, high-quality DAC, under-screen fingerprint scanner, removable gaming controllers, dual screens, foldable displays, and what not!
We have also seen prototype models with under-screen cameras. With the outburst of Chinese manufacturers, Samsung seems to have taken the backseat in the race. The spontaneous inflow of the budget makes the Chinese companies carry out researches to come up with innovative features.
This Samsung Smartphone is Going to Surprise You
We know Samsung has delved into the field of smartphones with foldable displays. However, they haven't released the device out to the masses yet. It's no mystery that they have taken patents for different smartphone designs. Of course, all the concepts won't make it to reality.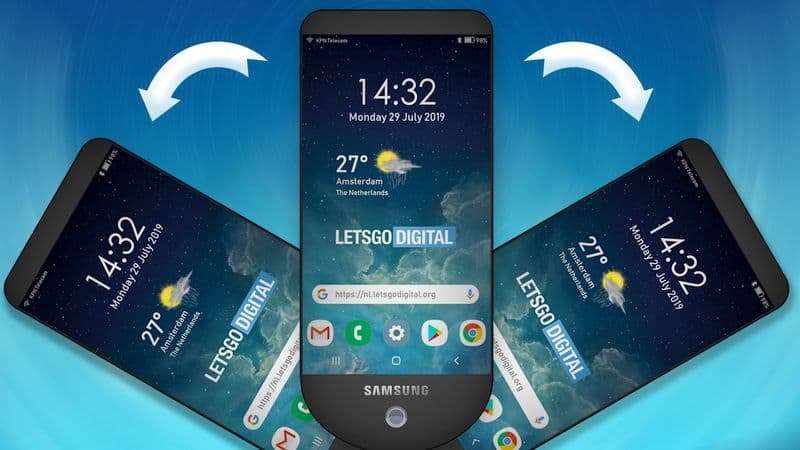 Recently, a new display design patented by Samsung surfaced online, according to LetsGoDigital. Unlike every other design concepts leaked online, this one will surely surprise you. If the concept becomes a reality, the phone will have three screens stacked over one another with the bottom attached together. On moving the top away from each other, the whole phone resembles a ceiling fan.
The patent flaunts three thin screens sitting on top of each other. You can navigate and scroll through each screen on swiveling them. It looks like they have no plans to include a physical button (in case the concept becomes a reality). The camera sensor is also invisible. In this world of full-screen display and pop-up camera, we don't think to have a large bezel helps.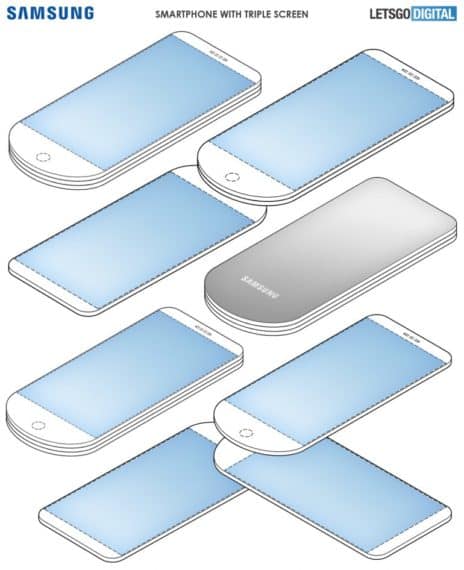 As exciting and adventurous as the design looks, we don't know how it's going to function. They have filed the design for the patent back in August 2018 and it gained the approval March this year. The patent application first came out via Let's Go Digital.
Is it really going to be a reality? We know Samsung failed to make their foldable smartphone commercially? How are they going to approach the user experience with three distinct screens? One thing we are sure is it's impossible to spot a smartphone with this bizarre screen design in the real world anytime soon.
With the resources and budget these manufacturers possess, they can one day shatter our conventional idea of how a mobile phone looks like. They are constantly in pursuit of ways to outclass each other by bringing innovative features however weird it may seem. Once came to the practicality, notches were abnormal. Slowly, users got along with it.
So, what do you think about this design? Will Samsung ever made a phone with this display design?