The Note 7 disaster hasn't gone from the minds of Samsung fans. If the fiasco hadn't happened, it should have been the best smartphone of 2016.
A few days ago, we heard a news that refurbished Note 7 was are going to hit the market. We didn't cover it here because Samsung denied the news.
As Samsung halted selling Note 7, not many came to know about a new security app they introduced, Secure App. It fulfills all the standard requirements of a person, who wants data encryption on his/her mobile phone.
S7 and S7 Edge Users don't Need a Third-Party Encryption App Now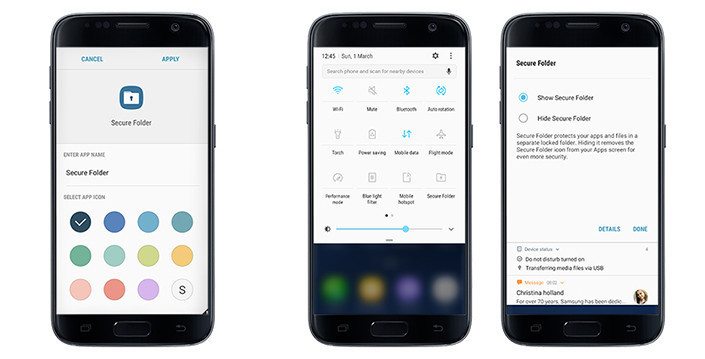 Yeah, Samsung has made the Secure App official today. Even before it comes out officially, people were able to get the leaked version.
First, I want to clear the fact that not every Android phone is eligible to use Samsung Secure App. You must have an S7 or S7 Edge. Can every S7 users download Secure App? Sadly, no! Your phone should be running on Android 7.0 Nougat.
Provided that the company has rolled out the update, there will be no issues. In case you have the phone and not yet updated, don't hesitate to do it.
We first spotted Samsung Secure App on Galaxy Note 7. Then, the app made its way to a few Galaxy A series devices as well.
Once you ensure that you have the latest Android version on your S7 (or S7 Edge), you can install the app from Galaxy App Store. Make it clear, not Google Play Store, but Galaxy App Store.
The company uses their Knox platform to provide you with an encrypted space to store all your sensitive data; be it images, documents, videos, contacts or apps.
Also Read:- Samsung May Launch The Galaxy S8 On April 21
After the installation of the app, you will get the option to hide files on the gallery, contacts, file manager, etc. Alternatively, you can open Samsung Secure App itself to add files for the encryption.
The best feature of the app is we can use it for multiple accounts. For example, you can copy an app to Secure app and use a different account on it. The regular unencrypted app works the same way with the old account.
You can use PIN, password, pattern or fingerprint as the decryption method. Secure App allows you to change the name and the appearance of itself to avoid getting caught for keeping private data. Moreover, you can hide the Secure App itself from the app list as well.
If you want to change the data when you replace your phone, you can use the backup feature. For that, one should use the same Samsung account.