Samsung Odyssey Ark 1000R curved gaming monitor with high-refresh-rate support has officially launched in India. The latest edition of the curved monitor for gaming enthusiasts from Samsung was first teased at CES earlier this year. The brand officially announced the product in August and launched it in major international markets.
The newest curved gaming monitor from Samsung features four tweeters with 60W output and Dolby Atmos support. Samsung is bundling a Height Adjustable Stand (HAS) with a curved monitor for tilt and turn functionality.
The monitor for accomplishing these tilt and turn actions use the in-built Cockpit Mode provided by Samsung. Let's have an in-depth overview of the new Samsung Odyssey Ark 1000R 55-inch Curved Gaming Monitor's specifications, pricing, and availability.
Samsung Odyssey Ark Curved Gaming Monitor Specifications
Samsung Odyssey Ark 1000R gaming curved monitor sports a huge 55-inch screen size with a resolution of 4K. The screen resolution of the monitor includes pixels of 2,160 x 3,840. Besides, the monitor supports a high refresh rate of 165Hz and an aspect ratio of 16:9.
On the insides, the monitor gets powered by Samsung's Neural Quantum Processor Ultra. The Quantum miniLED technology used on the monitor has a response time of 1ms with local dimming.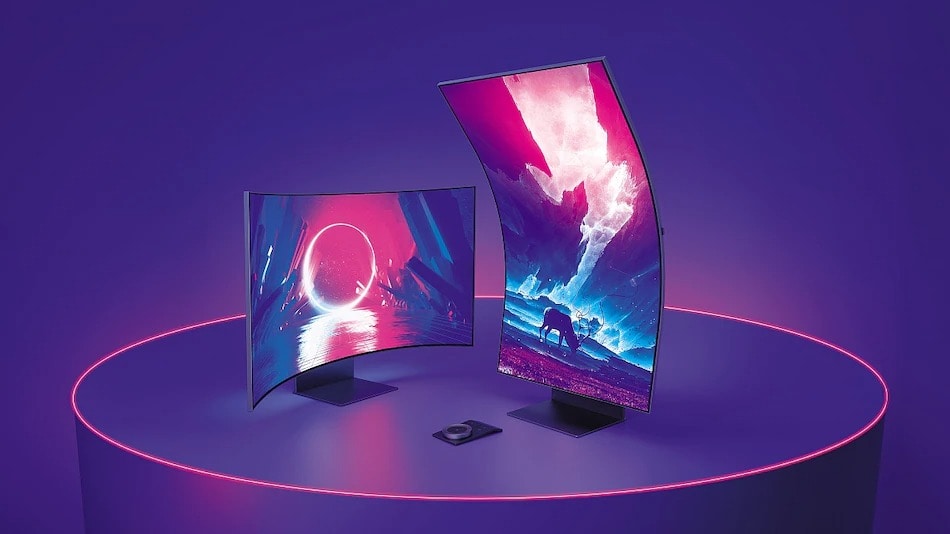 The curved screen comes with the flexibility of switching the screen size to 27-inches with the help of the provided Ark Dial Controller. Additionally, the users can adjust the screen ratio's in three different modes: 16:9, 21:9, and 32:9.
Furthermore, the Odyssey Ark monitor comes with a Contrast ratio of 1,000,000:1 and AMD FreeSync Premium Pro support. The Premium Pro support for AMD FreeSync gives the monitor the ability to support variable refresh rates while gaming.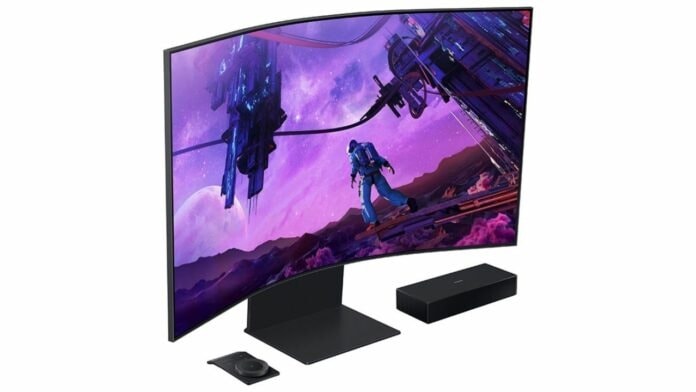 The inclusion of HAS or Height Adjustable Stand with the gaming monitor gives a multi-view functionality allowing users to display up to four screens simultaneously. Samsung has a dedicated cockpit mode to accommodate the multi-view functionality options on the curved monitor.
The connectivity options on the monitor include four HDMI 2.1 ports with Consumer Electronics Control (CEC) support and an Ethernet port. Lastly, the Samsung Odyssey Ark 1000R curved monitor arrives with four speakers and two woofers of 60W output. These speakers on the monitor out-of-the-box come with the support of Dolby Atmos audio.
Price and Availability
The Samsung Odyssey Ark 1000R 55-inch curved gaming monitor costs Rs. 2,19,999 for the single-color version of Black. The monitor is available for purchase on Samsung's official website and other authorized offline stores across India.
The brand is even offering quite a few exciting offers on this newly curved monitor between October 10 and October 31. The offers provided on the monitor include an instant cart discount of Rs. 10,000 and a 1TB Portable SSD T7 Shield USB 3.2 solid state drive.