We have been witnessing several leaks, rumors, and expected spec overviews of Samsung Galaxy S8 for the last few months. Yesterday in an event, the company had put a full stop to all those by launching the device.
Samsung has a lot to prove with the latest flagship given that the Note 7 hoax severely affected their reputation. Let's have a look at what Samsung has to offer with S8 and S8+.
Samsung Launched Galaxy S8 and S8+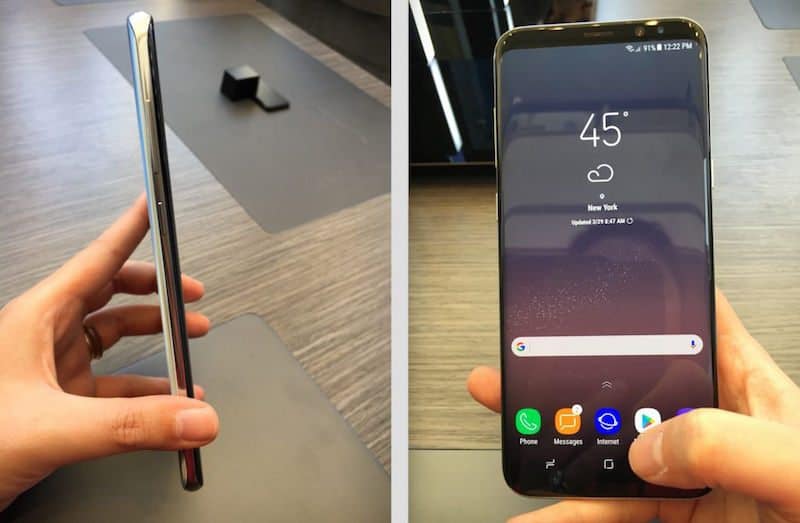 Samsung launched their first flagship of 2017 at an event yesterday. As expected, the smartphone comes in two variants; the regular S8 and an advanced S8+ version.
The most attention-grabbing part of Galaxy S8 series is the display. They have chosen an almost bezel-less display. Even with some small bezels sitting on the top and bottom of the screen, the phones are handy. The S8 sports a 5.8-inch screen whereas the display on S8+ measures 6.2-inch. The edge-to-edge design of these smartphones is far more impressive than what we saw last year on S7 Edge. Samsung calls it the infinite display.
They have ditched the physical keys on the bottom of the screen and replaced them with the same number of physical buttons found at almost the same position. The best thing about them is you can swap the order according to your convenience.
The fingerprint scanner has gone to a weird position now, right next to the camera (not beneath). And, you may have issues placing your finger exactly on it. Maybe, Samsung tries to push you to use the iris scanner more often than the fingerprint reader.
The rear camera is pretty much the same as that of S7. But yeah, you can expect some decent shots, coming out of it. And, selfie cam got an improvement; this time with an 8 MP sensor.
Underneath the hood, every spec looks promising. Almost all of them remain the same as revealed in S8 leaks. You get an Snapdragon 835 chipset with 4/6 GB RAM. If you want more than 64/128 GB internal storage, you can swap in an SD card as well.
There are two big things you get with Galaxy S8; Bixby and DeX support. Bixby is the digital assistant Samsung have developed. They told in the event that they aim at making it do everything we do with touches. Given that Android Nougat already has Google Assistant, we are unsure about how people react to having to apps of the same category on their phones.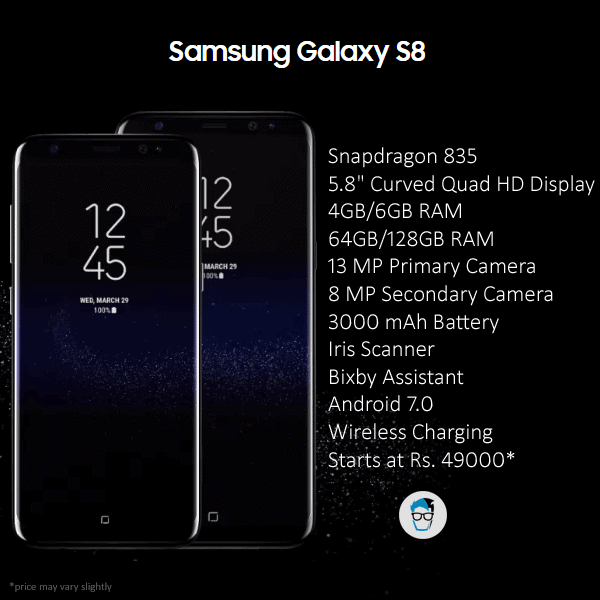 Samsung Dex is a special dock to which you can connect a mouse, keyboard, monitor, and of course, your phone. But why? Well, you can then use your phone as a CPU for a mini computer. Samsung sealed a deal with Microsoft to provide Office support to Dex users.
They haven't announced the price yet. It will go on sale on April 29 in the US.