The Samsung Galaxy S9's waves haven't gone static yet. And, the leaks and speculations surfaced on the web about their next flagship, Galaxy Note 9. We are hearing complaints about UI latency issues from S9 users. Maybe, that's what pushed Samsung to quickly work on the next device.
You know how it goes with the renders and leaks. People even publicize fake images to get loads of eyeballs to their pages. What happened here is the exact opposite. Samsung Africa has listed a device with the model number SM-N960U on their support pages.
Samsung Africa Listed Note 9 on the Support Page
In case you are wondering where the listing went, the obvious has happened. As the news gone public, they have deleted the premature listing. We heard news of Note 9 making its way to GeekBench listing last week (model number SM-N960U). You can check the details from the image given below.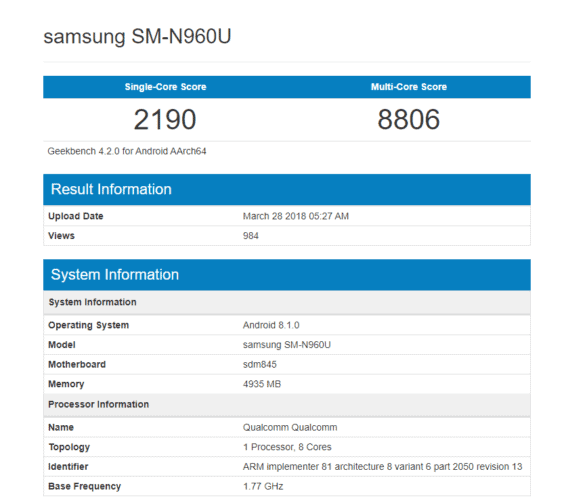 Coming to the latest news, the official support pages of Samsung Africa had listed the device. However, they removed the page as the news went viral. Even if they hadn't pulled out the page, we couldn't have known the detailed specifications of the smartphone. The listing was that much premature with a few articles on the main content area.
Combining the GeekBench listing and speculations, Samsung Galaxy Note 9 will share the design profile of its predecessor. We expect it to feature a 6.3-inch Super AMOLED display that comes with a resolution of 1080x 2048 pixels. If you already saw Note 8, you know how the display looks like.
As we go deep down, the leaked SM-N960U sports Snapdragon 845 processor underneath the hood, coupled with 6 GB of RAM. Nonetheless, there is a strong buzz that Samsung might release the device with the brand-new Exynos 9810. Of course, there will be multiple storage variants as well.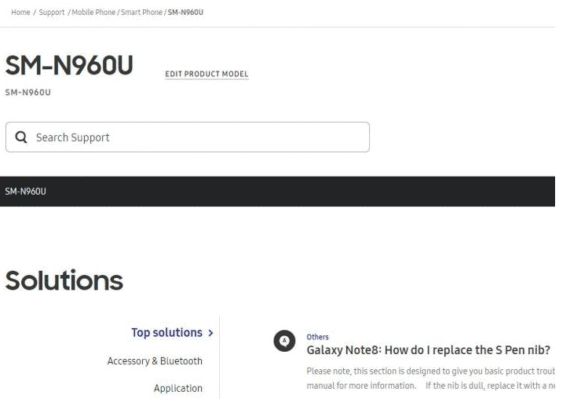 When it comes to the camera, the talk in the tech industry is that it will have a dual rear camera setup with two 12 MP sensors. They will also include an 8 MP sensor for selfies too. S9 and S9+ cameras can vary the aperture. So, the same feature can find the spot on the upcoming offering. Given the trending AI-powered optics, the Note 9 cameras might come up with the same.
When the device hits the market, we can expect it to run on the latest Android Oreo 8.1. Moreover, we expect a 3850 mAh battery to power Note 9 as well.
Then again, it's too early to comment on the release date and the price. But we can expect a quick launch provided the poor sales number of S9 series.