Amazon's Fire TV Stick is a clever little creation that permits you to rapidly and effectively get to a portion of your number one mixed media stages and games just by connecting to your TV's HDMI port. The arrangement of the gadget is candid, with plenty of applications and modules accessible is comprehensive, making it an unquestionable requirement to have a device for the amusement monstrosities among us.
In any case, likewise with all innovation, once in a while, things turn out badly, and there may come when you need to reset Amazon FireStick and Remote to factory settings. This article will focus on various ways that can help you to reset Fire TV Stick.
Regardless of whether the Fire TV Stick is faltering or just needs a fresh start to modify its application choice without any preparation, restoring the device to normal settings is a generally fast and direct cycle that shouldn't take more than a couple of moments.
So, without wasting any time further, check out how to rest Firestick without remote and even how to reset a Firestick remote.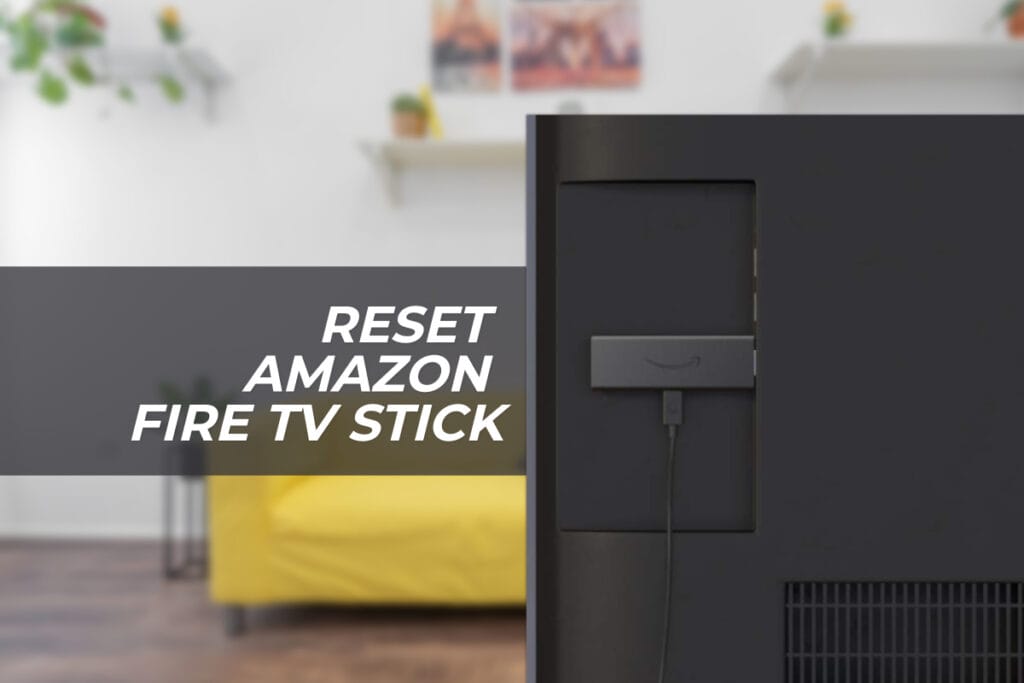 Why do you need to Factory Reset Fire TV Stick?
If are not happy with the product or it is faulty and you want to return it, it is advisable to factory reset Firestick before returning it.
You might want to sell it to someone else or purchased a new one, better to reset Firestick and then handover to the new owner.

If someone did some blunder while setting up Amazon Fire TV Stick and need to factory reset Firestick for a fresh start.
Do keep in mind that resetting the Firestick will deregister your Amazon account from it and make it look like a new one. You should begin once again that incorporates blending your remote, interfacing with your Wi-Fi, adding Amazon credentials, downloading applications, and other things.
How to Reset an Amazon Firestick using Remote
If you have Amazon Firestick Remote, you can factory reset Firestick by following the different methods given below:
Process 1: How to Reset Firestick Using Settings Menu
Turn on your Amazon Fire Stick. Wait until the home screen is loaded.
Navigate and click the Settings icon using the Amazon Fire Stick remote and scroll down to reveal a list of Menu options.

Scroll to the right side on the list of options in the Settings menu. Then you will get the My Fire TV option and select the option. You will get a sub-menu.


Scroll down to find Reset to Factory Defaults and select it.
A notification will appear on the screen. It is an alert message stating that the fact of resetting your Fire Stick to factory settings will delete all of your apps, login information, and personal preferences.
If you're ready to go. Then click on the Reset option, and the process will begin.

A confirmation message like the below will flash on the screen during the entire process.

Note that the reset process will require about 2 to 5 minutes, you need to wait until it is done. After reset you should set up Amazon Fire TV Stick again from starting, including entering your Wi-Fi credentials, your Amazon username, and password, and all login credentials for movie applications like Netflix, Hulu, etc.
Process 2: How to Reset Fire TV Stick Using Remote
Is your Settings screen stuck or lagging while using the above method? If yes, you can reset Fire TV Stick using remote buttons. Yes, you heard it right, you can use your Fire TV Stick remote to reset it to factory settings. Let's check, how it can be done.
Before starting the process, make sure that the remote must be paired to your Amazon Fire TV Stick. If it is a new one, then you need to reset it again and pair that new remote by holding the home button for at least 20 seconds.
Switch on the TV and Fire TV Stick device.
On your remote control, press and hold the back button and Right head direction button together for 10 seconds until the Reset screen shows up.

Follow the onscreen instructions (as mentioned in Process 1) and you have factory reset Firestick successfully.
Process 3: How to Reset Firestick Using Someone Else Remote
Did you lost your Fire TV Stick remote or can't find it when you need to factory reset Firestick? Do not worry, it's very easy to reset Firestick using someone's else remote. Just pair it with your Amazon Firestick.
Use the navigation buttons on the remote, follow Process 1 which we have mentioned above. That's it, you are done factory resetting Firestick even without your remote.
How to Reset Firestick Without Remote
Check how you can reset Firestick if you can't find any Fire TV Stick remote on the planet. There are few methods that you can try at your convenience.
Process 4: How to Reset Firestick using the FireTV App
This process is pretty easy and you need to download an application on your mobile. There's FireTV App for both iOS and Android. Both these apps let you control the FireTV Stick's program on your TV.
Download and install the FireTV app on your smartphone.
Now connect your smartphone to the same Wi-Fi network your Fire TV Stick is connected to.
Open the Fire TV app and your Firestick device name will appear in the list of devices. Tap on it.

A four-digit code will show up on the TV screen. Enter that into the app to pair your smartphone with Fire TV Stick


You will now see a remote interface in the app that will help you control your Fire TV Stick.
Tap on the Settings icon and select Fire TV Settings.

Using down arrows in App, navigate to My Fire TV.
Select Reset to Factory Defaults and wait for the process to complete.
This is how you can reset a Fire TV Stick without a remote using Amazon Fire TV mobile application.
Process 5: How to Reset Firestick without Wi-Fi and Remote
In this case, if you forget your remote or if you have Wi-Fi problems at your home. Even in such terrible situations, there's one method (a trick to be frank) that can help you to factory reset Firestick without Wi-Fi and Remote.
Change your router name and password to the last Wi-Fi network that registered on Fire TV Stick or create a hotspot connection from your mobile with the same name and password as your previous Wi-Fi.
This will help to connect your Fire TV Stick and your phone to the same Wi-Fi and then use the FireTV app on your phone to navigate and reset the Fire TV Stick as explained in Process 4.
We hope the above steps may help you on how to reset Firestick with and without a remote. Though the process is easy, sometimes it doesn't work as planned, or reset options may create problems due to network issues. In those cases, replace the battery of the remote or check with Wi-Fi connections by rebooting the router. Eventually, you will be succeeded in resetting Firestick.