It usually happens completely unexpectedly: and, as a result, Photoshop project files end up being damaged. One of the possible reasons is that your anti-virus tool or firewall erroneously identifies the file as a threat. It could also be that a power drop occurred while a large image file was being saved or an old hard drive crashed during a read/write operation. Finally, it could be that the loading or saving of a large file was unexpectedly interrupted and never finished. If you share, send or synchronize large files, obsolete versions of Photoshop installed on your computer may not work correctly with new data types, such as smart objects.
Whatever the reason, a PSD file may occasionally fail to open in Photoshop or another program. So what can you do about it?
Recovering data from a corrupted PSD file
PSD Repair Kit (https://www.psd.repair/) is a tool serving a single purpose. The program loads a damaged file and transforms it into something that you will be able to open in Photoshop, save and use later on.
The first step is to choose your damaged PSD file and click "Next". Following a short analysis phase, you can preview the content that the program managed to extract.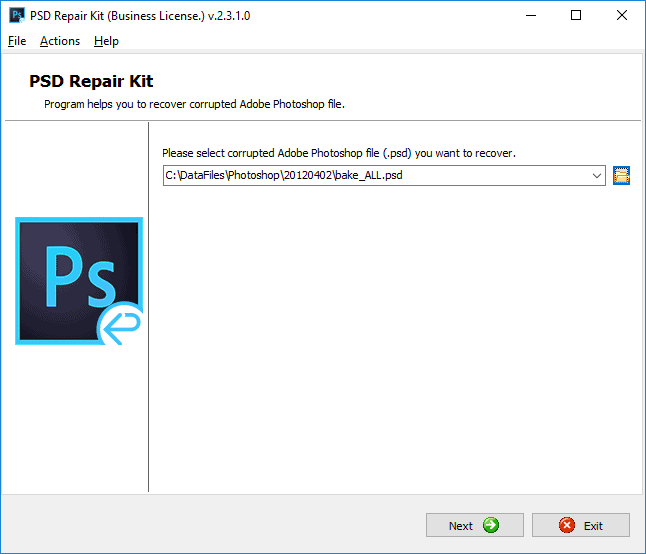 You can visually inspect each layer from the file being repaired on the «View data» tab in PSD Repair Kit to learn what was actually found in it. That's when you really start to appreciate the importance of proper naming for layers and objects in your project. Yes, we all do that, but it's another good reason for giving layers clear names. Make a note!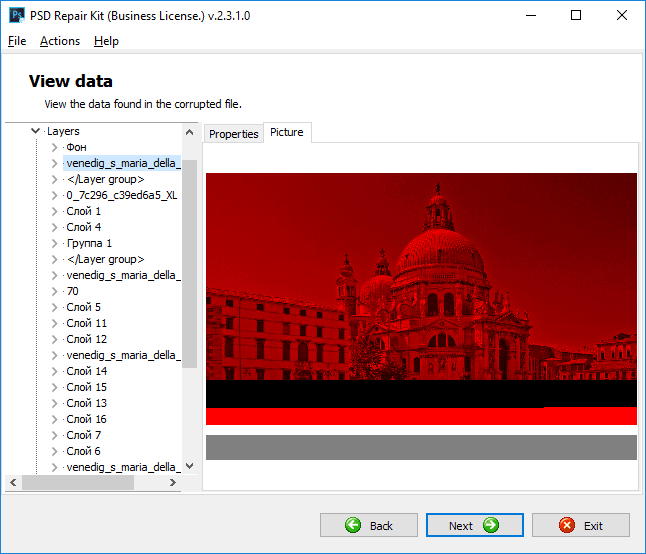 Once you are done reviewing recoverable objects and their properties, you can proceed to fix the entire project. It can take some time depending on the size of your file. The tool has a progress bar that lets you see how much time it will take.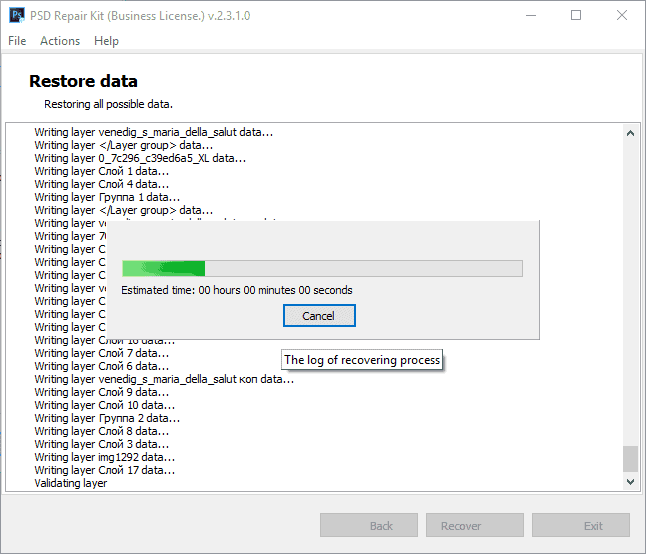 In the end, all objects and layers are saved to a new file. You will then be able to view everything right in Photoshop.
It is fast and simple.
PSD Repair Kit works under Windows only and doesn't require Adobe Photoshop to be installed.
Online tool to repair damaged Adobe PSD files
You can also try the online version of the software available at https://www.psd.repair/#online for uploading and recovering PSD files. This online version supports all operating systems, including Windows, MacOS, iOS, Android, and others. All you need to do is open your favorite web browser and choose a file, specify your email address, then enter the characters from the captcha image. The file will then be uploaded to the server for recovery.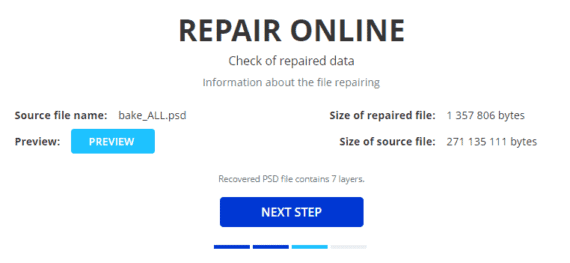 The online service is cheaper than the program. The cost of the recovery service is just $10 per file. Therefore, if you want to recover a single Photoshop file, you will be better off doing it online instead of purchasing the program.

Why would I need it?
If you are a regular Photoshop user with some corrupted PSD files, you may occasionally be irritated by seeing error messages like "unexpected end of file", "not a valid photoshop document" or similar messages. And if you've been working on a project for days, it can turn into a catastrophe. If you are a Photoshop professional working full- or part-time for various customers, a damaged file may result in the loss of a job or contract.
Besides, if you are using an older version of Photoshop (and many people actually do that in spite of the irritating Adobe Genuine Software pop-ups that mistakenly report an invalid version), you are not getting any tech support for it. In that case, a PSD file recovery tool will be a true savior.
Pros and cons
As for pros and cons, the pros column for the software highlights its ability to work with modern and older versions of Photoshop (3.0 and above), as well as the support for PSD and 8BPS files. In fact, PSD Repair Kit has a good history and supports Windows 98, 2000, XP, 2003, Vista, 7, 8, 8.1, and 10.
Another useful feature enables you to not just recover an entire PSD file, but also to extract individual layers from it. This ability comes in handy if you can't make it work as a multi-layer file. It's a rare occasion, but it's great to have any extra options that you can resort to in order to recover your file.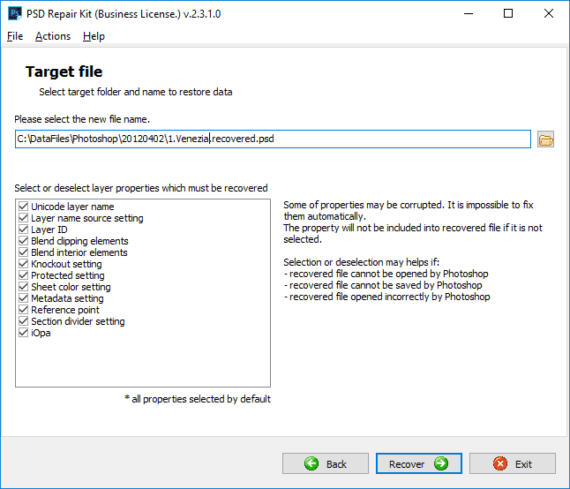 What's on the negative side? Truth be told, there isn't anything negative to mention. Although the functionality of the program is quite limited, it does its job very well. It's not easy on the eye, but we'd personally prefer tools to be simple and intuitive—and help us recover our beautiful photos in Photoshop.
In a nutshell, PSD Repair Kit is a simple and effective "lifesaver" for any Photoshop user, regardless of how old your Photoshop version is. Actually, the newer your version of Photoshop is, the more likely it is that the tool will give you peace of mind.
Summary for those who are still here
You can get a free demo version of PSD Repair Kit from their official website. If you'd like to purchase it for personal use, it will cost you $27. Commercial licenses are $45. The price appears to be completely justified for a solid tool that does the trick and can save you from the loss of your work.