In recent times, it has become a trend to increase the number of cameras on a smartphone. It all started with dual rear-facing cameras and now we have a quad-camera setup introduced by Samsung. Due to this, many people are now shooting more videos with their smartphones and are editing all those videos on the go. These videos are shot ".mp4" format which is the basic format of every video shot on a smartphone. These files can be corrupted easily and are necessary to fix corrupted MP4 files.
Sometimes, these videos have some issues that can be due to many reasons, like, transferring videos to an unsafe system, removing the SD Card/smartphone while transferring the videos, etc. These files can end up being unplayable from the system and can be corrupted if the system is also corrupted. So, in this article, I am going to show you how to repair damaged files using a simple tool.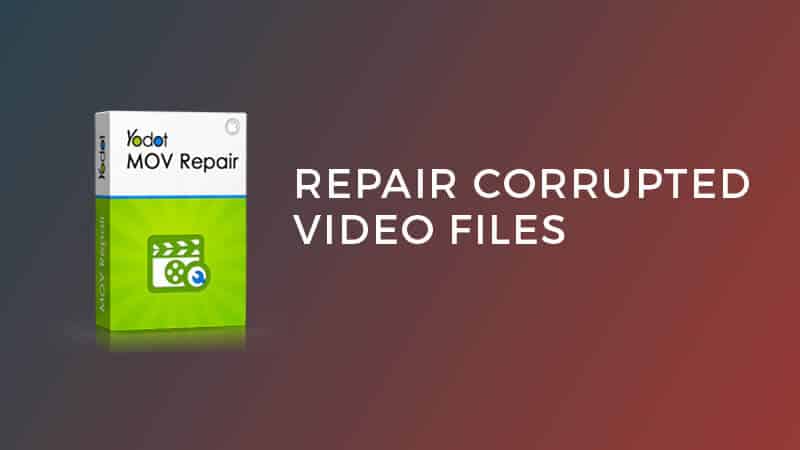 In this fix, I am using Yodot MOV Repair tool that can fix corrupted MP4 files, MOV files and M4V files that are corrupted due to mishandling of cameras, use of faulty firmware, restoration of OS, and many more. Please keep that in mind that it is a paid-to-use tool so you guys have to pay $69.95 for this tool to work.
Features of Yodot MOV Repair Tool
It can repair broken, damaged, inaccessible, unplayable MP4, MOV and M4V video files
It extracts video and audio frames separately from corrupted video, repairs it and attach them together to
create a playable video file
When data frames are missing, Yodot software skips those frames and completes the file repair process
Flexible enough to repair high definition videos created by HD camera, CCTV cameras etc.
It's read-only and 100% virus free features makes it more reliable and trustworthy tool
Yodot utility consists of a simple and handy user interface, so even amateur tech savvy can perform repair process easily

Repaired video can be verified using 'Preview' option, before saving it
To help users, it provides 24X7 free customer support service
Repairing Corrupted MP4 Files
Follow this step by step guide to repair unplayable video files using Yodot MOV repair software.
1. Install Yodot MOV Repair Tool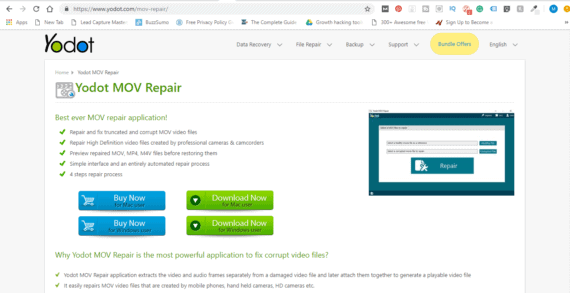 Firstly, you need to download Yodot Video Repair from the official website. This tool is currently available for Windows and Mac operating systems and repairs different formats of video files. To fix .mp4, . m4v and .mov files, you have to download Yodot MOV Repair, to repair .xvid, .divx, and .avi files, you need to download the Yodot AVI Repair.
After downloading the tool, double-click on the installer file to run the setup files and follow the on-screen instructions to complete the installation process.
2. Select a Healthy MP4 File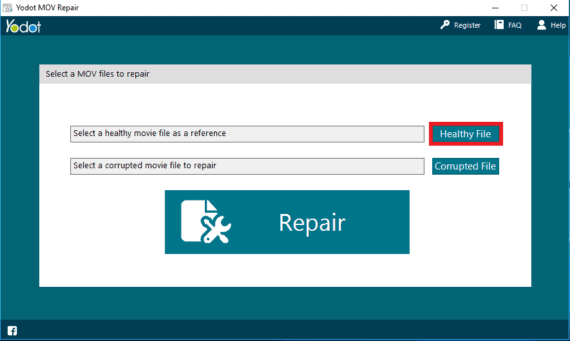 After installing the software, open Yodot MOV Repair and click on Healthy File button. Now you need to choose a healthy and playable MP4 file from your system. Make sure both healthy and corrupted files are recorded from the same device.
3. Add the Corrupted MP4 File and Click on Repair
Now, add the unplayable MP4 file and click on the "Repair" button to repair damaged video file. Yodot MOV Repair tool will now try to fix the corrupted video file with healthy file as reference.
4. Preview or Save the Repaired File contents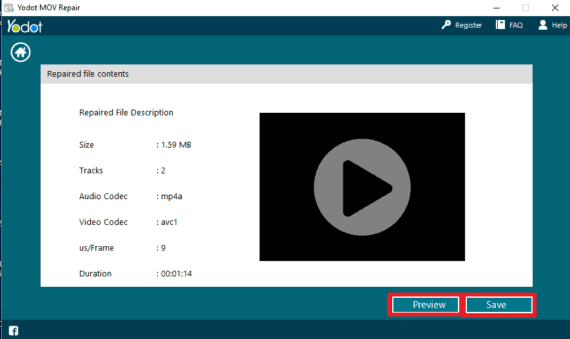 After the repair, the tool will show the repaired file contents, like the size, tracks, audio codec, video codec, duration, etc. You can either preview the content by clicking on the "Preview" button or save it by clicking on the "Save" button.
In order to save the file, you need to buy the full version or enter the license key if you already have one. Unfortunately, no free trial is available for this tool. If you are happy with the video preview and want to save it, the only option available is buying the full version.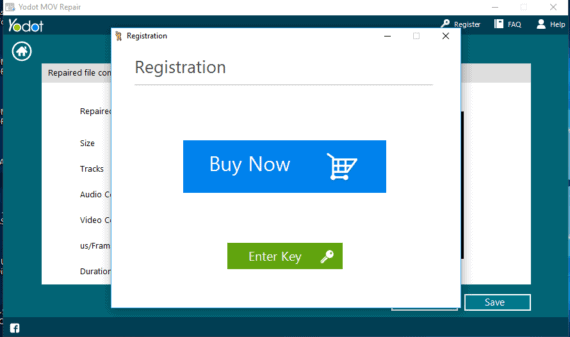 Conclusion
In the end, I would say that Yodot MOV Repair Tool is a great way to repair unplayable videos files in a simple and easy manner. Not only that, Yodot also offers other various services like file recovery, hard drive recovery, and photo recovery. All of the services offered by Yodot can be helpful for many people who seem to lose their data very frequently.
Do you know any other MP4 Repair tools that could fix corrupted MP4 files? Please leave them in the comments section down below as it would be helpful for our readers.