Is your PST file damaged and looking for a way to repair a outlook PST file? Then check this simple yet awesome guide. PST file is repository of MS Outlook to store all mailbox items like emails, contacts, calendars, journals and tasks. Each time user opens MS Outlook application, PST file loads every item and present it to users. But some user's complaint that whenever they open Outlook they receive some typical type of error message like "The PST file cannot be accessed" or like "File patch could not be found". They don't know what the reason is,but are hold without accessing their PST files data.  Read this guide to know what the reason for these errors in PST file is and how to repair a corrupt Outlook PST file.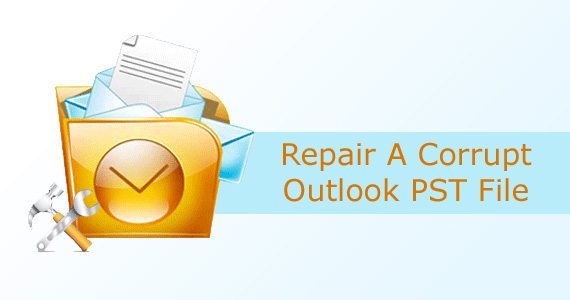 Let us tell you first the reason for why your PST file is showing error messages on starting up MS Outlook. This could have happen when you have corruption in your PST file, in such case all of the contents stored on PST file become inaccessible. Now, you might be wondering that what are the reasons that are responsible for PST file corruption in Outlook.
Reasons For PST File Corruption In MS Outlook
One main reason for PST file corruption is abrupt closing of Outlook application; some users close the Outlook simply by clicking on closing button that does not help to save running programs in Outlook. As a result the data gets lost.
Another reason for PST file corruption is virus or malware in computer or Outlook. The virus or other bugs damages the integrity of Emails and other mailbox data which results in inaccessibility of files.
Message header of PST file is another reason for PST file corruption in Outlook; if header of the message gets corrupt then Outlook refuses to open the message. This lead to inaccessibility of PST files contents.
Last but not the least corruption issue in MS Outlook PST file is oversizing. ANSI PST files in Outlook possess 2 GB size limitation over data, in case it gets about to reach or filled, then PST file might get corrupt.
Easy way to repair Outlook PST File
Now after knowing about the corruption issues of PST file, next step is to find out ways to repair PST file. Well to deal with such circumstances, Microsoft has provided the built-in solution to fix the issue named as Inbox Repair Tool (Scanpst.exe).
To repair PST file using Scanpst tool users have to first close Outlook if it's in running mode.
Then go to location of Scanpst.exe on your system which varies from Outlook version to version, here this is location of Scanpst on

Windows 7:

C:Program FilesMicrosoft OfficeOFFICE12

Windows 8/8.1:
C:Program FilesMicrosoft OfficeOFFICE15

Now, double click on it to run. Browse the PST file to program click on 'Repair' to fix the issue.
Unfortunately, this tool only fixes header corruption issues in PST files; therefore in case PST file is heavily corrupted then make use of third party Outlook repair program. There are plenty of online organizations those provide solutions to fix PST file issues. But now again question here arises is how to choose the best recovery program that does not affect the data integrity of saved files. Well! In such case the right answer must be using the demo version of respective tool before investing a single penny into it. If you are in search of tool which is available with free demo version then make use of Outlook Recovery tool.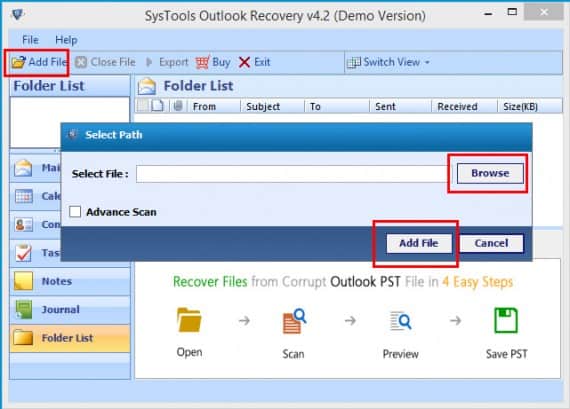 Outlook PST Repair Tool is designed to match to your expectations as it is rendered to repair a corrupt Outlook PST files. The software will help to recover even permanently deleted items from PST file without any loss of data from it. Moreover the software work superbly with password protected PST files to recover data without any complications in a way.