A very frustrating thing that we would ever experience is Virus or Malware on PC or Browsers. As the Internet era has been advancing rapidly, many users have been exposed to it. More the users, more will be the opportunity & interest for the geeks to spam the internet. Such spam is a headache to the users. Clicking some malicious or unwanted link might install a malware or virus on your PC and work accordingly. In this article, I'll be discussing on How to uninstall webssearches from your browser. Generally, spam is of many types and each have their own mechanism of work. Some steal all the private data, while some run in the background and some act according to the developer and so on. However, spamming is kind of fun to the one who's doing it, but a very frustrating thing to the one who's experienced it.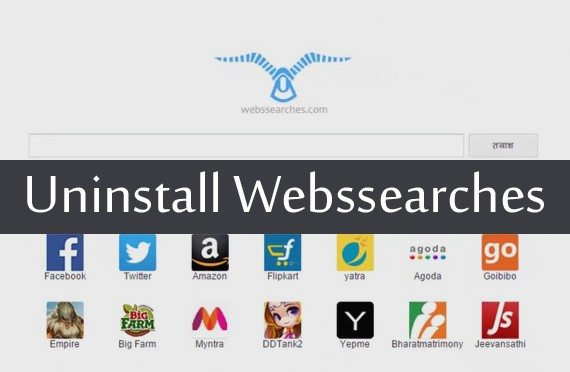 What is Webssearches?
Webssearches.com is considered to be the in the category of Potentially unwanted programs(PUP's). It is a browser hijacker, as it changes the default homepage of the browser without your permission. Search Engines and the browser shortcuts are also changed to webssearches.com to default without your permission. Basically, these are included in some free softwares in the PUP's. Softwares that we download from Softsonic, Cnet, Brothersoft etc, might contain these type of hacks. We go looking for some software, download it and now we have this hijacker playing on our browsers.
Is it easy to get rid of these kind of malware? Believe me, it isn't. There is a standard procedure to be followed to get rid of this.
Uninstall iStart.Webssearches.com From Your Browser
There are series of steps to be followed to uninstall webssearches hack from your PC.
Remove Malicious software from PC by uninstalling it from the Control Panel.
Remove webssearches from Register Directories.
Install AdwCleaner on your PC and remove/uninstall webssearches from your PC.
Once you are done with AdwCleaner, Install Shortcutcleaner and remove/uninstall webssearches from your PC.
Now, change the browser shortcut properties. Remove the site URL from the Shortcut tab.
Run a Scan with HitmanPro. Find out whether you are successful in removing/unistalling istart.webssearches.com .
The above are a series of operations to be performed to remove/uninstall istart.webssearches.com as a default homepage. In fact, this process works for all browsers. We find many browser hijacks of different sites and the problem could be solved by following the above process.
Removing through Control Panel
Of all the steps involved, this is the easiest one. Open Control Panel-> Programs-> Uninstall a Program and then search for 'adware' and you could find a PUP by the name of Malicious Software in your installed programs list. Uninstall it in the very first step.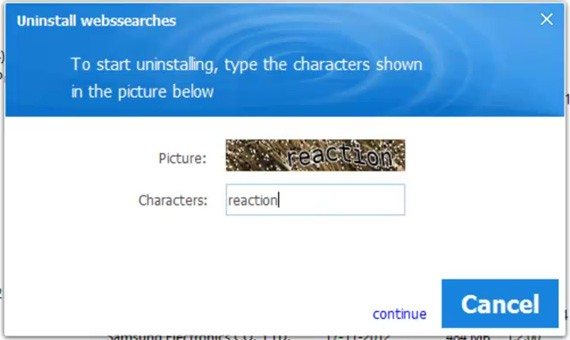 Remove Webssearches from Register Directories
Once you're done with uninstalling Malicious software from the Control Panel, the next immediate thing you should do is, to delete all the entries in the register directories. To delete, Goto RUN by hitting Win+R keys and type regedit.exe then, press CTRL+F and search for webssearches. Delete every entry you find, one by one. Once you're done with this, follow the below process to uninstall webssearches completely from your PC.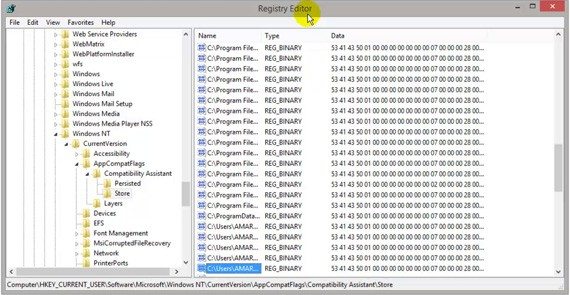 Uninstall Webssearches using AdwCleaner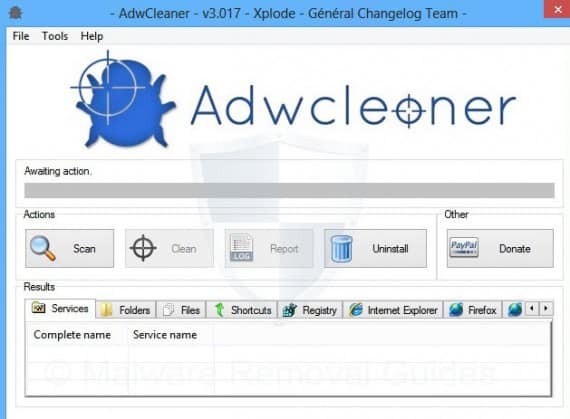 AdwCleaner stands to be the best among those softwares available to clean the unwanted and malicious softwares or programs running on your PC. So, install AdwCleaner on your PC( if you do not have). Before starting the AdwCleaner, close all the browsers. Open it as Administrator and start a Scan. Once the scan results are developed, click on Clean. This removes the malware of default start page. So, now when we change the browser settings, they obey us.
Uninstall Webssearches using shortcut cleaner
As you've now cleared the default homepage settings of your browser redirecting to istart.webssearches.com, you're still left with the browser shortcut files that are being redirected to istart.webssearches.com . To remove these, you need to install Shortcut cleaner on your PC. And the best part is, running it is easy and more similar to AdwCleaner. Just run as an Administrator and it will automatically start the scan. If any malicious softwares or programs found, this tool will clean them and creates a log file on your desktop. You can view it any time you want to.
Change the Browser Target Address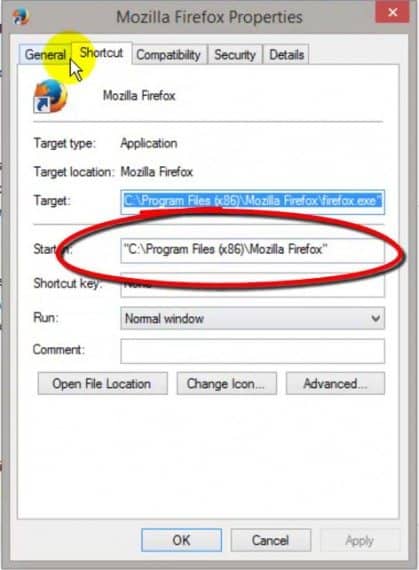 Right click on your browser icon and change the target address. So, with this, you're almost done removing the webssearches.com hack on your browsers.
Run a scan with HirmanPro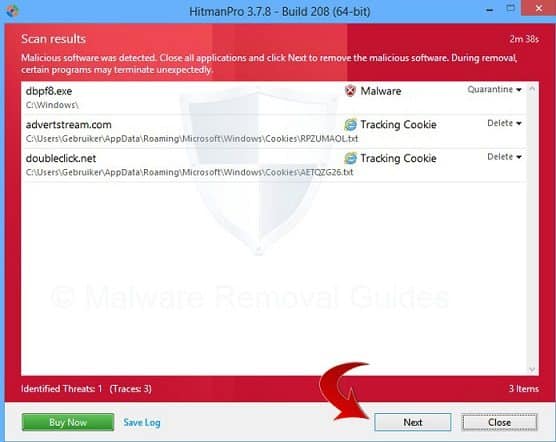 Now that you've removed the istart.webssearches.com malware from your PC, its time you download and install HitmanPro on your PC and run a scan. This stands to be the best software to detect any Potentially unwanted programs still running on your system . If there are any issues you experience with HitmanPro, hold the left CTRL key and double click it to open it in Force Breach mode. Once opened, run a scan and wait for the results. Maximum chances of positive results can be expected if you had followed the above process.
ALTERNATE PROCEDURE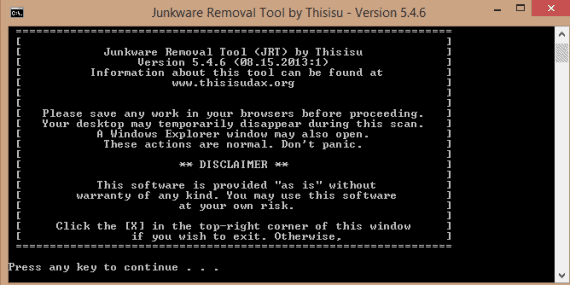 If you are not very patient to follow the above process by installing different softwares on your PC, then there is an alternate method to scan any sort of viruses or malicious softwares on your PC. Install JRT on your PC and start a scan by pressing any key once opened. It will automatically scan your whole PC for PUP's and automatically clean if there are any programs found on your PC. It then creates a log file of its activity performed as .txt file and you can view it when ever you want. If this rectifies your problem, then you probably may not follow the above standard procedure.
Make sure you change the default homepage to your required page once the scan is completed. These softwares will help you give command over your browser again, but will not remove the istart.webssearches.com as your homepage. You must manually change it in the browser settings.
Video Tutorial
So, this is the process to uninstall webssearches from your system browsers. Hope you get rid of it by following the above mentioned process. Feel free to comment if you find any trouble to uninstall istart.webssearches.com as default page from your PC. Thank You.