Finally the long wait is over. Google releases a tool which helps to remove spam backlinks from our own. Can't understand what I'm talking? Some of newbies may laugh out badly after hearing this. But this tool plays major role now mainly because of panda and penguin updates. Unnatural backlinks to your site may make your nailed completely. Unnatural links are nothing but spam backlinks, I mean links from non-related niche sites, P-r-*-n sites etc. I know you won't try to get backlinks from such sites, but your competitor or haters may do this foolish and shameless things. Yes, I'm 101% correct, I observed these kinda cases recently. But no need to worry now; Google Disavow Tool can solve these problems easily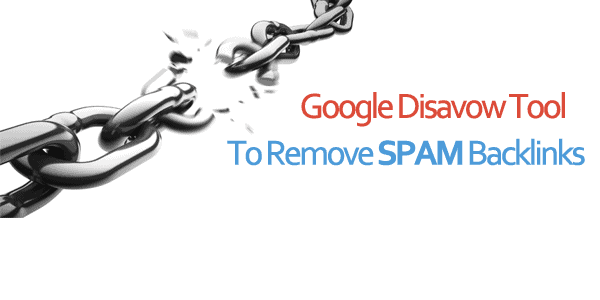 What is Google Disavow Tool 
Google Disavow Tool is new feature launched by Google in Webmaster tools. If you find any spam backlinks to your site, you can request Google to remove them via Google Disavow Tool.
Using this tool is quite simple, if you don't know how to use it; no worries this guide might help you.
Also Read: 14 Best blogging tools for every blogger
Use of Google Disavow Tool
I can say Google Disavow Tool used in simple words, but I'm m thinking to explain them in details with examples. Let me start reaching uses of this tool. Are you ready? Let's go..
Being a blogger, we dream to get a good Page Rank. To achieve this we start commenting on other sites (mainly Do-Follow) and sometimes Guest posting. In general while guest posting, we might do it on good and popular blogs. No problem arises here.
The only problem starts while blog commenting. While commenting, Backlinks are only our target. So we comment on every blog with our homepage link forgetting about our site niche.
Also Read: 40 Ways to increase website traffic 
Say, your site deals with Mobiles but you'll comment on sites which deals with bikes, health etc. This thing will surely kill your site.
Next phase problems starts from our haters. They comment with our site links on foolish blogs and sometimes even on P-r-*-n sites. Those backlinks are dangerous for any kind of site. Then we have to contact owners of those sites to remove our link. This method is time taking and even won't work in all cases
But now these problems are solved. Simple we can remove those backlinks ourself using Google Disavow Tool.
Now I hope you understand the benefits of this new tool from Google
How to use Google Disavow Tool?
Before using this tool I want to say one thing to all. This Google Disavow Tool is not for every blogger and blogs. If you feel your site is effected with spam links or if you see any backlinks which are not made by you, then you must use this tool.
Also don't try to test this tool. Geeks always try to test anything. Submitting a request to remove those backlinks are removed completely from your backlinks list. If you remove any good backlinks by mistake or to test this tool, it will affect your site badly. Be careful while handling
Check backlinks first 
First make a list of spam backlinks you want to remove. To do this, first check all your backlinks using Google Webmaster tools.
Log-in to Google Webmaster tools
Click on your site name
Now click Links to your site under the Traffic section
Here you can see entire backlinks to your site. See the screenshot for reference. Go through these backlinks carefully and note down un-trusted or suspicious backlinks

Requesting Google to Disavow them
Ok, well I hope you understood well about this tool and in order to Disavow spam backlinks, follow below mentioned steps
Login to your Webmaster tools account and click here
If you have added more than one site in the same account, select the domain name in which you need to Disavow backlinks and click DISAVOW LINKS

Now you will see something like this and click Disavow links again

You have to make a text file (.txt) which includes links you're requesting to Disavow. You should add one link per line. You can add as many links you can but be carfull while adding. Once you submit the text file to Google, those links are Disavowed in 1-2 weeks. You can edit that text file in the future to add more links.
Google says that this tool is currently in the first phase and we can get more features in this tool soon.
For more details and FAQ's click here
See what Matt Cutts say about Google Disavow Tool