A few days ago, Airtel announced free 4G data up to 30 GB for their postpaid customers. Reliance Jio is already on the top of the list for the offers with their Dhan Dhana Dhan.
This time, they have come up with another offer exclusively for Vivo smartphone users. Vivo, the title sponsor of Indian Premier League has joined hands with Jio to release the new offer.
Reliance to Offer Up to 168 GB Free 4G Data to Vivo Smartphone Users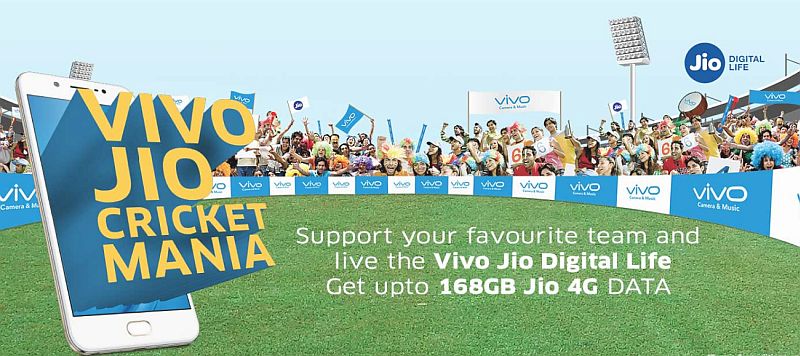 Their summer surprise offer and Dhan Dhan Dhan offer could have grabbed by any Prime member. But you need to be a Vivo smartphone user to get the cricket mania offer.
Jio will record the IMEI number to ensure that you are using a Vivo phone. If you have it, you are only a single text message away from availing the offer. You need to pick your favorite IPL team and message the same to 59009 in the format VJ <SPACE> TEAM NAME (eg: VJ SRH).
Once you do this, you will get additional data for your favorite team's win, draw, and loss. For each win, the additional data you get is 3 GB, for a draw, it is 2GB, and they offer 1 GB 4G data even for the loss.
In case the team you choose will make it to the qualifiers, Jio will double your data quota. If the team enters the final or wins it, you can get the free data tripled or quadrupled. Assuming that your team wins all the matches, the free data will go all the way up to 168 GB.
You can't burn the data on another device after availing the offer. The registrations for the offer started from 5th April and it is available for grabbing until May 10.
Also Read:- Reliance Jio Set Top Box Images Leaked; They may Launch DTH Service Soon
For the users registering before April 30 can get the free data on the basis of the outcomes of all matches played by their favorite team. If you delay the registration and do it after 30th April, the complimentary data will get reduced to half of the total complimentary data.
It is worth noting that you can't get the offer as soon as you register. Jio will add the data with the next 10 recharge over Rs. 303 you do. Means under Rs. 303, the additional data is unavailable. You need to do recharges during 1st June 2017 and 31st March 2018.
Are you a Vivo smartphone user? Don't forget to grab the offer before April 30.