As we know recently, LG launched it's another flagship LG G6 Smartphone into the Indian market with a price tag of Rs 51,990. LG partnered with Indian telecom network Reliance Jio 4G VoLTE to give a 100GB of free 4G data to users with the purchase of LG G6 Smartphone. Along with the free 100GB 4G data which is valid for ten months, G6 mobile users will also get additional Reliance Jio app services such as Live TV, Music, Videos and other exciting services from MyJio app.
So users who purchased LG G6 mobile from LG retail stores and Amazon India e-commerce store are eligible to avail the Reliance Jio 100GB Offer. After buying a G6 mobile from the store or Amazon India, the user should also grab the free Reliance Jio 4G SIM card from the nearby Reliance Digital or any other dealers.
Reliance Jio 100GB Offer for LG G6 Smartphone users
LG India claims that LG G6 users should insert the new Reliance Jio 4G SIM card to avail the free 100GB data offer. Jio SIM card registers your G6 IMEI number and activates the free data offer to the device but note that you should use the same Jio SIM card to registered G6 Mobile. In case if you tried to change your device with Jio SIM card it won't work because Jio network will automatically check the register IMEI number with Jio SIM card.
We know that recently Reliance Jio started postpaid services with different 4G data plans, so the LG G6 users who want to avail the free 100GB data should recharge with Rs 309 plan every month to get additional 10GB data free compared to regular Jio 309 plan users only get just 1GB data a day. So in order to avail the full 100GB free data LG G6 users should recharge their Jio number with Rs 309 plan every month.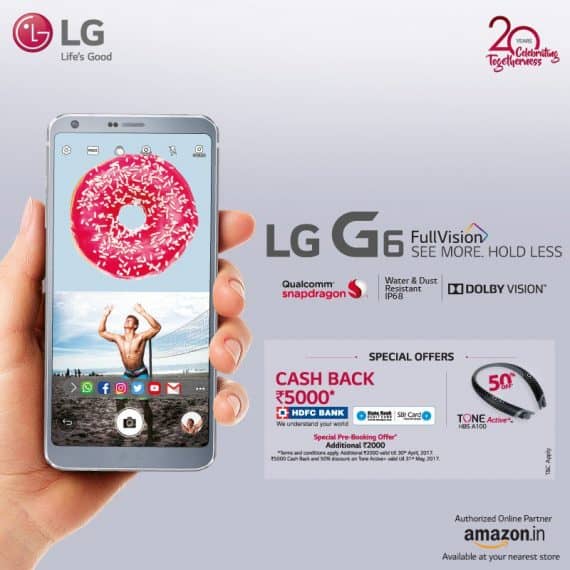 To compete with LG G6 free 100GB data offer, Samsung also launched some exciting data offers to Samsung S8 and S8+ user by partnering with Reliance Jio 4G network. Those who purchased the all new Samsung S8 and S8+ mobile phone will get up to 448GB of 4G data free with Rs 309 plan on each month. Which means the user will get 2GB of 4G data for complete eight months. Normally Jio prime members will get only 1GB of 4G data every day with Rs 309. But the S8 and S8+ users will get additional 2GB 4G data every day with Rs 309 plan.