As we know how reliance Jio drastically changed the Indian telecom industry with free 4G data offers, but with the Jio affect most of the other operators such as Airtel, Idea, and Vodafone has lost the 4G subscribers. All the other telecom operators quickly reacted to jio 4G plans and started giving exiting 4G data plans to existing customers so that they can't go for Jio.
We've recently seen that Airtel claims that it has the best and fast 4G download speeds than the Jio 4G speeds and these reports are released by Opensignal. The TRAI (telecom regulatory authority of India) claims that the Jio download speeds are faster than the all Indian network operators. So there's been a face-off between the Jio and Airtel from the last 3 months.
The clash between the Airtel and Jio becomes worse day by day; recently reliance Jio complains to TRAI about the Airtel misleading 4G offers. Jio claimed that "However, the subscribers who do not satisfy Airtel's dual criteria, will be provisioned only 50MB data and post that, they will be charged the exorbitant data tariff of Rs. 4,000 per GB". In the complaint which is given to TRAI, Jio mentioned that Airtel is only giving daily 1GB data and the unlimited calls for only new subscribers and all other existing subscribers are getting lower 50MB data for 35 days.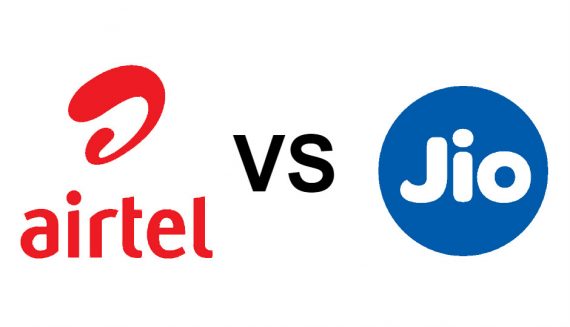 Other than above misleading Airtel offers, Jio also claims that
Airtel has chosen to create an arbitrary distinction on the basis of subscribers possessing 4G handset and 4G SIM. It has arbitrarily reduced the validity of voice benefits under the same recharge for the same class of customers without a 4G handset or 4G SIM.
And Jio also complaints that the latest Airtel arbitrary plan is a complete violation of the TRAI tariff regulations
Bharati Airtel responded to the Jio allegations about the misleading Airtel offers to gain the subscribers by violating the telecom regulations, one of the Airtel spokesperson claims that
These allegations are nothing but a continuation of Reliance Jio standard ploy of blaming others for all its problems, including network deficiencies
and adding to above statement the Airtel spokesperson also said that Reliance Jio offered free 4G data for several months, but now it is claiming about the other operator's free data offers who are trying to regain their customers by providing simple discounts.
The Airtel spokesperson also claimed that
In fact, it is Jio that has been blatantly disregarding all guidelines and directions of the TRAI
so the face-off between the Airtel and Jio increasing day by day let's see what TRAI will give a decision about the latest issue.