The biggest online shopping giant, Amazon launched an EMI option for Indian shoppers in 2018. With the growth of online shopping trend in India, this option offered by Amazon seems to bring laurels for the company. The Amazon Pay EMI option is a hassle-free way to get an instant credit to shop for high valued products. The users can buy products priced at a minimum of Rs 8000 and pay in flexible installments of 3 to 12 months.
In India, people still fear from online scams which makes them reluctant to shop for costly products online. Amazon Pay EMI will help people gain trust in Amazon as they can simply pay in small installments with low to zero interest rates. This guide will help you register the Amazon Pay EMI option and clear all your confusions regarding it.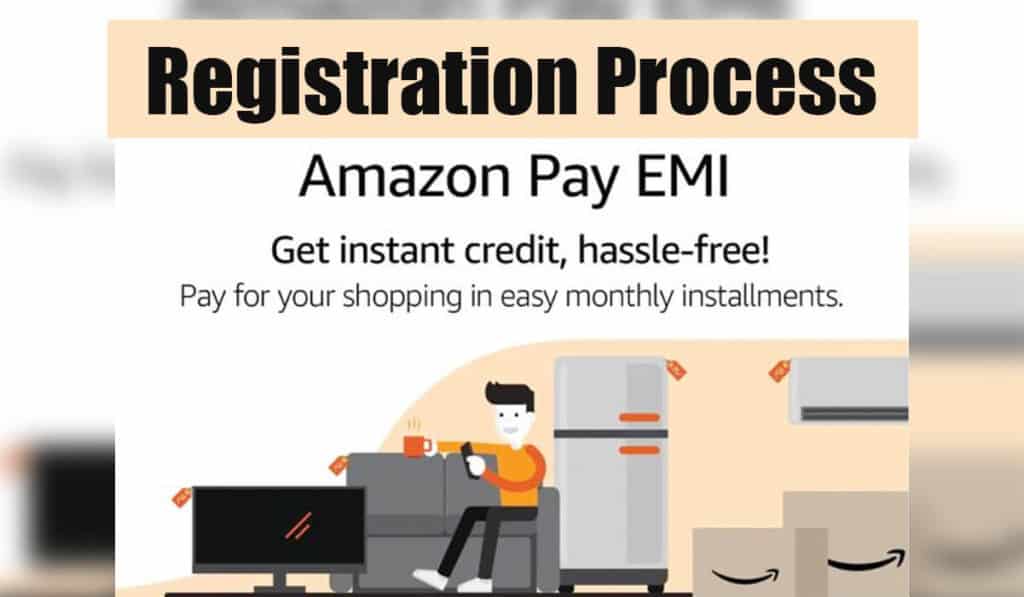 Eligibility Criteria for Amazon Pay EMI Registration
As a user, it is very important to know what makes you eligible for availing the Amazon Pay EMI option. You need to fulfill the below-given Amazon Pay EMI Eligibility criteria:
An Amazon.in account with a verified mobile number and PAN card.
You must link your bank account (accounts from only selected banks are allowed).
Submit any one of government-approved ID. (Permanent address proof, driving license, Aadhar Card, Passport or Voter ID).
The minimum age for application should be 18 years.
The eligibility criteria will be more dependent on your credit bureau history and the information Amazon holds about you. Looking into all these, the bank/lending partner will decide your credit limit.
Key Features of Amazon Pay EMI
Here is how Amazon Pay EMI is different from regular EMI options:
You don't need to hold credit cards.
Simple and instant credit approval.
Flexible installments of 3 to 12 months tenure.
Easy tracking repayment and expense history.
No hidden charges.
Offer auto repayments ensuring you never miss a payment.
Amazon Pay EMI feature is currently limited to selected users and works on an invite-only basis. We tried contacting Amazon customer support to enable the option on one of our author account and they refused to do it. They also confirmed, Amazon Pay EMI is handled by a third-party lending partner, Capital Float who enables the option for random accounts.
How to Register for Amazon Pay EMI
You need to complete a one-time registration process to Signup for Amazon Pay EMI. As of now, Amazon has partnered with selected banks including HDFC Bank, ICICI Bank, Canara Bank, Citi Bank, and Kotak Mahindra Bank. These banks will decide your credit limit which can go up to Rs 60,000.
You need to first check if Amazon Pay EMI option is available for your Amazon account or not. To do this, Go to Amazon mobile app and find Amazon Pay by swiping from the left menu. If you find Amazon Pay EMI option beside Amazon Pay Balance, then you are good to go or else you need to wait for few more days.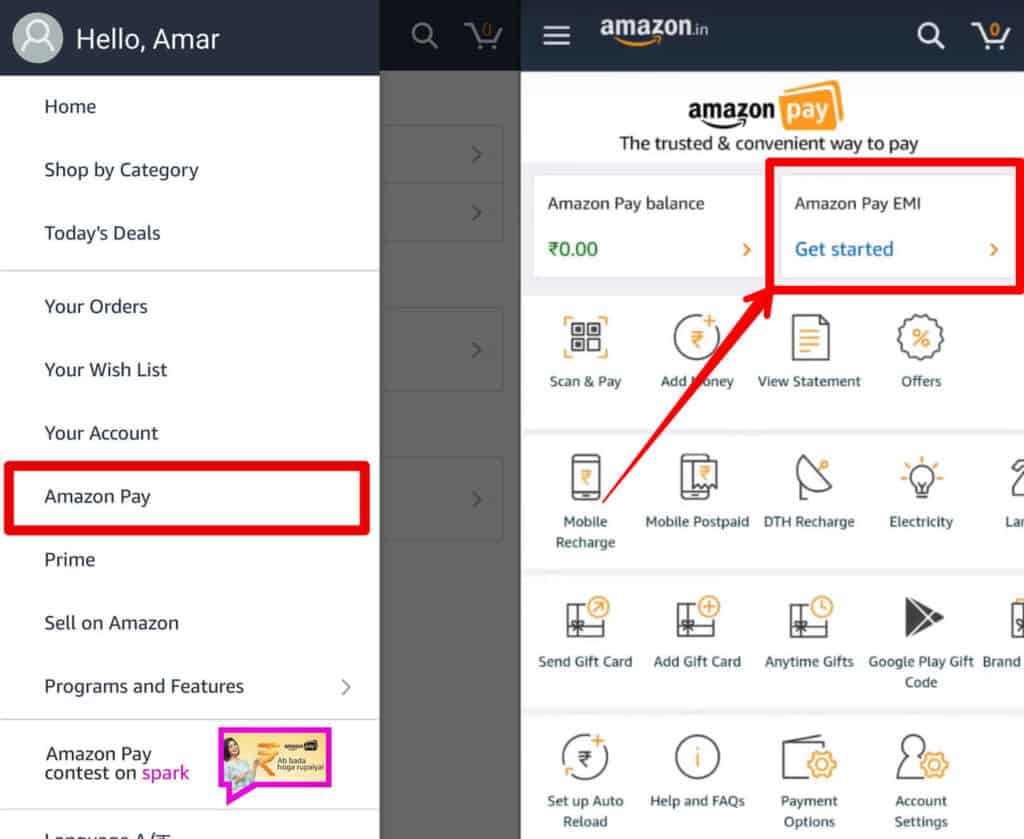 To register for Amazon Pay EMI, select Amazon Pay EMI option and tap on Register Now button. You will be asked to verify your identity wherein you have to provide your PAN and Aadhar number.
Tick "I agree to Amazon EMI Terms and Conditions" checkbox and tap on "Agree & Continue".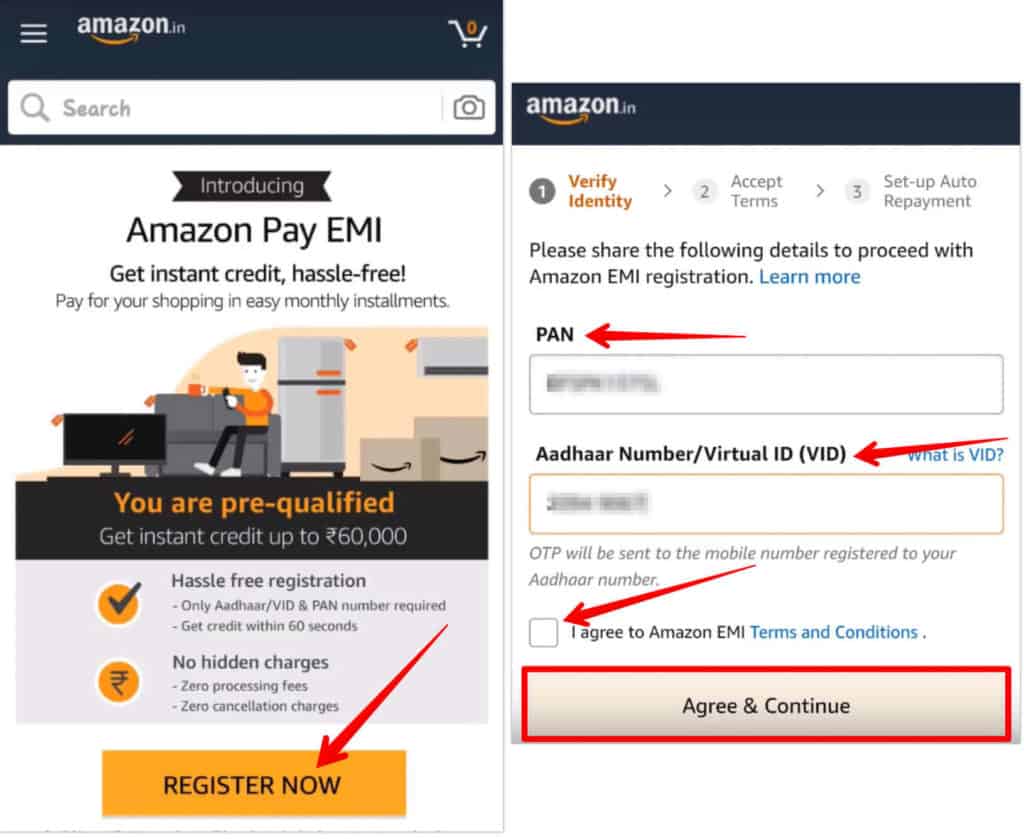 In the next screen, you need to validate your Aadhar number by entering the OTP which will be received on the mobile number associated with the Aadhar number.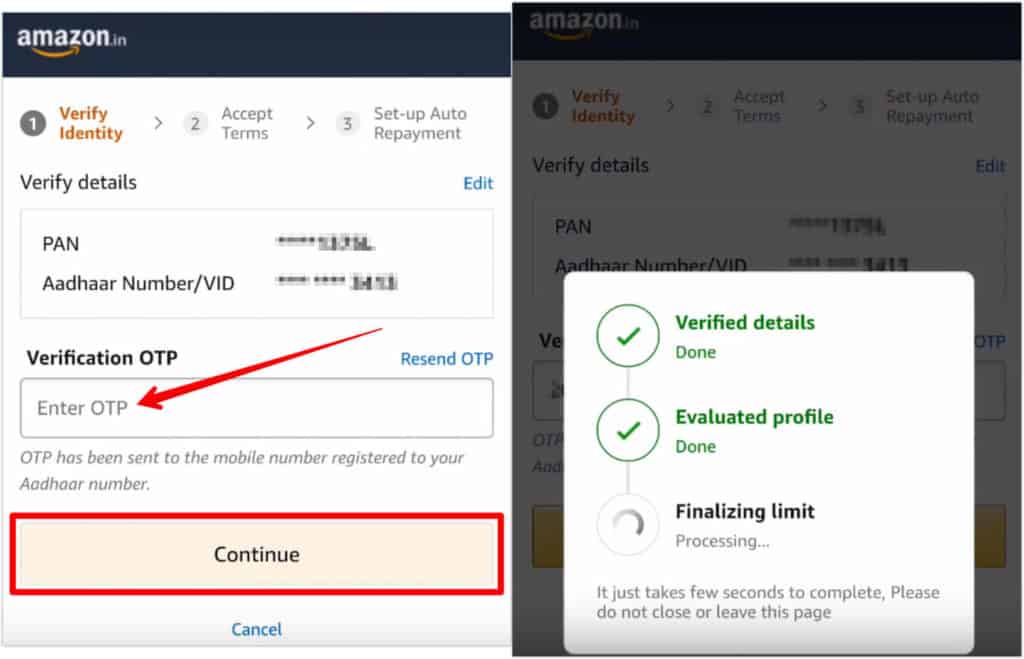 Upon verifying the identity, you will be given a credit limit. As a result, you can use this credit limit for shopping on Amazon and for paying installments.
If you are happy with the credit limit, enable "Credit Float Loan Agreement" checkbox and tap on "Agree and Continue" button.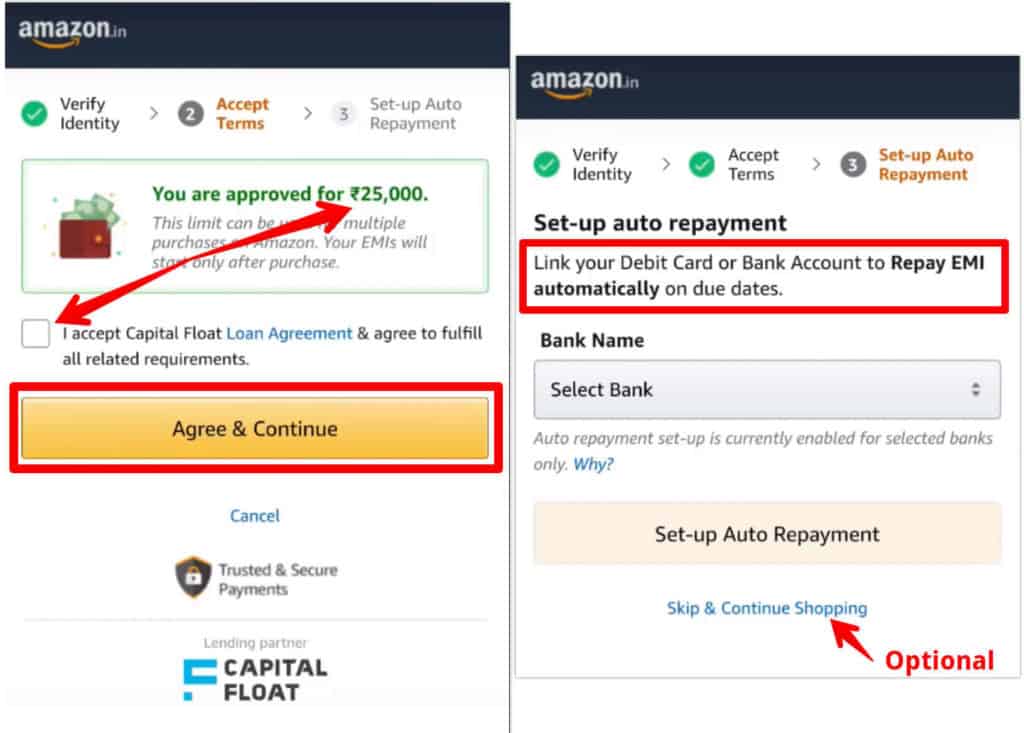 At the final step, you will be suggested to add your bank account for auto repayments of EMI but this is optional. However, it is always better to enable auto repayments to avoid unnecessary interest on debts.
Interest Rates and Auto Repayments
Look, how simple Amazon Pay EMI Registration is. The interest rates depend on the EMI payment tenure chosen by the user. You will be charged 18% interest rate for 9 and 12 months and Amazon offers interest-free credit for 3 and 6 months tenure.
The best part about the Amazon Pay EMI offer is that there are no hidden charges which usually happen online. Amazon Pay EMI will also allow the user to set up auto payments so that they never miss a payment. If you set up auto repayments, the amount will be debited on 5th each month automatically.
Let me tell you that there is a catch in the Amazon Pay EMI option. The EMI option is only valid for single item purchases. Moreover, you need to choose a product priced at Rs 8000 or above and you can't use Amazon Pay EMI on jewelry, gift cards, Amazon Pay top-ups or on exchanges.
Final Words about Amazon Pay EMI
We hope this guide solved all your confusions and you are all set to start shopping with easy EMI options by Amazon Pay EMI. Keep yourself updated and informed by visiting us more often. Don't get disheartened even if you aren't getting the Amazon Pay EMI option as of now. Amazon is working on expanding this option to more users soon after getting feedback of initial customers.