Xiaomi's sub-brand has announced their new Redmi Writing Pad officially in India. This new gadget from the tech manufacturing brand showcases a new way of note-taking and doodling. The latest tablet but not a tablet from Redmi, make you rejoice in the old-school slate in a digital avatar. The tablet uses a Polymer Liquid Crystal Display (LCD) that doesn't emit light.
The writing pad caters primarily to kids and enthusiastic adults looking for a medium to scribble their thoughts and brainstorm. The device mimics the appearance of ink on paper and lets you try out any written notes or artistic drawings.
Additionally, the pressure-sensitive enabled stylus has different levels of stroke sizes for broadening the ways you can doodle. Let's take a closer look at the specifications, pricing, and availability of the Redmi Writing Pad.
Redmi Writing Pad Specifications
An 8.5-inches of LCD screen covers the front of the Redmi Writing Pad. On top of it, the display comes without any light emissions, unlike regular displays. The writing pad with less to no light emission helps you not face any eye fatigue in extended usage. The design of this digital pad fits right in your hand easily and has a body made of ABS material that weighs around 90 grams.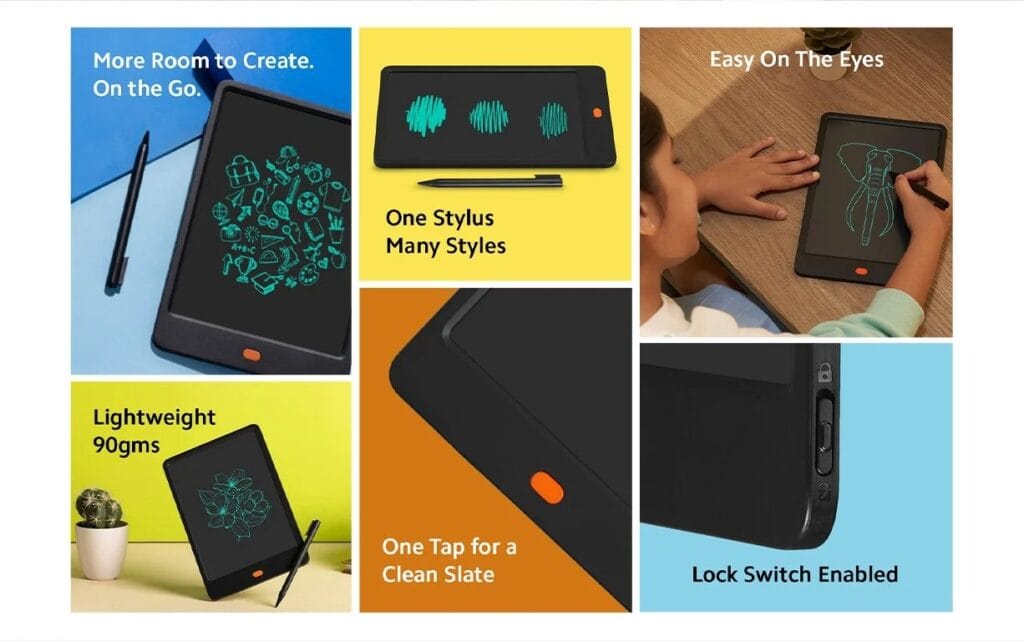 Redmi has bundled a stylus with the pad, which aids in taking instant notes or trying out creative doodling. The inclusion of a stylus allows the user to play around with different stroke sizes with varying pressure applied. Over and above, the pressure-sensitive stylus can slide quickly on the pad's side to avoid losing it.
A unique orange button is provided on the screen's bottom chin to erase the content dribbled on the device. However, the brand has even added a one-tap lock to not erase the content on the screen, and the writings don't get deleted accidentally. The battery of this writing pad features a CR2016 replaceable button cell and lasts up to 20,000 pages of write-up and doodling.
Price and Availability
The Redmi Writing Pad costs Rs. 599 and flaunts in a single-color version of Black. The device will be available for purchase from Xiaomi's official website and offline stores across India. Recently, Xiaomi launched its Android tablet as well as dubbed Redmi Pad. The tablet, with its loaded features, has launched in India at a base price of Rs. 12,999, you can also check that out.