Windows 11 is a great operating system, and Microsoft has done a tremendous job with it. With the arrival of Windows 11, Microsoft brought the Widgets tab. The Widgets app includes information like stocks, news, weather, and other recommended information.
Nevertheless, when you click on these articles, it redirects you to Microsoft Edge, even if you set any other browser as default on Windows 11. What if we tell you that there's a way to redirect Windows 11 widget links in other browsers.
People from the WindowsInsiders Reddit page have also shown their disagreement on this limitation. Don't worry, then follow this guide, If you want Windows 11 widget links to open in Google Chrome, Firefox, or any other browser.
Windows 11 Widgets Tab. What is it?
If you're new to Windows 11 or haven't heard about the new inclusions in Windows 11, then you need to know about these new Widgets on Windows 11.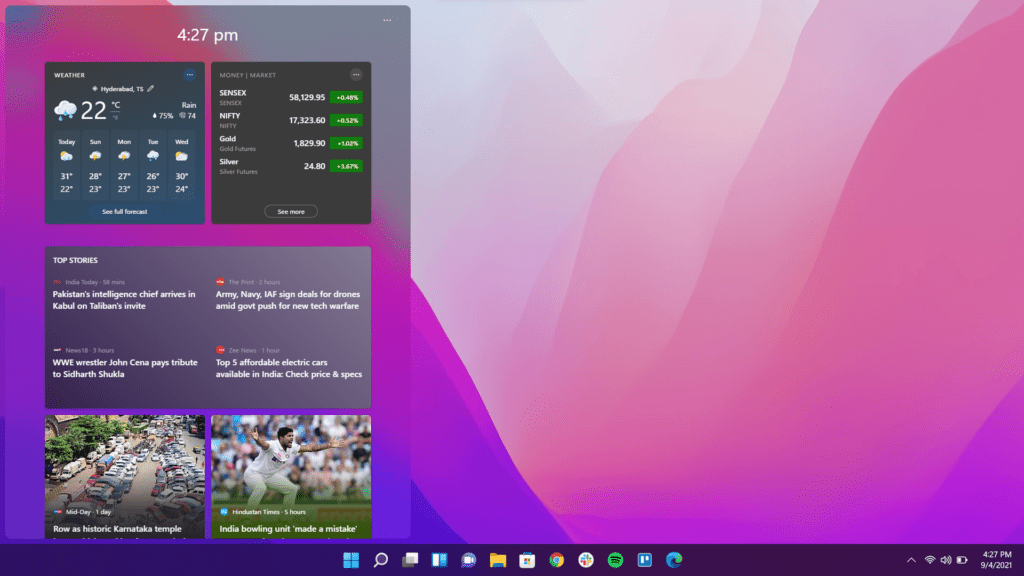 Microsoft supported Live Tiles until Windows 10, and it ends with Windows 11 in favor of Widgets. On the Windows 11 Widgets, you get all the latest news, stocks, weather information, and a lot more
There's no information from Microsoft regarding this or when we'll be able to change the default behavior of widget links. We might get clear information from Microsoft once the official Windows 11 stable update releases. For now, we'll have to use an open-source tool to redirect Widget links on Windows 11.
How to Redirect Windows 11 Widget Links
There isn't an official way to redirect the Edge queries to other browsers on Windows 11. On the contrary, the unofficial way is to install a third-party extension to fix this limitation.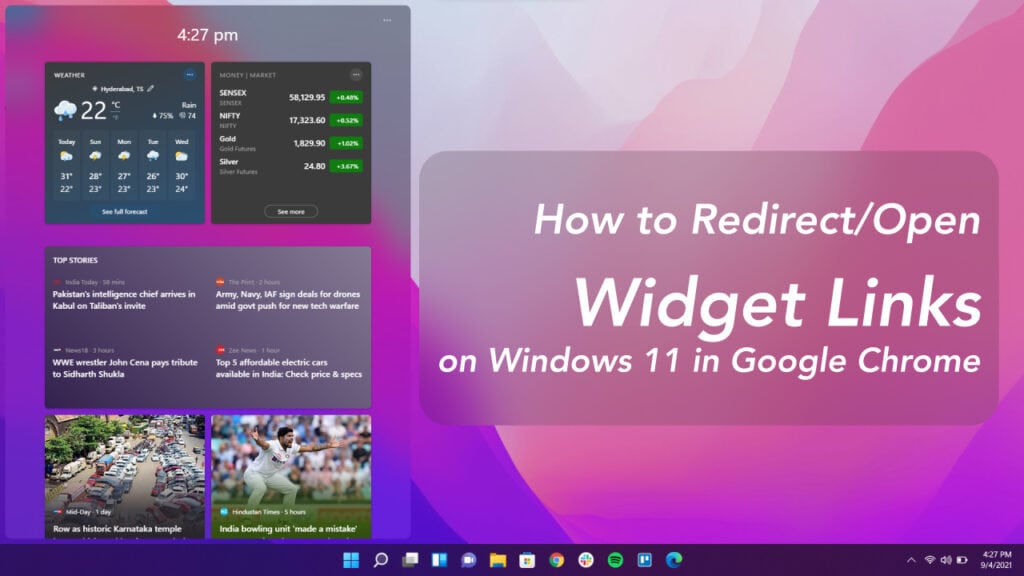 Daniel Aleksandersen (da2x) created an open-source application called EdgeDeflector that does this job for you.
EdgeDeflector is an application that intercepts the URLs when you click on Windows 11 widgets Links and redirects them to your default browser.
Here's how you can download and use the EdgeDeflector to redirect Windows 11 widget links to your favorite browser like Google Chrome, Firefox, Brave, or any other of your choice:
Download the latest EdgeDeflector_install.exe file from Github page.
If prompted, select Show more and then choose the "Keep anyway" option.

Open and click the Install button on the downloaded EXE file to install it.

Open Start Menu and search for "Default apps" in the search bar.
Click on the Open option or press Enter to open Default apps settings screen.

Scroll to the bottom of the page and click on the Choose defaults by link type option.

Keep scrolling until you find MICROSOFT-EDGE. Click on the Microsoft Edge icon, and select EdgeDeflector.

Click on OK to apply changes.

From now, whenever you click on any Windows 11 widget, the links will open in your default browser instead of the Microsoft Edge. If you don't know here's how you can change your default browser on Windows 11.
Even though we changed the browser to open the links of Windows 11 Widgets, we can't change the fact that msn.com associates itself with the URLs.
Also Read: How to Force Cortana Search with Google Instead of Bing in Windows
Can you get Windows 11 Widgets on Windows 10?
Yes, Windows 11 widgets were in tests on Windows 10 before their arrival on Windows 11. If you're running Windows 10 version 1909 and above, you'll see the News and Interests option on your Taskbar. If you don't see one, you can check Microsoft's Official Support page for further instructions.
EdgeDeflector for Windows 10
EdgeDeflector also works for Windows 10, so you don't need to worry about compatibility issues. The News and Interest tab on Taskbar has links that redirect you to Microsoft Edge as well. So the EdgeDeflector will divert your links from Windows 10 News and Interests links to your default browser.
Customization on Windows 11 Widgets
Windows 11 Widget link can be customized with the EdgeDeflector, as mentioned previously and few more customizations are still possible. At the same time, there are some things that we can't change. Let's see them quickly.
Things that Can't be Changed
The recommendations from the Widgets panel are unchangeable on Windows 11. These recommendations are drawn from the Microsoft Network website (MSN.com). So you can't choose sites like Google, Bing, or any other service in that case, for recommendations.
And since you can't change it, you've to stick with MSN suggestions or don't use the Widgets tab at all if you don't prefer its suggestions.
Things that Can be Customizable
Here's the good news! Some things are still customizable. On Windows 11 Widgets page, you may find things that don't strike interest in you or aren't relative to you. In such cases, you can customize them. In addition to that, it also helps Widgets to get better recommendations curated to your likings.
If you don't like a news story, click on the "three-dot menu" on the bottom-right corner of the story and select the "Hide this story" or "Fewer stories like this" option.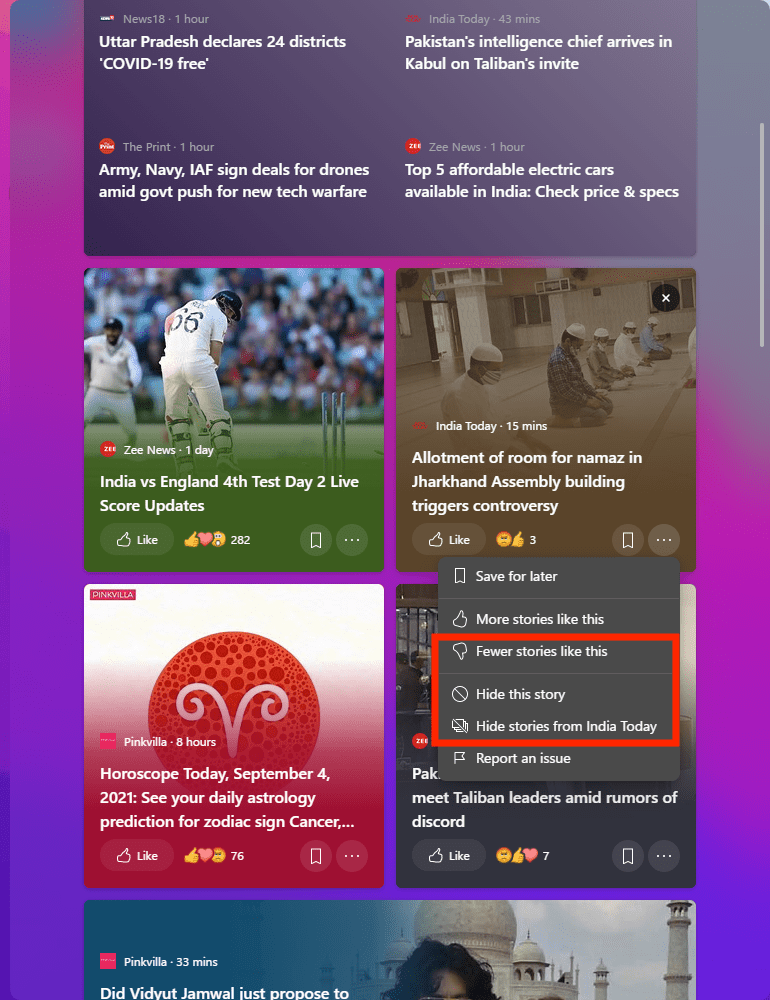 If you don't like the news source, you can block further stories from the website or news source. To do that, click on the "three-dot menu" button of the news story, and choose the "Hide stories from <Source Name>" option.
Moreover, if you want a new list based on your current interests, you can click on the menu button of the Widgets pane and select the Manage Interests option from the submenu.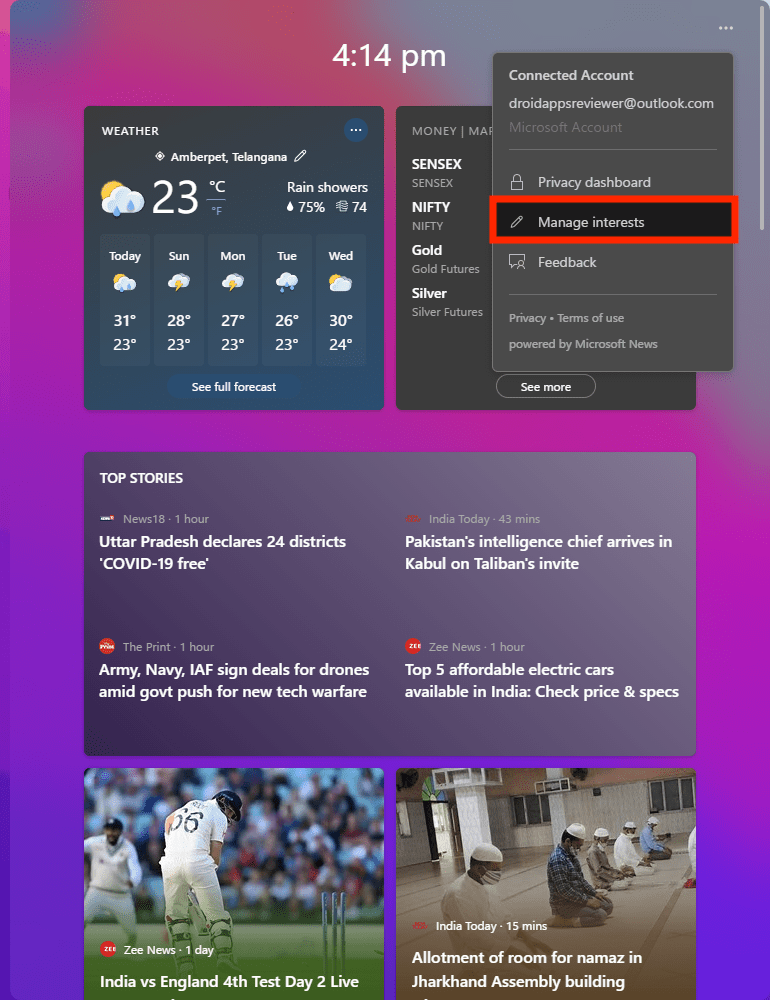 You can manage interests like Sports, Technology, Space, etc. Once done, Windows 11 widgets will curate news stories based on the topics you chose.
A Long Way to Go for Windows 11
Windows 11 Widgets are good, but it doesn't let you add widgets of your preference to this date. Instead, we see a Google Discover-like feed that curates stories based on our interests.
We hope for Microsoft to bring additional features into the Widgets panel like Note-taking, Teams integration, Third-party weather apps, international clock, and other useful features. With them, the Windows 11 Widgets will be a definite hit.
Microsoft seems to have been inspired by macOS Widgets. If it helps Windows 11 become the best possible version of Windows with updates, then there's no problem with it.