How many times has it happened that you accidentally deleted your Photoshop file? If you are a frequent Photoshop user, then I guess a lot. Because of a power failure, a stupid crash or some other insignificant problem can lead to all the work that you had been putting in for hours to just go down the drain.
Mac users might find themselves at a particularly peculiar position as they don't have much recovery options for a situation like this. But worry not because today we'll tell you how Mac users can recover deleted or unsaved PSD files easily and securely.
3 Ways to Recover Deleted or Unsaved Photoshop Files in macOS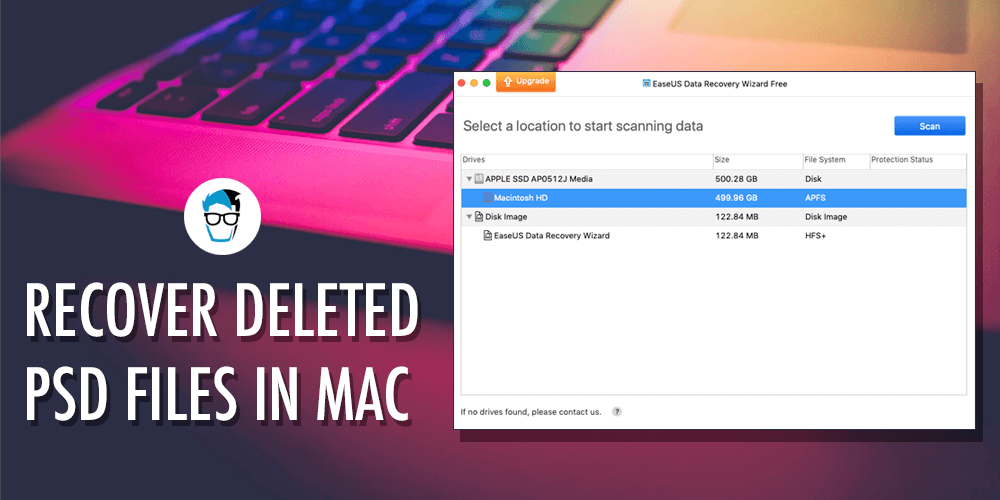 To recover lost PSD files on Mac we'll be using EaseUS Data Recovery Wizard for Mac Free. This is one of the best data recovery tools for macOS in the market. EaseUS free data recovery software is useful to restore videos, audios, emails, photos, documents etc. It supports more than 200 file extensions. You can even use this tool to recover files from external storage devices like hard drives, pen drives, iPod etc.
You Must Know This:
Whenever you accidentally delete a file in your computer, close all running programs and don't copy or move any files. When you delete something, that data will be just marked as deleted and it's not visible to the user.
Technically the data is still available and data recovery software can still recover it. But if you copy or move something, then that data will be overwritten with the new files and recovery will be more difficult as parts of the file or the entire file could have been overwritten.
Before using EaseUs Data Recovery to recover unsaved PSD files on Mac, you should try a few built-in functions that come with Photoshop and macOS. If that doesn't work you can use the data recovery wizard in EaseUS software.
1. Recover Unsaved PSD Files Using Auto Save Feature in Photoshop
The Auto Save feature in Photoshop works best to recover unsaved PSD files. But for that to work, you must have already enabled this option in Photoshop. Usually, this option is enabled by default but to make sure if you have enabled the Auto Save option, go to Photoshop Preferences > File Handling… and check if the Automatically Save Recovery Information option is selected or not.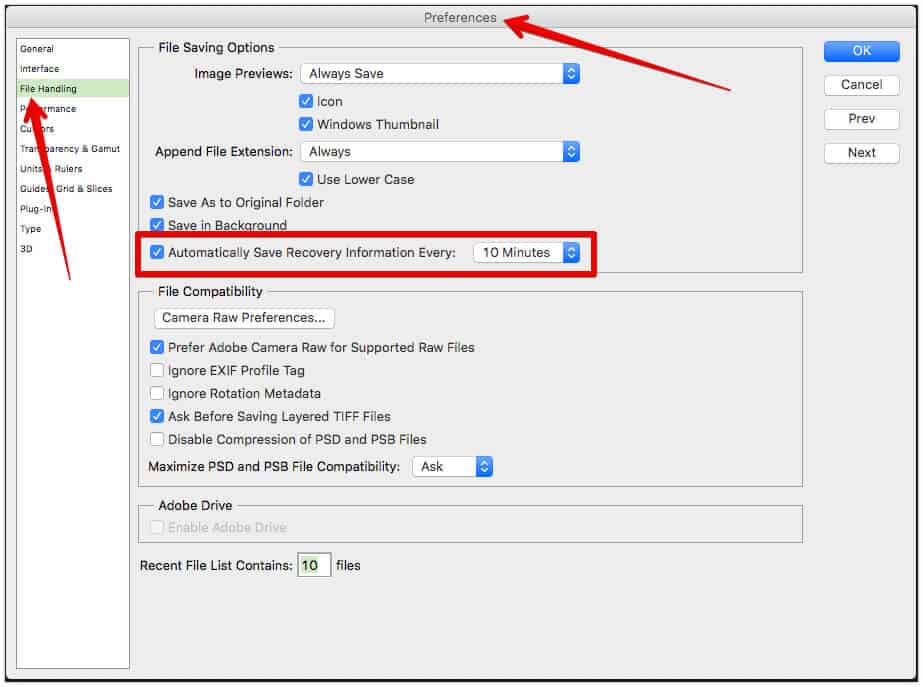 If this option is not selected, you are out of luck and this method is not useful for you. However, you can turn it on now and it might help you in the near future.
If Auto Save option was already selected, then follow these steps to recover unsaved PSD files using Adobe Auto Save feature:
Open a Finder window, click on Go and then select Go to Folder… option.

Under the Go to the folder: field, paste the following path ~/Library/Application Support/Adobe/ and then click on Go.
Open Photoshop folder and then go to

AutoRecover

folder.

You can find all the unsaved PSD files in this Folder and you can copy them to Desktop for further editing.
2. Using Time Machine backup on Mac to Recover Deleted PSD files
The best thing about macOS is time machine backups which will be a lifesaver in many situations. Recently we explained how you can access Time Machine backups in Windows and if you frequently take Time Machine backups, then there will be a high chance of recovering deleted PDF files.
To recover deleted PSD files from Time Machine:
Press

Command

+

Space Bar

to open Spotlight Search.
Search "Time Machine" and open the first result in "Top Hits".

You will now enter Time Machine and a lot of Finder Windows will be displayed. Navigate to the folder where your lost PSD file is present.
Using the Up and Down arrow marks, check all previous backups to find the deleted PSD file.

3. Recover PSD Files Using EaseUS Data Recovery Wizard for Mac
If all the above steps fail, and you still cannot recover lost PSD files on Mac then you need to download and install the EaseUS Data Recovery as this is your last and only chance to get back your precious and important files.
EaseUS Data Recovery Wizard for Mac features two scan modes. A Quick Scan mode for quickly for recently deleted files. This mode can save time if you have recently deleted a file without overwriting anything.
There's also the Deep Scan mode which runs after the Quick Scan mode that deeply searches your deleted files to find all the recoverable content hidden underneath your storage. The software is very easy to use and you can recover any files in just a few steps.
Here is how you can back your deleted or lost Photoshop files easily:
The first thing that you need to do is to download EaseUS Data Recovery from here. The free version has all the features that the pro version provides except that it comes with a size cap. With the free version, you can only recover up to 2 GB of files. The free version is good if you want to recover PSD files and to try out the software before going through the actual purchase.
If you are a frequent Photoshop user, we would recommend that you buy the full version which comes at a price tag of $89.95. The pro version doesn't have any size limit and you can recover and restore unlimited files with ease.
Offer: Buy now and get flat 50% OFF on EaseUS Data Recovery Wizard For Mac. This is a limited time offer and no coupon codes required. Just CLICK HERE to avail the discount.
After downloading the setup file, run the installer and install the program in your MacBook.
Open the tool and a new window will open up where you can select a location to start scanning the files. Select the storage location, which can be your hard drive, SSD, or any other external storage device where you want to recover the files from. After selecting the storage location, click on the Scan button.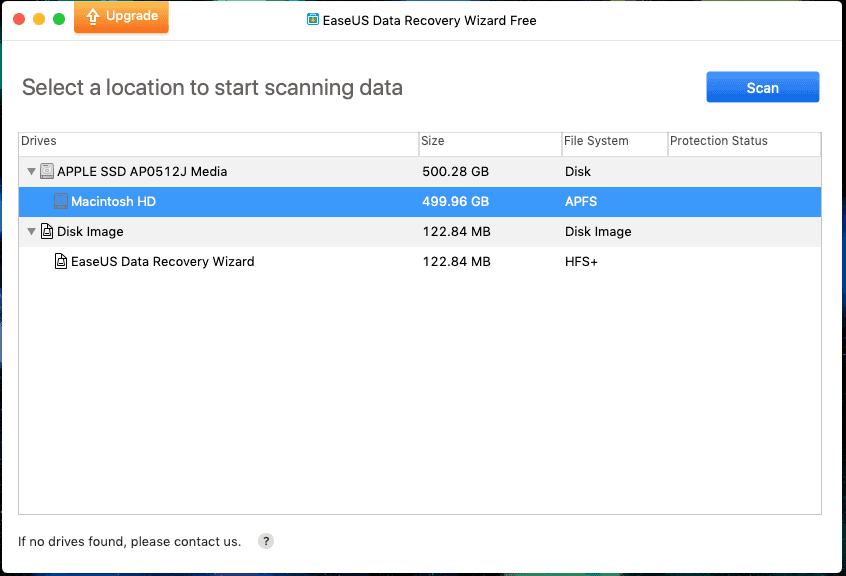 EaseUS Data Recovery will start scanning the selected location. It will begin displaying the results in real time even before the scan has been completed. It tells you the number of files that it found and also a rough estimate of the time required to finish searching for deleted files. You can also see all the files that it has found on the left side of the window.
After it has finished scanning all the deleted files on your computer, select the files that you want to recover and click on Recover Now. Remember, EaseUS allows you to select specific files for you to recover. You can also select all of them at one go.
Once the recovery is completed, you'll get a Recovery Completed notification which will show you the location of the recovered files and where they were saved. You can now access all of these files from the said location easily.
Conclusion
It's not a rare thing for people to forget to save the files they had been working for hours. Sometimes important and obvious things slip our minds. But now you can take the worry out of your mind and recover deleted PSD files easily and securely.
Make sure that you use Adobe's Auto Save feature so that in case some incident happens that is not under your control like a power failure or a virus attack, you can be on the safe side. You can also use EaseUS Data Recovery which is a very handy tool to recover files Photoshop (PSD) files.