The next-gen Snapdragon processor in 400 series is named as Qualcomm Snapdragon 450 processor at Mobile World Congress (MWC) 2017. Qualcomm Technologies Inc., the subsidiary of Qualcomm introduced this 450 processor to power up the mid-range smartphones. Qualcomm Snapdragon 450 is the first in 400 series to possess 14nm FinFET [3D Field Effect Transistor used in modern day design process].
With the release of slightly different Snapdragon 660 and Snapdragon 630 processors, they set the bar high for themselves to bring out their complete potential in Snapdragon 400 series. Yes, they achieved it in a quick span with significant improvements in Performance, Battery backup, Swift Processing of Images and LTE connectivity over its predecessor.
You might be interested in going through
Here are the striking and phenomenal features of Qualcomm Snapdragon 450 that will blow your mind.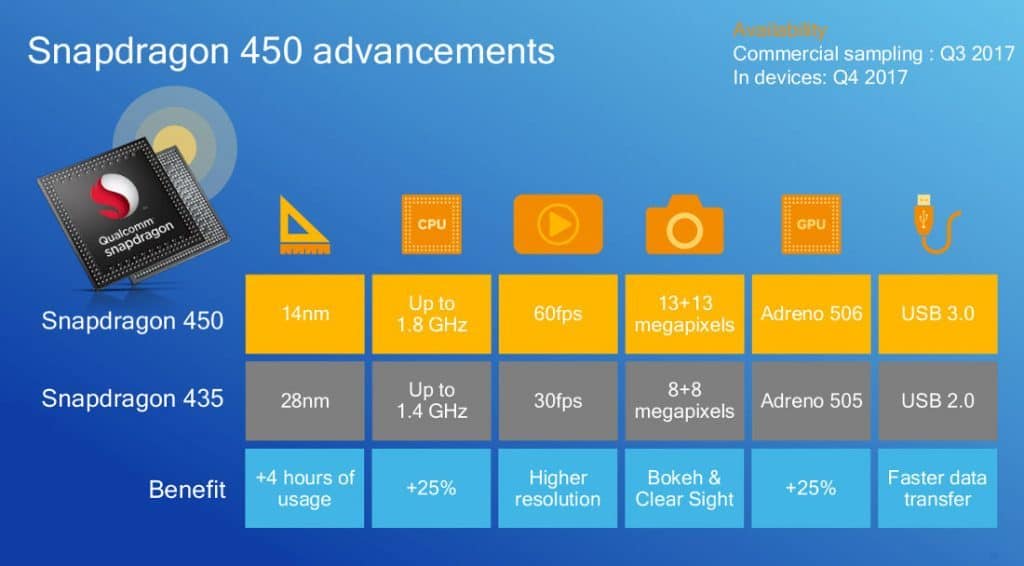 Improved Processing Speed: The deadly combination of high performing Qualcomm Adreno 506 GPU and the octa-core ARM Cortex A53 CPU boosts the processing speed of Snapdragon 450 to 25% as per the revealed statistics. Our verdict says that with the same processor used in Qualcomm Snapdragon 435, the processing increment won't be 25%. But it will perform better than 435 for sure, because of the advanced GPU
Improved Battery Life: Snapdragon 450 comes with Quick Charge 3.0 technology like its predecessor Snapdragon 435. Hence quick charge from zero to 80 % in 35 minutes is expected. But unlike 435, 450 doesn't discharge quickly as claimed by Qualcomm. It provides 4 additional hours of usage time and 30% reduction in draining of battery which supports gaming and gets connected to the world (Internet Usage) for more time. Hope most of the smartphone users love this feature.
Improved Camera Support: Live Bokeh is no more a dream. Snapdragon 450 is on its way with extended support to real-time Bokeh effect for camera lovers. Having said that, it extends the helping hand to either dual-camera setup (13+13) or single camera up to 21 px. Hybrid auto-focus will reduce your 'tap to focus' efforts. Hope it brings a good time to take groupfies and selfies without much effort.

Improved Multimedia Support: One more important feature of the camera is to capture high-quality videos. Qualcomm conveyed that Snapdragon 450 will make your moments live with 1080 video capture, playback at 60 fps (frames per second) on a high quality 1920X1200 HD screen. With advanced processing abilities, the recording and playback happen in no time.
Super-fast USB: While all its peers are supporting USB version 2.0, the Snapdragon 450 supports even the advanced version of USB (USB 3.0). This helps in quick data transfer and high-speed USB tethering.
LTE Connectivity: Using the same hardware (Qualcomm Snapdragon X9 LTE modem), they are able to use the highest possible bandwidths this time for better upload and download by using the same 2X20MHz carrier aggregation. The peak downlink and uplink speeds are capped at 300 Mbps and 150 Mbps respectively.
"We've made many recent changes to the Snapdragon Mobile Platforms as part of our vision to deliver the most advanced mobile functionality at the best possible value, and the Snapdragon 450 Mobile Platform is another realization of that vision," said Kedar Kondap, vice president, Qualcomm Technologies Inc. during press release
Qualcomm is such a smart organization which powered the smartphones with extraordinary processors thereby connecting billions of devices as well as people. It is an organization which operates on communication elements to push the boundaries to the next level. With being pioneered the 3G and 4G technologies, they are pushing themselves hard to bring devices compatible with 5G technology for more advanced and easier communication.
We will try to jot down the pinpoint differences between Snapdragon 450 and Snapdragon 435 very soon. We differentiate, you choose. Stay tuned to Geek Dashboard for further tech updates.