Sony rolls out a new update globally for the PlayStation 4 and PlayStation 5 gaming consoles; with new features in the Party Chat and User Interface. The Variable Refresh Rate or VRR feature on the PlayStation 5 is one of the most anticipated options that's been due since the launch.
Sony has finally given an update regarding the feature and provided a tentative period for bringing the VRR to PlayStation 5. Let's check out the full details about the latest global update for PlayStation and the upcoming VRR update.
Sony Global Update for PS5, PS4, and VRR Technology
Sony has announced the update in an official blog post. Hideaki Nishino, Senior Vice President in the blog post reveals that
On PS5, we're also bringing UI enhancements to Game Base and trophy cards, as well as accessibility features like mono audio for headphones.
He continues,
Thanks to supporting from our beta participants, we're introducing some fan-requested features to our global community today; like the ability to create or join Open and closed Parties on PS5 and PS4 consoles.
The significant feature in the latest update of the Sony PlayStation 5 includes VRR or Variable Refresh Rate; available only for the HDMI 2.1 compatible displays and TVs. However, the feature is not readily available for PS5 users as of now and will go live in the future.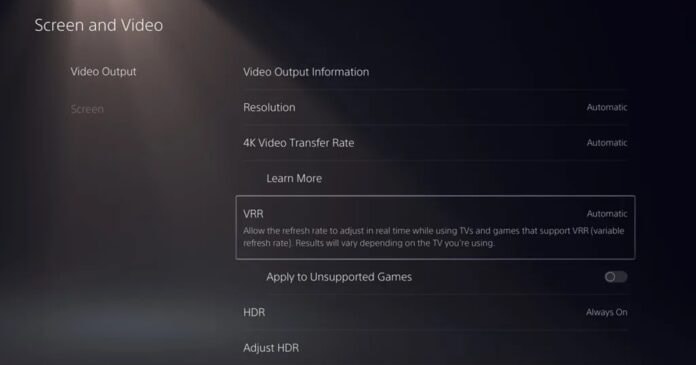 The update brings New Party to chat options on the consoles, such as the Open and Closed Parties (PS5 and PS4 betas), Voice chat reporting feature update (PS5 beta); Share Play update (PS5 beta), and voice chat volume (PS4 beta). Furthermore, Sony has brought changes to the Game Base like the division of friends, parties, and messages into three categories.
Moreover, these new changes even include a new tab in the control panel; with all the friends and an option to create a group-friendly game Base. Besides, the UI improvements made on the console include a filter; that can curate games with specific genres that helps in finding game titles easily.
Additionally, Sony added many accessibility features on the PS4 and PS5. These were the feature updates found on the latest firmware update of the PlayStation 5 and PlayStation 4.