For graphic designers wanting to use iPad for illustrations, the Procreate app was a boon. It is definitely one of the best sketching apps that artists and digital sketchers prefer. With Procreate, you get a smooth integration with the Apple pencil. This results in the creation of art that is simply mesmerizing. If you looking for the best Procreate alternatives for Windows or Mac, you came to the right place.
Procreate app is exclusively made for iPad and is available for a one-time fee of $9.99. Sadly, it did not make its way to Windows or other devices. As such, artists who are using Windows OS are left to seek other Procreate alternatives. It cannot be denied that a large portion of sketchers prefers Windows tablets.
Fortunately, there are other apps that act as incredible alternatives for Procreate available for both Windows and Mac. To help you pick the best alternative, we have made a list of the top seven best Procreate alternatives for Mac and Windows.
Top Procreate Alternatives for macOS and Windows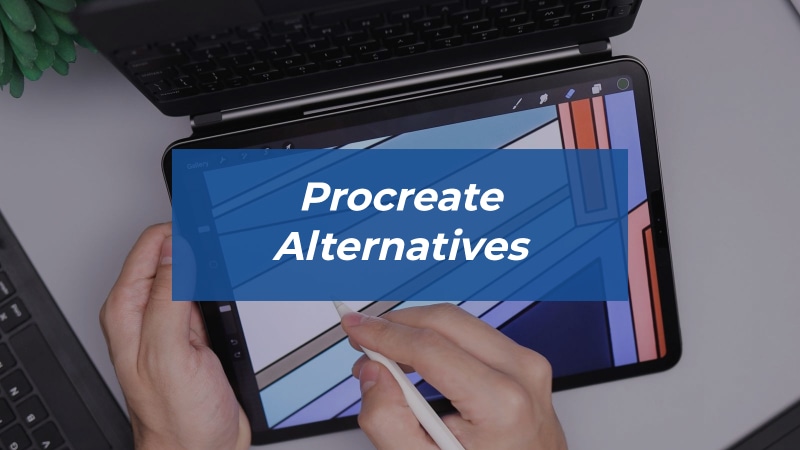 There are numerous paid and free Procreate alternatives available in the market. Here, we have handpicked the top seven alternatives for Procreate in an effort to help you pursue your sketching passion with ease.
1. Sketchbook ($19.99)
One of the best applications for artists, sketchers, and designers is the Sketchbook. With a wide array of exciting features, this is one of the best Procreate alternatives that has definitely gained massive popularity.
Specifically made for sketching, Sketchbook has a streamlined UI that offers a hassle-free drawing process. Here, you will get essential features such as blend modes and layers.
The wide range of brush types makes the software even more appealing. You can also customize the brushes in order to create the design you want. Besides, the color fill tools aid in the usage of different coloring techniques.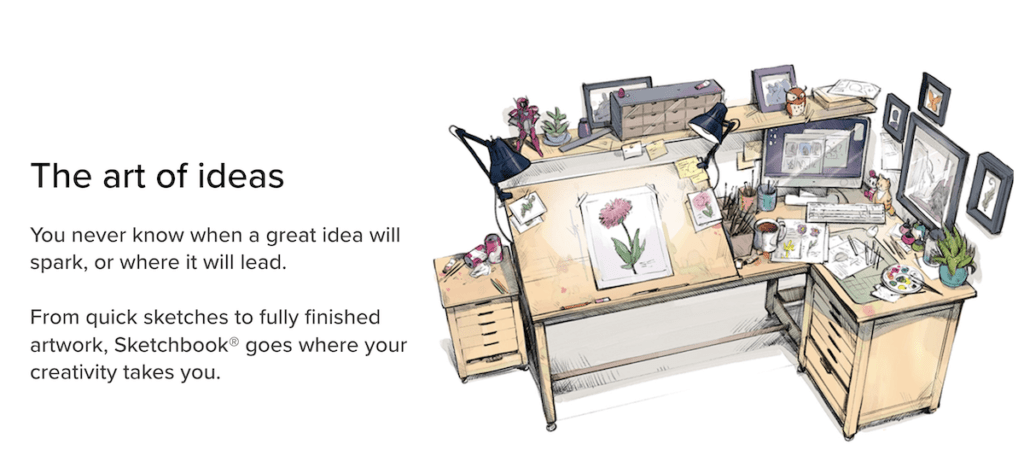 Do you seek precision while making sketches? In that case, Sketchbook is the right choice for you! Here, a wide variety of tools such as ellipse, curved rulers, etc., will help you to get you the stroke that you were aiming for.
For the sketchers that prefer using a pen, there's good news too! The radial, horizontal and vertical symmetry of the application is impressive. It integrates the smooth mirroring of the pen strokes to create the best designs with ease.
Features at a glance:
Easy to use UI makes it one of the best Procreate alternatives.
Compatible with Mac, Android, Windows, and iOS
Comes with a wide collection of brushes and tools that will help you in professional sketching.
Highly responsive to the stylus.
2. Krita (Free, Open-Source)
Another impressive Procreate alternative that one can use on Mac and Windows 10 is Krita. It is a high-quality free Procreate alternative application available to artists. This open-source software can be used in the creation of comics, conceptual art, illustrations, etc.
The intuitive user interface of Krita helps artists immensely. You can now move and customize the panels and dockers as per the workflow. Plus, you can make your own shortcut with tools that you mostly use.
There are more than 100 brush types that you can find here. With these brushes, artists can create different effects with ease. In case you suffer from a shaky hand, the brush stabilizer will help you out.

If you are a comic artist, you will love the in-built vector tools that allow the addition of texts with ease. Apart from that, there is an option for customization for the brushes with the aid of 9 different brush engines.
Besides, the large community on Krita Artists Forum offers immense support. Here, you will find tips, suggestions, and how-to steps from different digital artists.
Features at a glance:
Open source and free drawing program.
An intuitive user interface that makes sketching easy.
More than 100 professionally made brushes for you to use.
Compatible with Mac, Windows, and Linux OS.
3. ArtRage 6 ($59)
ArtRage 6 is a professional-grade digital painting application that is perfect for beginners. It is compatible with both macOS and Windows. Here, you get the unique blend of the conventional paint texture and modern digital editing tools. Besides, the program is easy to use and offers excellent results.
The wide range of high-performance features makes ArtRage 6 an excellent choice. You can make a one-time purchase and upgrade the older editions to the new ones with a discount. Earlier, ArtRage 5 was one of the popular alternatives for Procreate but it is now replaced by ArtRage 6 that is launched recently.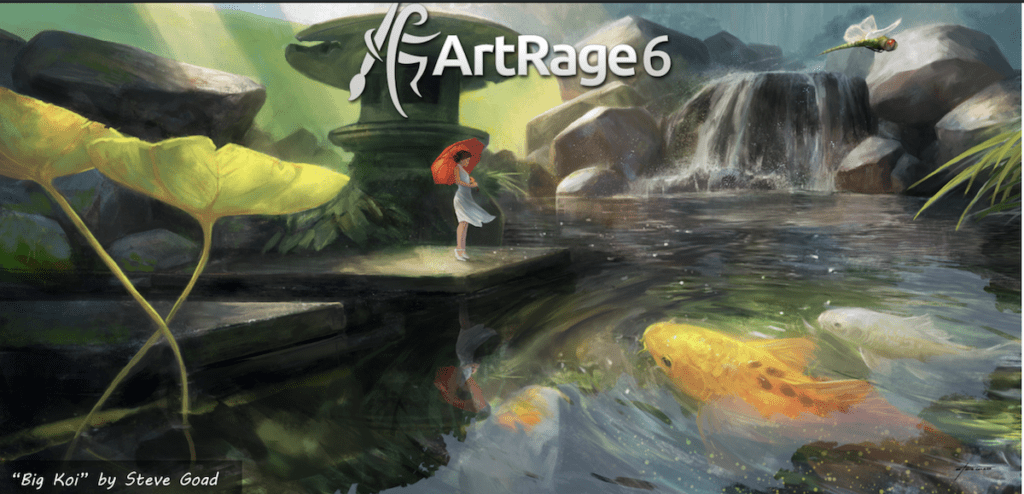 ArtRage 6 comes with custom brush editing along with a natural flexible pencil, watercolor, and oils tools. Moreover, you can customize the canvas to get the desired texture effects. Creating art is fun with this application!
For digital artists, the wide selection of tools will make things interesting. You can design your own brushes, opt for automatic lien smoothing and use the flood fill tool.
You can switch to the Docking mode and make your messy workspace tidy. It is now easy to include all the commonly used tools under the Toolbox menu. Apart from that, you can also use script recording to record the complete painting process.
Features at a glance:
Availability of custom digital brushes. You can add volume to custom brush strokes.
Easy to use interface in comparison to other competitors.
Customize your canvas with better controls and tools.
Record actions as well and you can write your own scrips for special effects.
You can now adjust the level of gloss in the Oil Brush tool.
4. Adobe Illustrator (~$30 per month)
One of the most feature-rich sketching programs that artists are in love with is Adobe Illustrator. With an excellent UI and intuitive controls, it has gained huge popularity. Here, you will get access to vector graphics and create web icons, billboards, product packaging, etc., with ease.
In Adobe Illustrator, artists can choose from a wide variety of tools. From creating simple shapes to developing sophisticated logos and graphics – you can do it all here. Apart from that, the software also allows sketchers to use the typography available along with the freehand drawing tools. It is definitely one of the best alternatives for Procreate available for Windows 10.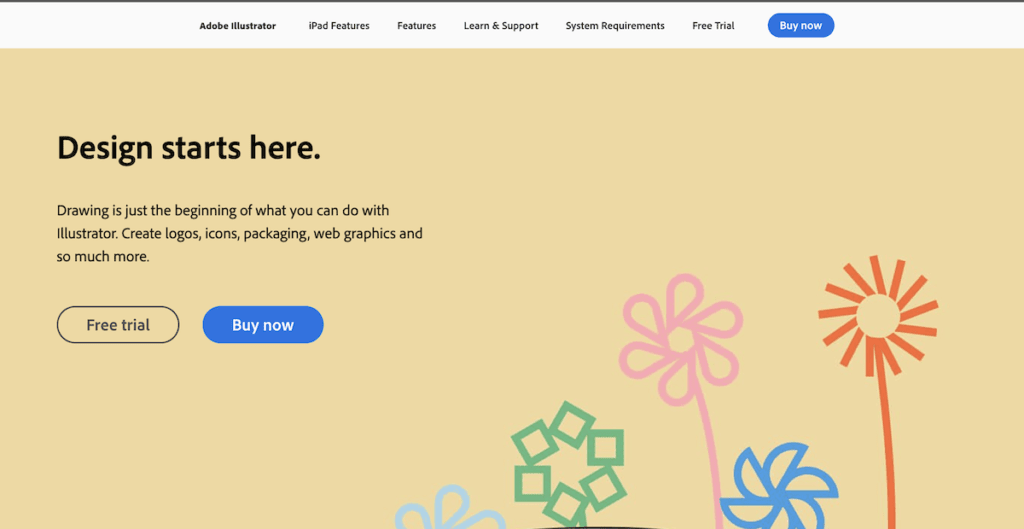 The drawing program is compatible with both Mac and Windows 10. Moreover, here, you can also enjoy the various features of Adobe Create Cloud. For instance, you can share projects, use cloud saves, get bundled subscriptions, etc.
It is without a doubt that Adobe Illustrator is one of the oldest sketching apps in the market. Over the years, the app has evolved with the integration of the latest technology. This has made the software versatile and much-loved among digital artists.
Features at a glance:
A wide array of features powered by Adobe Sensei AI.
Share projects via Cloud, thanks to Adobe Create Cloud services.
Availability of 3D effects and many other tools to get the desired results.
Diversified library with different tools.
5. Clip Studio Paint (Free Trial, Starts from $29.99)
Designed for creative people across the globe, the Clip Studio Paint is an excellent Procreate alternative. It comes with a natural brush that aids in the creation of visuals seamlessly. Moreover, it is compatible with Windows, macOS, iPad, iPhone, Galaxy, Android, and Chromebook. You can also opt for a free trial for an exceptional drawing experience.
Are you aiming for precision in your digital sketch? In that case, Clip Studio Paint is an excellent choice as it offers a maximum of 8192 levels of pen pressure. With this, you can make delicate strokes and create mesmerizing pictures.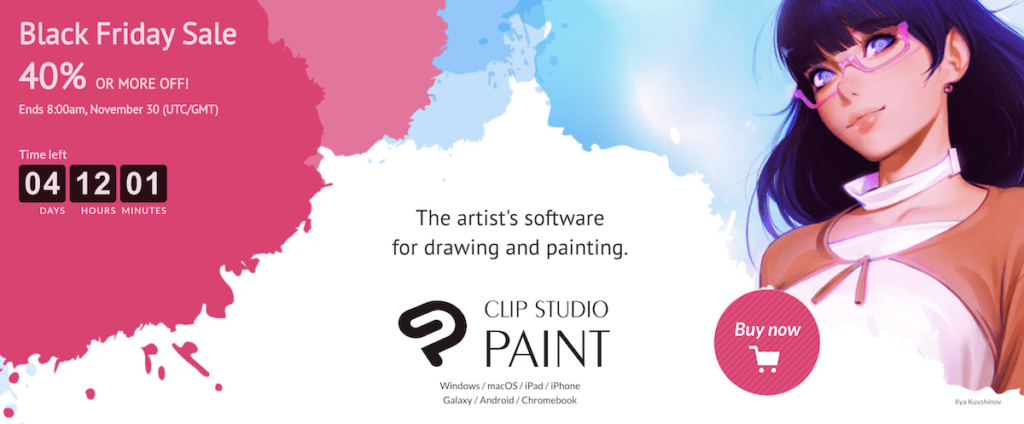 The application boasts of having about 1000 new materials on Clip studio ASSETS each month. Besides, you can opt for customization of the brushes in order to suit your drawing style. Here, the vector layers allow the editing and resizing of lines with ease. That makes it perfect for professionals to produce beautiful masterpieces.
Also, the vibrant and thriving community of Clip Studio Paint ensures that there are new materials in the online library constantly.
Features at a glance:
Seamless navigation of multiple pages.
Comes with a well-built interface.
Provides a wide collection of brushes.
Boasts of Manga-based features.
6. Concepts (Free, Offers In-app Purchases)
Another exceptional free Procreate alternative made with keeping Surface tablets into consideration is the Concepts. It works perfectly well with Surface Dial and Surface Pen. Here, the pressure and tilt inputs allow the users to decrease and increase the intensity of the tool as per convenience. It is an excellent software for product sketches, drawing storyboards, etc.
Concepts app is specifically built for vector drawings, but you can also use them for freehand sketches. While the app is free, there are a few in-app purchases that are a must if you want to use all features.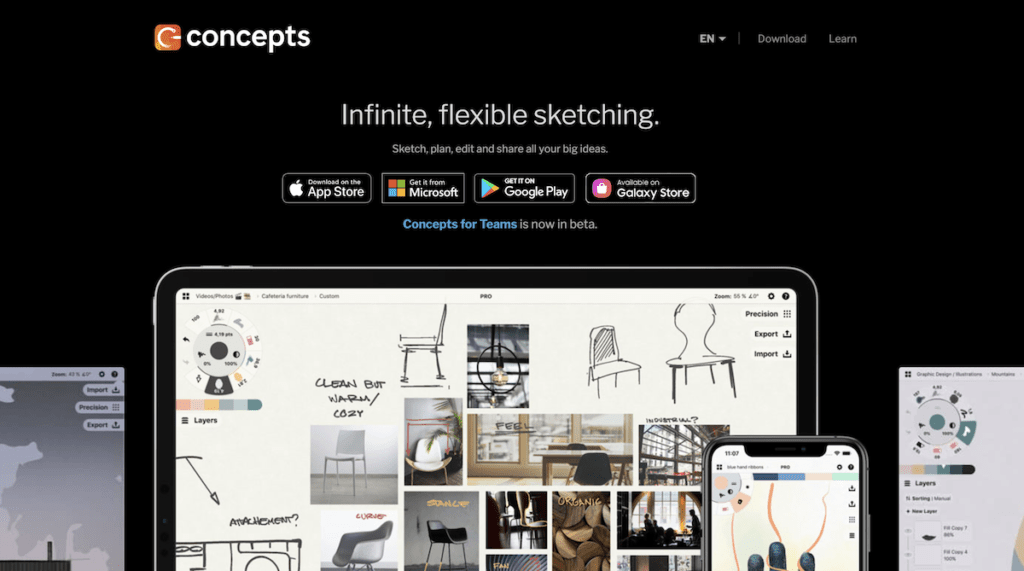 With Concepts, you can create custom brushes and use Advanced Transforms to make necessary changes. Apart from that, you can also use Precision Tools and Shapes. The app also comes with Infinite Layers, which can be used to manage your drawings easily. There is also an option to export and import images to high-res and vector formats such as DXF, SVG, and PSD.
Besides, the professional library of Concepts is filled with royalty-free objects and brushes. Also, the custom drag and drop libraries make the workflows reliable and efficient.
Features at a glance:
Provides a wide range of flexibility and is a great tool for beginners.
Option to create custom brushes to make edits easy for designers.
Access to a wide range of custom brushes.
The library has a great collection of royalty-free items.
To make things easy, the drag and drop feature is supported in the app.
7. Painter 2022 ($490 for Lifetime Access)
Without a doubt, the Painter 2022 is an excellent addition to the best Procreate Alternatives for Windows and Mac. It comes with a wide range of tools that lets you create stunning visuals. It is definitely one of the most reliable sketching tools for professionals.
Painter 2022 comes with exceptional customization for brushes. Moreover, you also have control over the canvas. Now, you can zoom, pan and rotate the surface texture. In order to create the best color palette, you can use color mixing tools such as Color Sets, Color Wheel, etc.

With the Brush Accelerator, it is now possible to gain a never-before painting experience with ease. A wide range of compatible brushes aids in optimizing the workflow with efficiency.
Here, artists can enjoy the ten additional brush engines at a faster speed rate. In essence, this drawing application is an absolute treat for artists and sketchers.
Features at a glance:
Comes with a wide range of textures and brushes.
The Painter 2022 also comes with SpotLight Layer, brush smoothing, edge quality, and much more exciting features.
This best Procreative alternative provides a wide array of composition tools.
Optimized workflow for an excellent painting experience.
Conclusion
These are some of the best Procreate alternatives for Windows and Mac that we think sketchers would love to download. There are many other great alternatives for Procreate available but these are like the best of the rest. Other honorable mentions, if we have to choose, are MediBang Paint and Adobe Fresco which you can consider too as best Procreate alternatives.
If you know more alternatives to Procreate, do share your feedback with us in the comments section below. Happy Sketching!