What we think about
PosterMyWall
Designing stunning graphics posters had never been so easy — especially for folks without any professional degree in graphics designing. PosterMyWall is perfect for professionals and businesses with no knowledge of designing.
Are you unsure whether you should choose PosterMyWall for your graphics designing needs? Continue reading my unbiased review of PosterMyWall to learn more.
That's true for sure. And guess what? The beautiful poster video you're seeing below is created on PosterMyWall. Being involved with blogging and content development for the past 2 years, I had been learning tactics for improving my online engagement — until I realized, it's all about designing the most stunning posters and animations that could attract millions of visitors.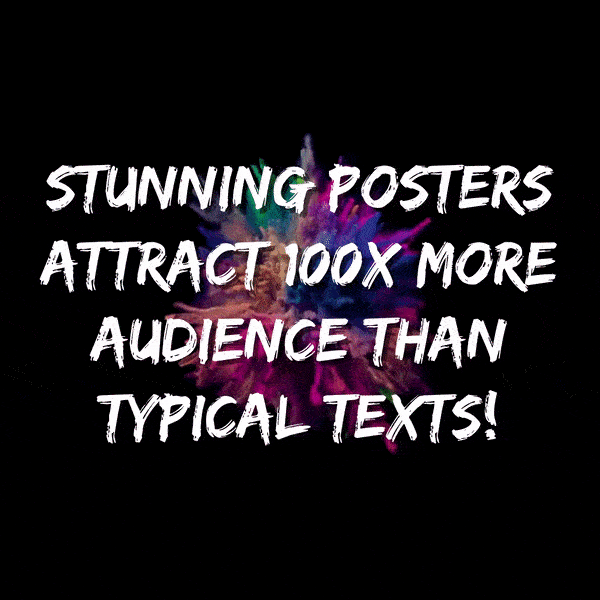 However, without any graphics designer degree, it was challenging for me, I couldn't come up with ideas, and all my designs looked mere garbage. Up until my fellow creator recommended PosterMyWall. Ever since I have been using PosterMyWall extensively for all my graphic design needs.
The results? It helped me engage 8000+ visitors on the very first day. That's unbelievable!
So I decided, I should probably compile my experiences with PosterMyWall and "spread the word" among others.
In this PosterMyWall review, you will understand how you can step up your graphics designing game without many spendings on professional apps. And by the end of reading this, you'll realize how PosterMyWall is near-perfect for your graphics designing needs.
What is PosterMyWall and What Does It Offer?
If you already don't know, PosterMyWall is the one-stop solution for every graphic design and poster creation needs. Unlike most other professional suites of designing applications, PosterMyWall doesn't require steep learning curves and offers thousands of pre-made customizable templates. Just choose your preferred PosterMyWall template, toss around some elements, and share.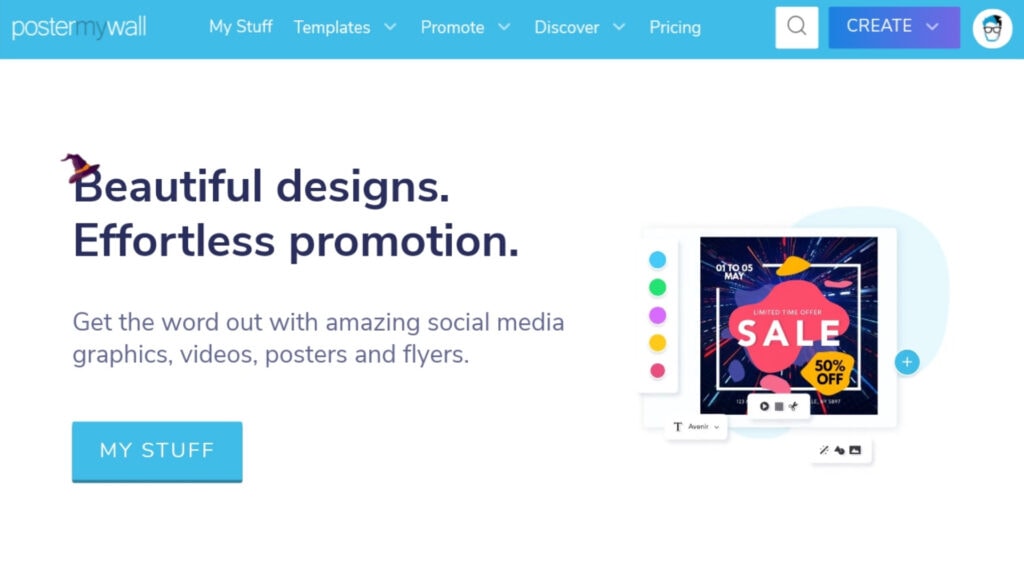 Whatever your graphics needs may be — Facebook posts, Instagram stories, social media marketing, or retail promotions, — PosterMyWall specializes in high-quality printable posters with organized photo/video collections. Create animated posters, flyers, and "spread the word" on social media platforms in minutes. You can also easily invite members for quick team collaboration.
And the thing I love the most — is seamless continuity on computers, phones, and tablets — so that team members can make those last-minute changes from anywhere. Now that we have covered the initials let's now dive in-depth.
Amazing Features Of PosterMyWall
1. Content Creation
Designing stunning graphics posters had never been so easy — especially for folks without any professional degree in graphics designing. Either start from scratch or choose an excellent PosterMyWall flyer. Each element of your graphics can be customized with texts, fonts, backgrounds, and audio clips.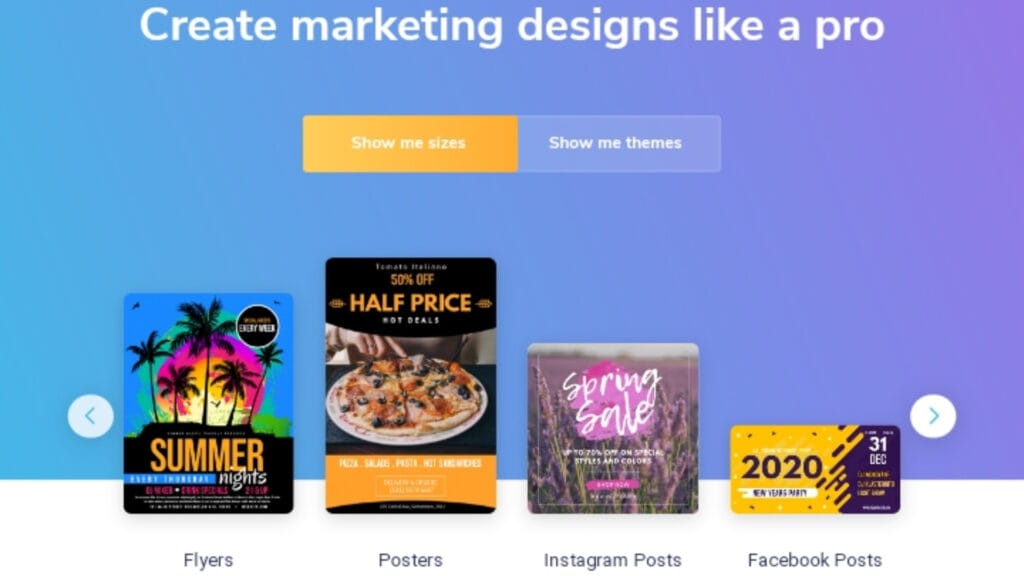 2. Customisation
Over the past years, the options for customization have translated incredibly — more than I anticipated. Not only texts, fonts, and images, but you can also tinker with little things like alignment, background image placement, and color corrections — all of which feel more like professional designing apps.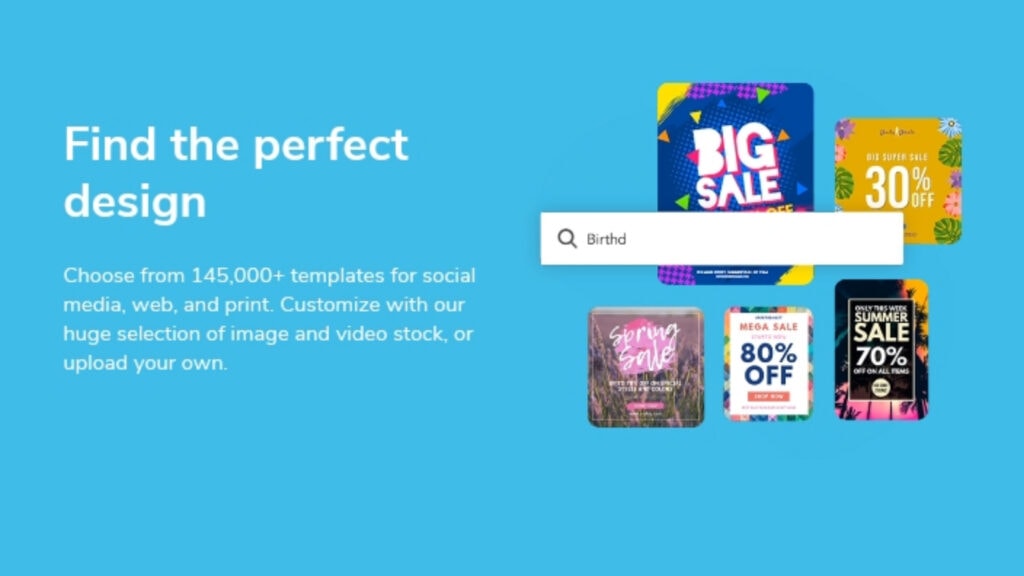 3. Collaboration
Teams can seamlessly share their graphic designs, collaborate, edit designs, and comment suggestions. Teams can also organize their works in folders and invite collaborators with the option of limiting access. With such features, teams can work simultaneously on multiple projects within a single account.
4. Resizing Across Platforms
The most frustrating thing about social media is different aspects ratios across different platforms. Thankfully, PosterMyWall offers you multiple downloads optimized for different platforms, without creating from scratch. You can also choose from 60+ different sizes across social platforms, posters & ad banners.
5. Publishing and Sharing
When your graphics design is complete, you can instantly download, share with collaborators, and publish on social platforms. On the other hand, auto-publishing on platforms like Facebook, Twitter, and Pinterest are available for free with post scheduling on later dates and time available for premium plans.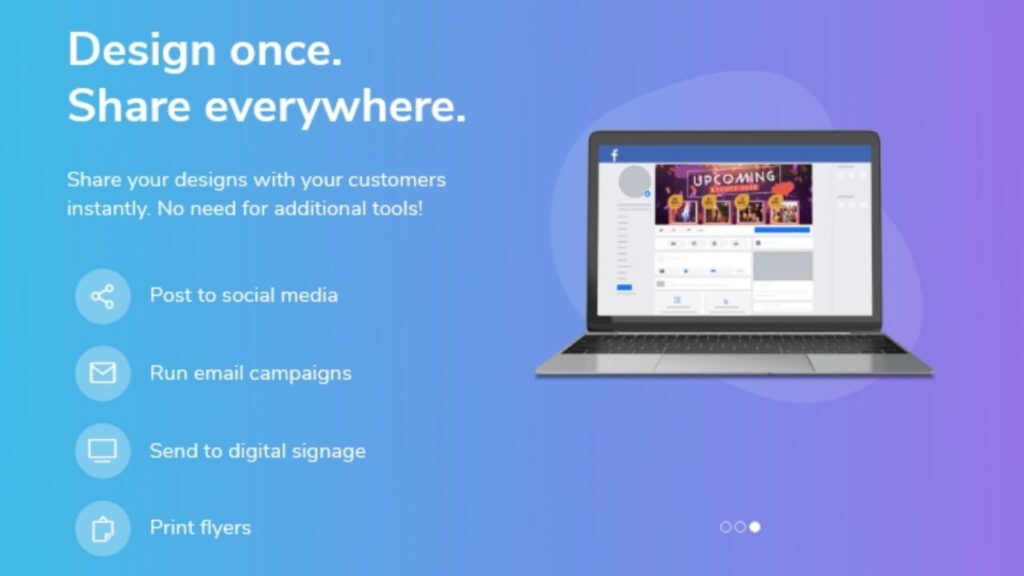 6. Web and Mobile Applications
If you ever faced the challenges of quickly editing your design, you understand how much convenience mobile applications offer. While the web app is quite well-optimized, the PosterMyWall app is always appreciated for quick adjustments and customizations on-the-go. It's just way more seamless.
Affordable PosterMyWall Pricing
Here comes the craziest part that has convinced me throughout all these years — the affordable PosterMyWall pricing. You can choose from three plans — Free, Premium & Premium Plus. While the free tier is paid per download, the Premium and Premium Plus can be billed quarterly or annually. Moreover, if you choose the annual option, you get another month for absolutely free.
The Free Package (Pay Per Download)
Users can create and customize any type of graphic design with the ability to add custom photos/videos, editing text fonts, and more.
Users can access the entire library of PosterMyWall templates with free stock resources from Flickr, Pixabay, and StoryBlocks.
Downloads are available with basic quality with no watermarks for social platforms. Watermarks are applied to other types of graphics.

You can download high-quality images with no watermarks, as well as getting stocks from Getty Stocks by paying for each download.
The Premium Package ($29.95/Quarter or $99.95/Year)
The Premium Package offers unlimited graphics downloads with the highest-quality without adding watermarks on photos and videos.
Users can purchase credit packs for purchasing video downloads and images/videos from stock sites like Getty Stocks and Pixabay.

Users, teams, and collaborators can upload custom fonts and brand logos for ensuring consistent branding across multiple social posts.
Premium users can schedule posts on Facebook, Twitter & Pinterest with 24×7 live customer support over telephone and email.
The Premium Plus Package ($89.95/Quarter or $319.95/Year)
Includes everything from The Free and The Premium Package.

Users only need credits for purchasing designs from Getty Stocks.
Premium Plus users receive 3 free credits each month.
Premium Plus users can print their designs and ship them in the US.
Should You Go With PosterMyWall?
PosterMyWall is perfect for professionals and businesses with no background in graphics designing. With this tool, you can create stunning graphic designs, promotional videos, advertisement banners, and more without having immense knowledge in designing applications. PosterMyWall packs pretty much every exclusive feature for creating unique designs, plus added tools for tinkering.
As PosterMyWall comes as an entire package, it offers plenty of conveniences and saves you from spending extra hours and money for developing beautiful posters. PosterMyWall is an efficient replacement for dozens of designing apps that you would have to purchase separately. Even, if you're undecided about PosterMyWall, take advantage of the free package before purchasing.
Pros
For web-based applications, no downloads are required
Thousands of customizable PosterMyWall templates
No professional skills required in graphics design
iOS or Android PosterMyWall apps available
Quick publishing on social platforms like Facebook
Seamless collaboration among team members
Cons
No access to your content unless you're an editor
Limited sharing on Facebook, Twitter & Pinterest
No drag&drop option for moving designs into folders
Video graphic posters cannot be looped
Video graphic posters aren't quite as high-res as images
Frequently Asked Questions
Is PosterMyWall safe?
PosterMyWall offers robust security and privacy on your graphics creations. To know more about their privacy policies, visit the PosterMyWall homepage, and see any additional information they have posted regarding privacy & security.
Is PosterMyWall free?
Creating an account and using PosterMyWall for basic needs is free. Additionally, paid users to benefit from downloading higher-quality images and quick access in PosterMyWall's ever-expanding gallery of templates.
How can I remove watermarks from PosterMyWall?
In some cases, small watermarks can be removed by free users. However, the plus-side of having paid access is having no watermarks on your graphics. Be it Instagram or Facebook, paid users don't get watermarks on their design.
Can I use PosterMyWall, even if I'm comfortable with professional apps?
Why not? The standout feature of PosterMyWall is customizable templates with endless possibilities. For example, PosterMyWall promo code templates help with designing stunning promo code posters within minutes.
My Final Verdict
Ever since the day I started using PosterMyWall, this fantastic tool has saved me hundreds of hours that I would otherwise have spent after designing my graphics. Small businesses and individuals who cannot hire graphics designers, can try out PosterMyWall and enjoy the ever-expanding library of PosterMyWall templates with endless customization possibilities.
While you cannot configure minute adjustments like more complex software, the PosterMyWall library offers plenty of customizable designs for producing promotional graphics, videos, and posters. While the premium packages provide plenty of customization and collaboration options, the free package is quite sufficient if you don't mind the watermark and low-quality downloads when you use resources from Getty.
However, if your design doesn't include any resources from Getty, you can download high-resolution images too. Also, posters, flyers, and videos can be downloaded in high-quality by simply paying for that individual design even if you are on a free package.
Still, the best part remains — you don't need any specific design background for using this amazing, convenient, and affordable graphics designing tool. If you liked my PosterMyWall review, please share and "spread the word" and if you have any queries, feel free and drop your thoughts in the comments down below.
What we think about
PosterMyWall