How many times have you wished to play YouTube Music in the background and just browse your Instagram or Reddit feed in peace while listening to your favorite music? In our previous article, we explained how to play YouTube videos in the background and in this article, we'll explain the same for YouTube Music.
With the rise in streaming services, there are quite a lot of songs and videos that are still not available to stream outside of YouTube. Unfortunately, the free version of YouTube Music won't allow us to play the song in the background or when the screen is turned off while other streaming apps do. Don't fret, read on to know how to play YouTube Music in the background when the screen is turned off or locked. You can use this method to play YouTube in the background on both Android as iOS devices like iPhone and iPad.
How to Play YouTube Music in background When Screen is Locked/Turned Off
YouTube Music is a relatively new service that is currently available only in the USA. You can also download and use the app from Google Play if you are living in the United States. YouTube Music is available for free but with limited features and a lot of Ads. To unlock all features and remove Ads completely, you have to purchase the subscription which costs you $11.99 a month.
YouTube Music subscription has the prebuilt feature of playing music in the background when the app is minimized or screen is locked or turned off. Badly this most wanted and useful feature is not available in the free version.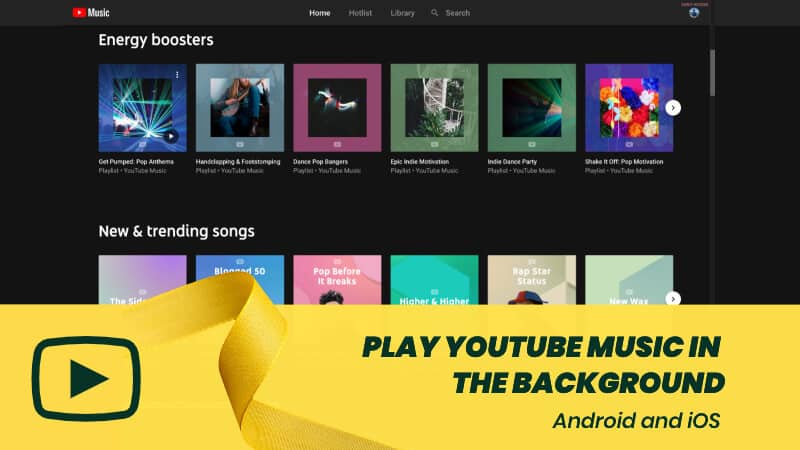 Luckily, we have a solution for playing YouTube Music in the background on iOS & Android devices though you are not from the United States or if you don't have the YouTube Music subscription. Here is how can you do it using a free web browser and a free VPN service.
Step 1: Enable Desktop Site in Browser
Google Chrome on Android and Safari on iOS comes as preinstalled web browsers to surf the internet. On Android open Google Chrome and tap the 3 dots on the top right corner and enable the Desktop Site option.
On Safari browser, you can do the same by tapping on the Share icon and choosing the Request Desktop Site.
Android
iOS
This will ensure that all websites that you open from now onwards will open up in Desktop mode and will have all the features that you see when you open these same websites from your computer.
Step 2: Install VPN app and Set Location to the United States
You already know YouTube Music is available only for the users living in the United States. To access it outside the USA, you need to set up a VPN on your device and change your location to the US. There are a lot of VPN apps available for Android and iOS devices and for this article, we are using a free VPN called Secure VPN.
Download on Google Play
Download from App Store
SecureVPN is very easy to use with a friendly user interface where you can connect to any server with just one tap of your finger. However, you can use any other VPN apps of your choice but our recommendation for this article is SecureVPN.
Server Locations
Connect to VPN
Open the SecureVPN application and from the list of servers, you need to choose and connect to any of the USA servers in order to access YouTube Music. Once connected, minimize the VPN app and go back to Chrome/Safari and refresh the webpage.
Step 3: Open YouTube Music
After connecting to the VPN, type music.youtube.com in the address bar of your browser and hit Enter. Since you are using a VPN app and connected to a US server, YouTube Music website will assume you are really from the United States and provide you the complete access to their services.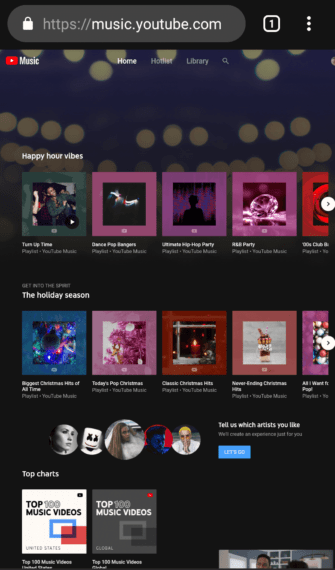 If you are accessing YouTube Music from any other country then you'll be greeted with a message saying service is not available in your area. So you must use the VPN and set your location to the US to access YouTube Music from anywhere in the globe.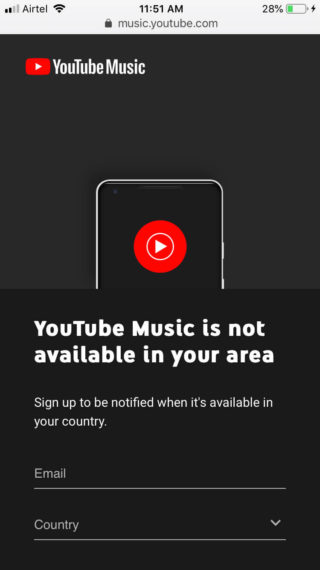 Step 4: Search and Play the Music
Search for the YouTube Music that you want to listen or browse the existing playlists available. YouTube music is specially created for music lovers, so you will always find the latest and the trendiest music right under your fingertips. Select the music you want to listen to and start playing it.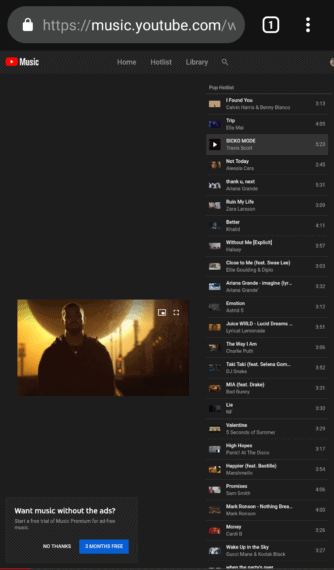 Step 5: Minimize the App to Play YouTube Music in background
Once you have your music playing the browser, you need to exit Chrome or Safari browser using the home button or guests. Swipe down from top to open Notification Panel if you are on Android, or open Control Centre if you are on an Apple device and you'll see a built-in media player playing the song that you chose in the background.
You can now pause and play the song using the small media player itself. Use the buttons to rewind and forward the music 5 seconds and also to play the next music or to go back to the previous one.
Notification Panel in Android
Control Center in iOS
You can even lock your phone and the song will still be playing in the background. The media player in Notification Panel or in Control Center will still work even when your phone is locked.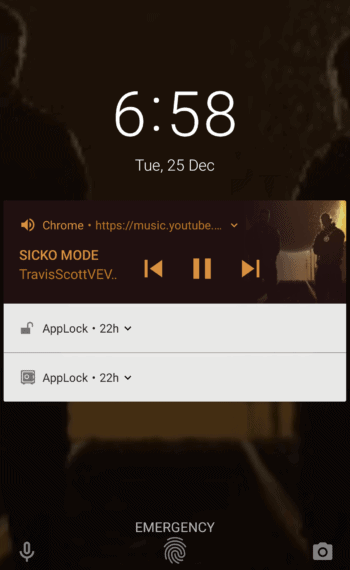 This is how you can access YouTube music outside of United States and play the music in the background without a paid subscription. All you need to have is a web browser and a free VPN app for your device and you are good to go.
Also Read: 10 Best Alternatives for YouTube to Watch Videos Online
Conclusion
If you are from the United States but don't have paid subscription to YouTube Music, then you can skip the VPN part and follow the rest of the article to play YouTube Music in the background. People from the US who already have the monthly subscription can use the background play feature directly in the YouTube Music official mobile app.
People from rest of the world have no other option than using a web browser and a VPN application on their device. We have explained the process clearly in a simple way and in case if you have any questions or difficulty following the above steps, don't hesitate to comment below.