Ever since we started to consume media on any Windows or Mac machine, VLC would have been the first application that comes to our mind. But wait, the software we are going to review today is much more powerful, free of cost and is packed with tons of features thereby making it the perfect 4K video player for Windows.
Right from downloading videos to streaming content over Wi-Fi. Making it sound simple, 5KPlayer is a VLC player on steroids for Windows with tons of features.
This article will cover the 360-degree overview on how to play 4K UHD videos on Windows machine with 5KPlayer, it's top features and what we feel about it.
Requirements to play 4K videos in Windows or Mac
Playing a 4K video on a TV is simple as it sounds, whereas playing a 4K video on Windows or Mac machine is not easy. Rather it has its own hardware requirements that have to be met.
If you don't meet the requirements, opening a 4K resolution file or a large video file on your Windows or Mac will cause stutters, audio lag, and more problems than you can think of.
Here are the minimum hardware requirements to play or stream 4K UHD Videos:
Monitor or TV with a resolution of 3840 x 2160 or higher
Anything above Intel 4th Generation (Haswell based CPU) or AMD A10 – 7800 APU
Geforce GTX 750ti (Geforce GTX 970 recommended) graphic card
4GB and more RAM
To make you enjoy lag-free 4K UHD video viewing experience, we have handpicked the best hardware from Amazon
Hardware and software combined make electronics works. So along with the above hardware components, you also need good software like 5KPlayer to play 4K UHD videos on your PC.
How to Download 4K Video Player on Windows
To play 4K HUD videos on your Windows machine, download 5KPlayer software from here.

Install the application to the desired location on your Windows.

Once the installation is complete, a prompt will appear requesting access for the internet as 5KPlayer has different inbuilt features like AirPlay, DLNA, Live radio & more that requires a network connection.


After allowing access to private and public networks, you will be prompt with the registration screen as registering allows us to use the software without any limitations.
Note: Skipping the registration would have two less important features – Video downloader and AirPlay.
Once done with the registration process, you will be greeted with 5KPlayer home screen showcasing different features available in their software.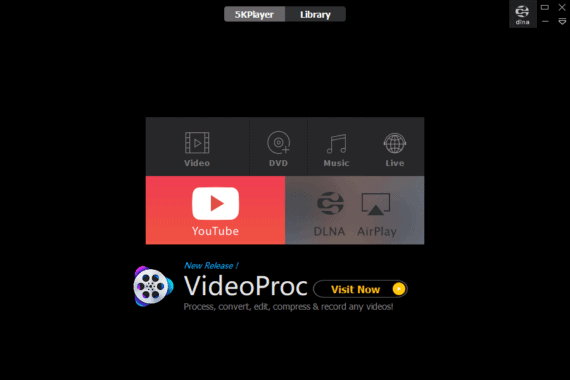 Now that you have downloaded the best 4K video player for Windows, let's see how to play 4K videos on Windows PC.
How to Play 4K Videos in Windows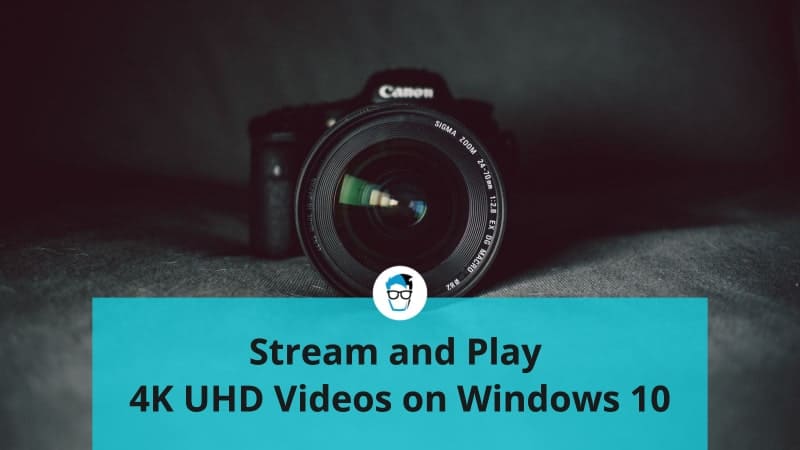 Right-click the 4K video file on your computer and choose 5KPlayer or hover on Open with and select 5KPlayer.

 If you don't have any 4K video on your computer, use the inbuilt video downloader to download 4K videos on your computer or use this sample 4K video.

Enjoy your 4K UHD video on your Windows easily with 5KPlayer!
1. Inbuilt video downloader
5KPlayer is just not the best UHD player for Windows or Mac but also packs with one of the most useful features that allow us to download videos from websites like Facebook, Vimeo, Dailymotion, and 500+ other websites.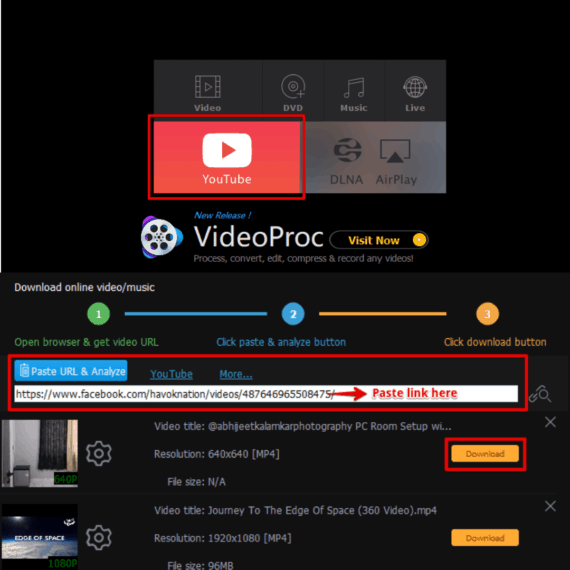 To download videos with 5KPlayer:
Click on the YouTube icon present on the homepage.
Paste the video link you wish to download in the text box and 5KPlayer will automatically detect video details.
Scroll to the desired resolution
Click the Download button to save video locally on your device.
2. Hardware Acceleration
5KPlayer + Hardware acceleration enables you to play literally anything you throw at it. Hardware acceleration is nothing but lets you the 5KPlayer utilize the power of the graphics card and CPU to accelerate the video performance to ensure the stability and quality of the large high-resolution video files.
The hardware acceleration menu can be accessed by going to Settings (F2) > H/W Acceleration. Select the desired options as shown in the image below.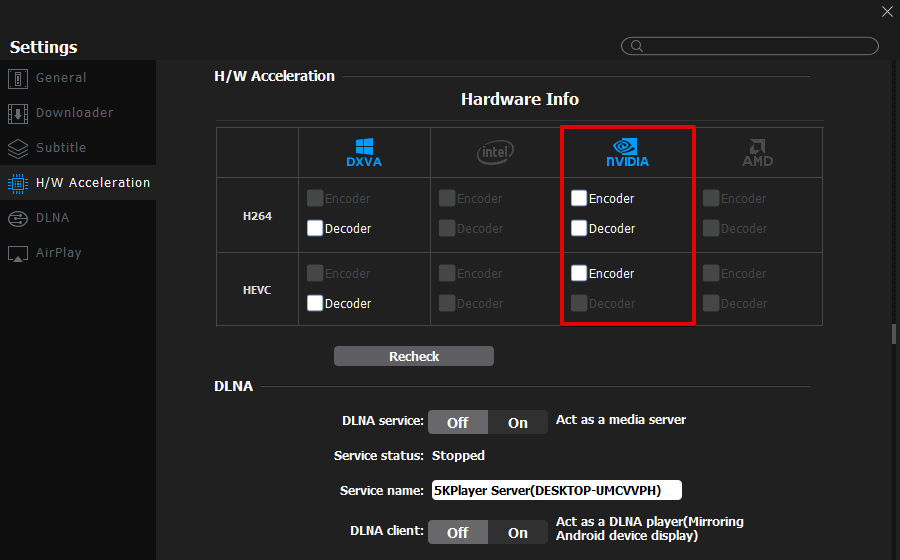 3. Supports plenty of file formats
If this is going to be your next default video player, then it has to be able to play any format, right?
Right from MKV to H.265/H.264 up to a resolution of 4K/8K videos including HDR videos and 360-degree videos, 5KPlayer can handle it easily.
Here's the list of all supported formats by 5KPlayer: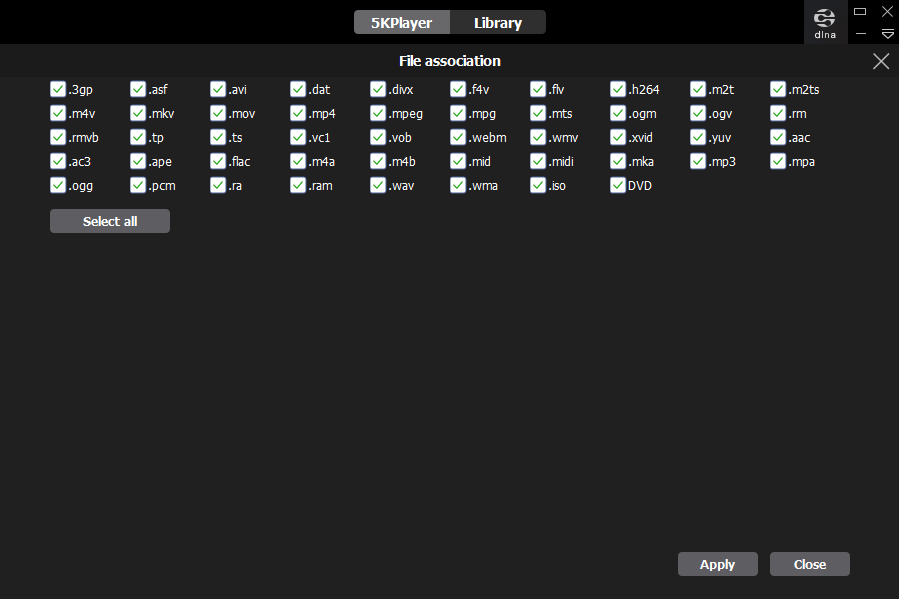 4. AirPlay & DLNA server support
With the AirPlay support, streaming your content from various Apple devices such as iPad, iPhone, iPod to your Windows or Mac machine becomes easier and allows you to enjoy content on a larger screen.
AirPlay on 5KPlayer can be enabled or disabled by going to Settings (F2) > AirPlay > On/Off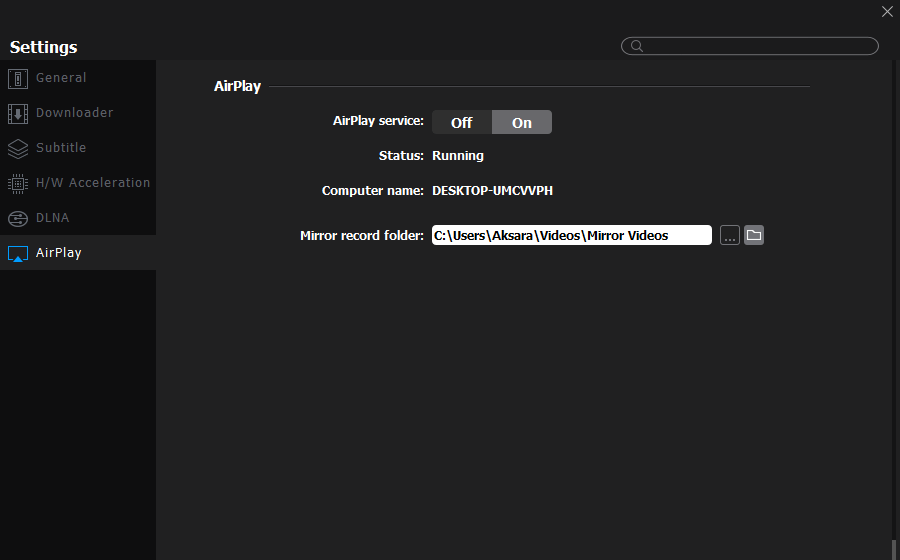 Whereas DLNA works either way where you can stream content from your Android device to your Windows or Mac machine via 5KPlayer or Stream your media from your computer to your smart devices such as Smart TV, Game consoles and over 4 Billion DLNA certified devices.
DLNA can be customized, turned On/Off by going to the DLNA menu – Settings (F2) > DLNA > On/Off.
5. Radio Player
Playing the radio has never been easier. You can play different radio stations via the 5KPlayer inbuilt radio streaming feature by clicking on the Live button present in the home screen of the application.
Accessing different preloaded Radio stations or listen to your favorite one by just pasting its streaming link in the Input a URL section.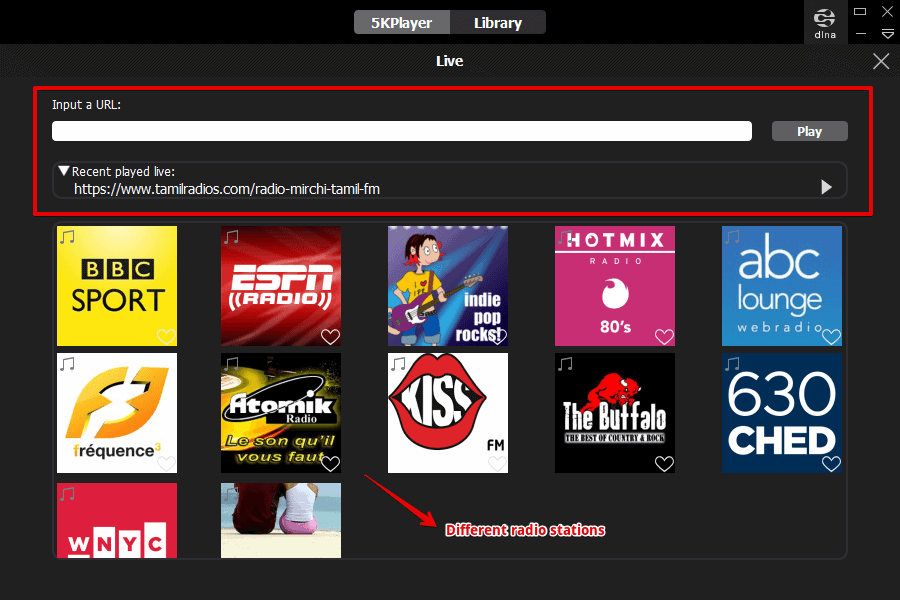 6. Inbuilt video editor
Ever felt like editing a video but too lazy to open up Adobe Premiere Pro or less knowledge in editing a video? 5KPlayer's inbuilt video editor is all you need to edit on the go for small edits & tweaking the video.
To edit a video with 5KPlayer, play a video and click on the scissors icon as shown in the image below.


You will get all the different options to rotate, flip, trim, change the playback speed and few other options like adjusting the Saturation, Contrast & the brightness. There's also a reset button in case you want to revert back all the edits made.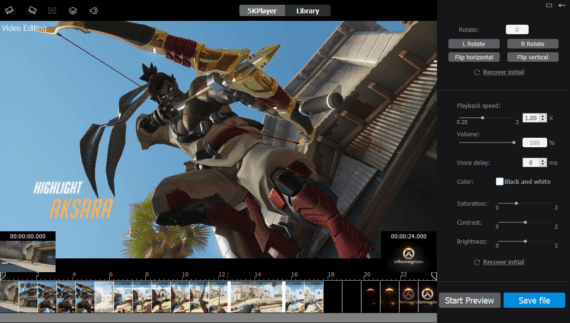 Conclusion
No matter what kind of video I threw at this player, be it a 4K video or a UHD large-sized video on a Windows 10 machine, the playback was flawless.
The library option in this player lets us maintain a playlist and also comes in with a handy converter in the library section that allows us to convert any video to H.264 (as an add-on).
While comparing the UI with the ever classic VLC, this player was much more appealing and easy to use. Even though VLC might have some similar features as the 5KPlayer, finding them in this player was straight forward and didn't need any Googling. Being a freemium application and with the features they provide what more could we possibly ask for.