What we think about
Penji
Penji is a great tool for content creators. If you have a lot of design work on a daily basis, just go for Penji blindly. But if you have less than two or three designs, you might hire a designer for a better price. All-in-all, Penji is a tremendous tool for bloggers, YouTubers, social media influencers, marketing agencies, and many others.
If you are someone who relies on design work then and now, then hiring designers for the job is quite tiresome. Even if you find one, chances are you might not get what you expect. For instance, you can take YouTube thumbnails, blog images, banners, logos, app user interfaces, and whatnot.
In such cases, you might seek help for one specific service – Penji. If you heard it for the first time, it's okay, I understand. In this blog post, we're going to take a look at Penji, its features, and whether it is worth the price or not.
This is completely an unbiased review, and being a freelance designer myself, I was curious to test out this software. And the results were surprising. Keep reading to know more.
What is Penji?
If you have a strict budget when it comes to designing, it might be hard to find designers under your budget. Penji is a subscription service that gives you access to their team of designers, who can do design work for you. Sounds interesting, right?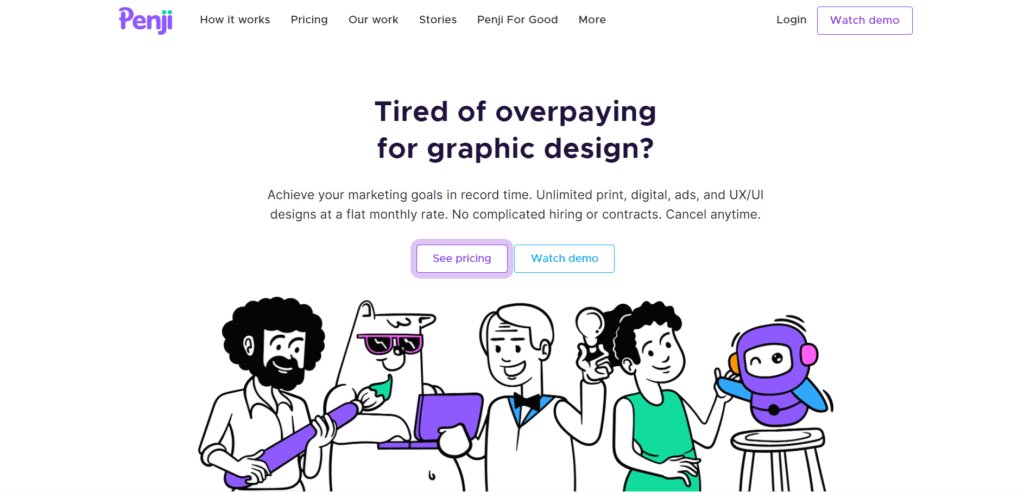 But the real intriguing part about Penji is that you can get unlimited designs once you sign up for their subscription. I'm not joking, it's truly unlimited. You can get banners, app UIs, thumbnails, logos, brochure designs, and much more. One thing though, they'll only work at one design at a time. Yet, I feel it's a fascinating deal.
How does Penji work?
All you need to do is create a project, and fill in the design brief, and you're good to go. The designers will be assigned accordingly. It might take 12-24 hours to receive the design from the designer, and then you can ask for revisions until you get it to your liking.
Once you get the required revisions done for your design; and you're satisfied with the end result, you can download it right away. You'll be able to download your design in different formats, including the source file as well. Isn't it interesting? In addition to that, Penji will save your files onto the dashboard, so you can find them whenever you want it later.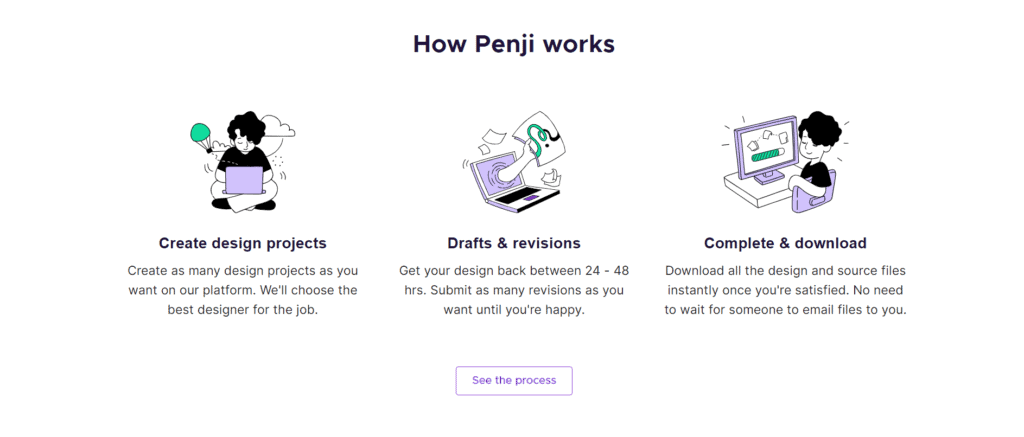 You can submit as many projects as much as you like, and also you get unlimited revisions as well. There are no hidden charges, so you can choose whatever design you want, and the kind of design you like. It can be a logo, infographics, banners, thumbnails, or whatever you want.
As mentioned above, there lies a caveat. Designers will work on one project per time. You can get them to work on multiple designs if you upgrade to the Agency plan.
Also Read: 9 Best Photoshop Alternatives For Windows, Mac, and Online Tools
Features of Penji
Penji is best suited for content creators and social media marketing agencies. Here some features of Penji that might be advantageous for you.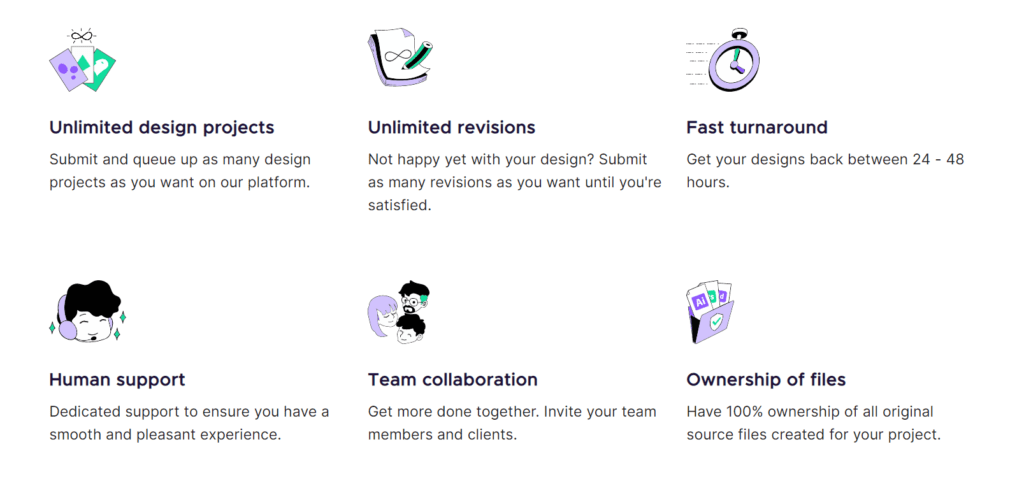 Unlimited Designs: If you want to get a constant supply of designs for your work, Penji is perfect for your needs. Let's say you're a blogger, you might need featured images designed for posts. Similar to that, if you are a YouTuber, you might constantly need multiple thumbnail designs. In such cases, Penji provides you unlimited designs for a flat subscription price.
Unlimited Revisions: Having unlimited revisions gives you the freedom of getting the designs as per your liking. Penji won't stop revising the design for you until and unless you're satisfied. This is such a blessing for content creators.

No Recruitment: You don't need to go through the process of finding a designer for your graphic design needs. Penji gives you access to a ton of designers all at once. They hire designers, and the filtration for you so you don't have to go through all the hassle.
Affordable Pricing: With unlimited designs, hiring a skilled freelance designer can cost you thousands of dollars. Penji cuts it and starts at a flat rate of $399/month. This is quite affordable for many content creators if they plan for constant designs.
No Contracts: When you subscribe to any of the available plans, you are not locked in any sort of contract. You can cancel it anytime you want when you think you no longer want to use the service.

High-Quality Designs: With Penji, you don't have to worry about the quality of artwork that you receive. Since Penji hires top-of-the-line designers, you need not worry about the quality of the designs.
Penji's Plans and Pricing
Penji offers three plans at the moment of writing this review namely — Pro, Team, and Agency. With the Pro plan, you get access to graphic designs only with unlimited designs and revisions. Moving to the Team plan, you get access to graphic designs, illustrations, and UI/UX Designs with unlimited designs and revisions. The Agency plan, on the other hand, offers everything from the Pro and Team plans, and also web designs, custom illustrations, and many more. All of these plans come with full ownership of what you receive from the designers, you need not worry about licensing or anything else.
Here are the three plans in contrast to each other with their respective pricing to give you a better idea:
$399 per month
Unlimited design projects
Unlimited brands
One designer
Two users
$499 per month
Unlimited design projects
Unlimited brands
Website and app designs
Custom illustrations
Infographics
Five users
$899 per month
Unlimited design projects
Unlimited brands
Website and app designs
Custom illustrations
Infographics
Two designers
Ten users
Prioritized support
In addition to these plans, Penji also offers a 15-day money-back guarantee. There are no strings attached, and it's a 100% money-back guarantee if you don't like the service. If that sounds interesting, go ahead and register for a demo on the Penji site.
Penji's Customer Support
Penji assigns you a dedicated account manager, so you don't face any problems. If you are still facing any issues, go ahead and talk to the account manager via email. Penji also provides you the option to talk to the online team support via online chat, and get things sorted out as soon as possible. The customer support is friendly and quite understanding.
A Designer's Verdict
As a graphics designer myself (check my portfolio here), I felt Penji is a great tool for those who don't want to go through the hassle of recruiting designers. Although recruiting designers from word of mouth can be easier sometimes. In addition to that, if you are planning to go for one design, it's basic logic to go for a designer rather than Penji.
Although if you have tons of work regarding design, it's best to go for Penji rather than recruiting a designer. As a designer, I feel bad that tools like these are making it easier to get access to high-quality designs. It's good in some way but also hurts a little.
Jokes apart, I really like the operation of Penji. It's simple to use and also accessible to everyone at the same time. Again, go for Penji only if you want to get unlimited designs for your content needs. Don't go for Penji if you want specific needs that you can only convey while talking to the person on a phone or chatting with them. I must say with tools like Penji, it might be hard for designers like me. And that was a compliment!
Here are some pieces of work form Penji's Portfolio.
Conclusion
These days, graphic designs are something that you just can't ignore. As the saying goes, "visuals speak more than words," and thus having a tool like Penji is a godsend gift to content creators. If you're an agency, I would say you must go for Penji.
Even if you have one design or more than a hundred, simply go for Penji. It is a great tool for those who are looking for multiple designs without the hassle of hiring designers. Head over to penji.co for any additional information regarding this tool.
What we think about
Penji