What we think about
PDFelement for Mac
PDF Element for Mac is a powerful tool to edit your PDF files. Here is an in-depth review of PDFElement for Mac and why you need it for your office works.
PDFelement for Mac is an easy-to-use tool that enables users to create, edit, convert, and sight PDF documents in just a few clicks. Using unsafe online tools loaded with ads and potentially dangerous malware to edit or convert sensitive documents can harm your Mac.
Accidentally using the wrong website may result in you conveniently submitting sensitive documents to cybercriminals. Using the right software may be the difference between you creating a crisp-looking document with ease and getting hacked.
After using it thoroughly, I found PDFelement for Mac to be one of the best all-in-one PDF solutions available on the market. You can download it directly from the Mac App Store and try it out for free.
The all-new PDFelement for Mac is safe to use and does not tamper with your documents.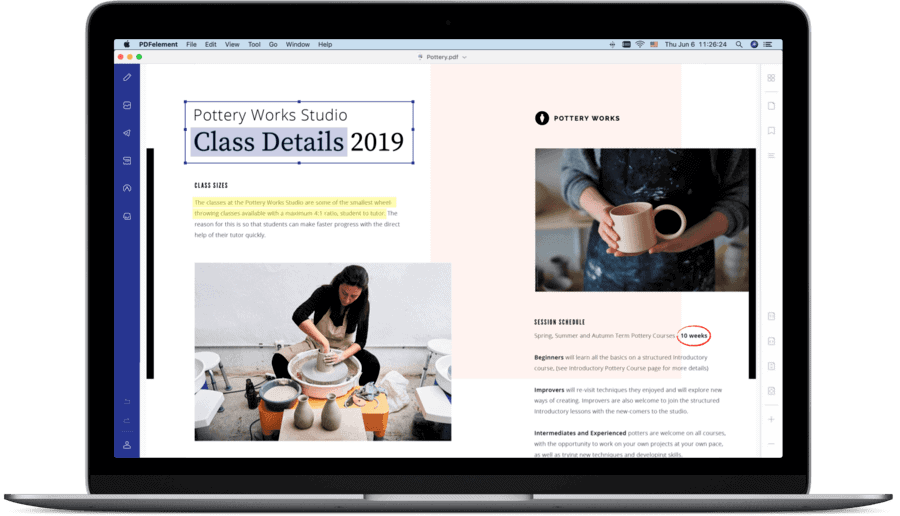 It boasts a redesigned UI, making it much easier and quicker to create a sharp-looking document. PDFelement for Mac also features powerful conversion tools, allowing users to convert their files to the right format in seconds.
It comes with advanced writing tools that help the user deliver their ideas congruously.
Not just that, this new iteration of PDFelement for Mac makes creating documents incisive with its improved team collaboration features and a modern user-management console.
Getting PDFelement for Mac is one of the easiest ways of giving you and your team a significant productivity boost.
PDFelement for Mac is available in two versions on the Mac App Store:
PDFelement Standard for Mac
PDFelement Pro for Mac
I got the perpetual plan to evaluate and analyze all its features to give you proper details in this review. Let's check them out.
PDFelement Standard for Mac vs. PDFelement Pro for Mac
PDFelement Standard for Mac comes with critical features perfect for personal use. The software includes the following:
PDF Editor
PDF Annotator
PDF Converter
PDF Reader
PDF Creator
Form Filler
On the other hand, PDFelement Pro for Mac is a complete PDF solution meant for professionals and a growing team. The package includes the following:
All the features in PDFelement Standard for Mac
OCR (Optical Character Reader)
Batch Operations
PDF/A Support
Form Creator
Support for Additional Output Formats
There is also a PDFelement "Business" for Mac version that enables all pro features for multiple computers. More details>>
Let us now get into details about how these features help users.
PDFelement Standard for Mac Features
1. PDF Editor
The PDF Editor enables users to edit text, images, and links in PDFs. You can change the font attributes (type, size, style, and alignment). Furthermore, you can insert, update, and remove custom watermarks and backgrounds.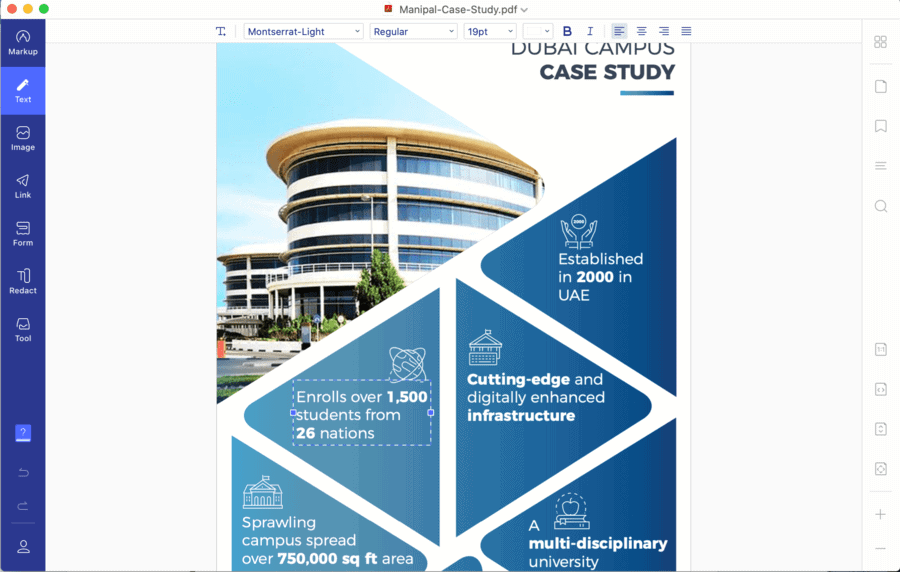 2. Markup and Annotate PDF
Using markup and annotate features in PDFelement for Mac, users can:
add comments, sticky notes, textbox, text callouts stamps, and add/edit links;
draw freehand—highlight, underline, or strike-through text; and
create and manage a library of prebuilt and custom stamps.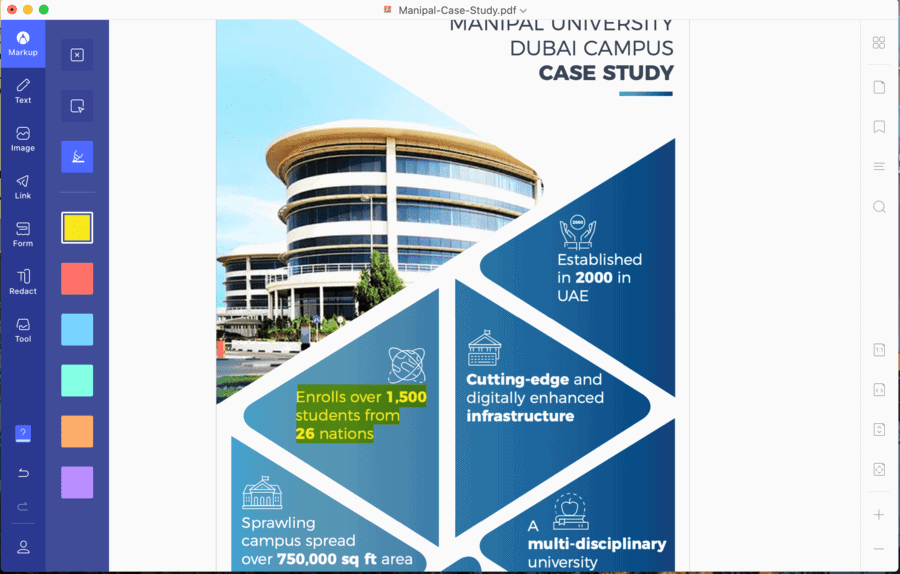 3. PDF Converter
The powerful PDF converter supports conversion to the following output formats:
Word (.docx)
Excel (.xlsx)
PPT (.pptx)
Image formats (.jpg, .png, .gif, .bmp)
The best thing about the converter is that it does not alter the layout of the original document and maintains texts, graphs, images, fonts, and embedded elements from the original material even after conversion.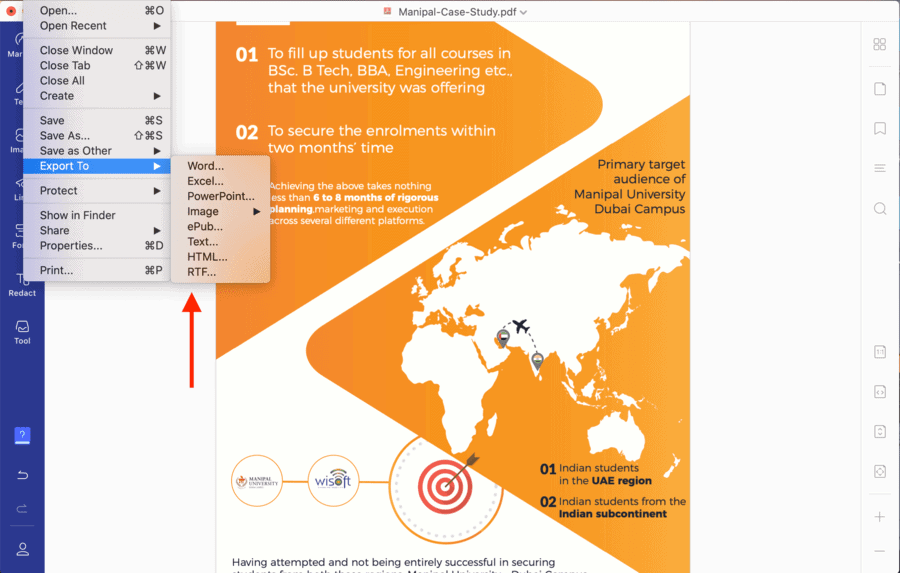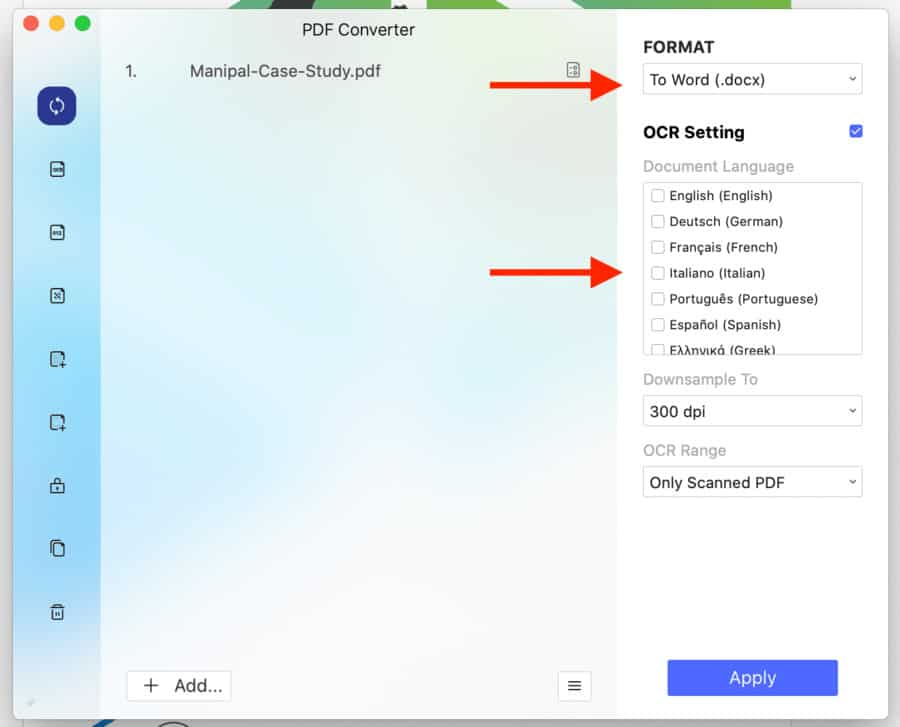 4. Fill Forms
Users can fill PDF forms with ease using this feature. It gives users access to a collection of prebuilt, customizable, fillable forms.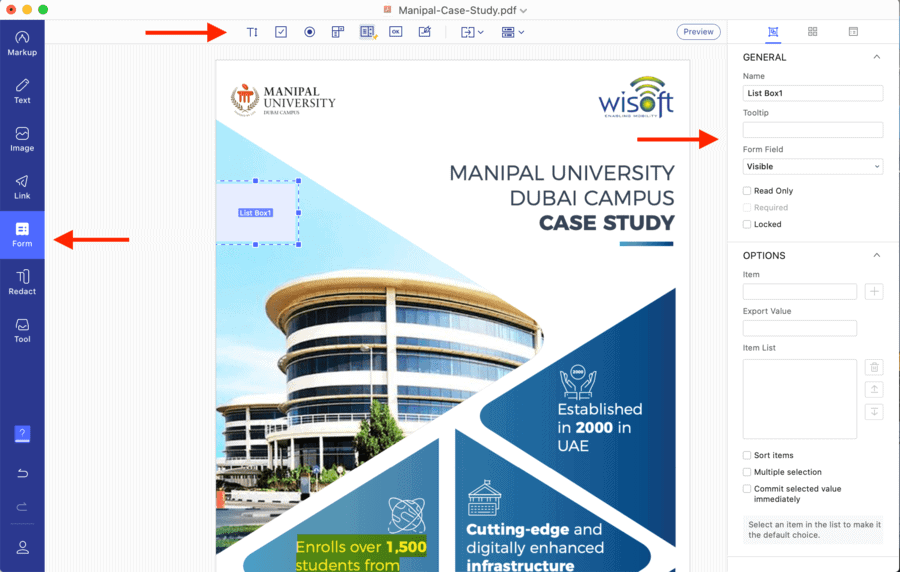 5. Create PDF
Users can create PDF documents quickly using this feature. PDFelement for Mac supports the following input formats:
PDF
HTML
Web archives
RTF files
.txt files
.jpeg files
.jpg files
.png files
.bmp files
.gif files
6. Page Management
PDFelement for Mac enables users to reorganize, insert, extract, rotate, and delete pages in just a few clicks.
7. Secure and Share PDF
Users can control who can and cannot see the contents of a file using this feature. Users can
set a password to protect PDFs from being opened by unauthorized users;
restrict other users' access to PDF printing, copying, editing, and extracting by setting appropriate permissions for your document; and
save and share files to cloud storage of choice that is compatible with their operating system.
PDFelement Pro for Mac
It includes all the features of the PDFelement Standard for Mac version. Additionally, the Pro version includes the following exclusive features:
8. OCR
OCR (optical character recognition) allows users to edit and convert PDF files and images by scanning the text in the document. PDFelement for Mac supports the recognition of 29 languages.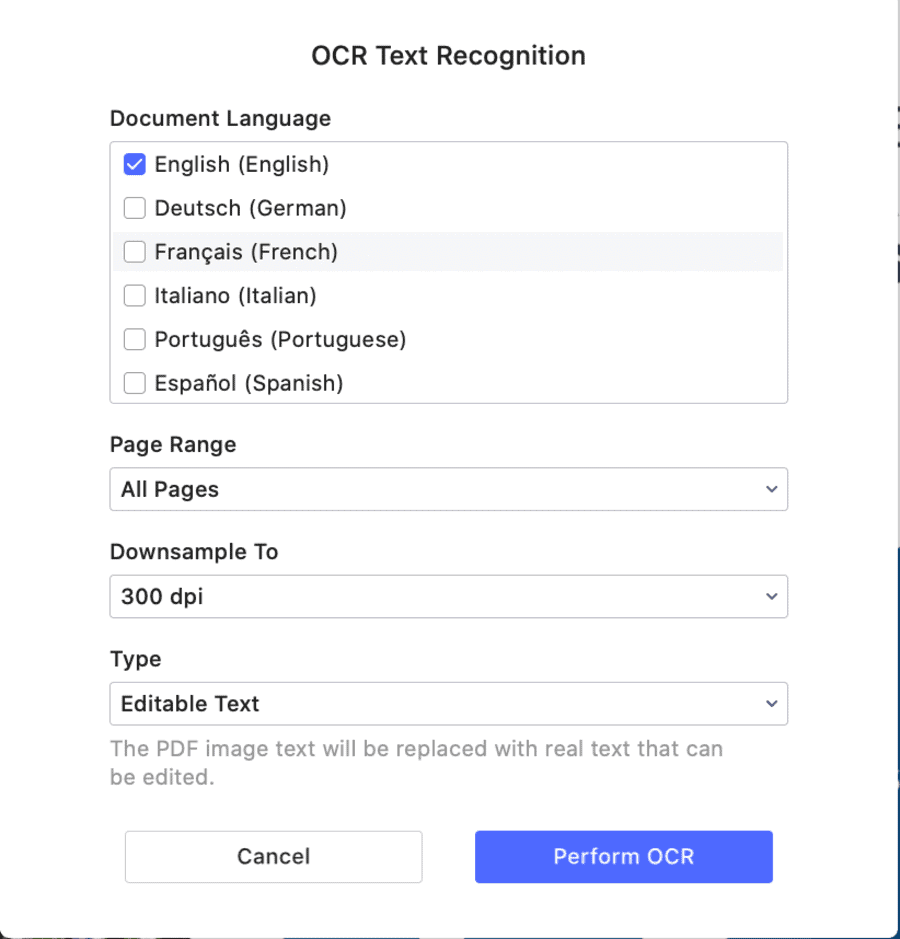 9. Create and Sign Forms
Users can create fillable PDF forms using interactive field objects, such as buttons, checkboxes, radio buttons, list boxes, and drop-down lists.
Users can also add digital signatures to the forms. This is excellent for e-commerce companies and contractors who deal with a lot of verification every day.
10. Merge PDFs
Users can combine different format files into a single new PDF using this feature.
11. Convert PDFs
This feature enables users to convert PDF files to a broader range of output formats like EPUB, HTML, Text, RTF.
12. PDF/A
Users may convert files to PDF/A format, which is an ISO standard technique that enables long-term archiving. It is ideal for law and other document-dependent businesses.
13. Batch Processing PDF Files
Users can process PDFs in batches and add backgrounds, watermarks, headers, and footers in sets.
14. Bates Numbering
It enables users to apply Bates Numbering with advanced formatting.
15. Redact PDF
Using this feature, users can redact sensitive text and images in PDFs.
Furthermore, the pro version also includes the ability to unlock the PDFelement for Mac trial restrictions via an in-app purchase, including
no "trial" watermark added when saving or printing files;
no page count limit when converting PDFs; and
OCR function support.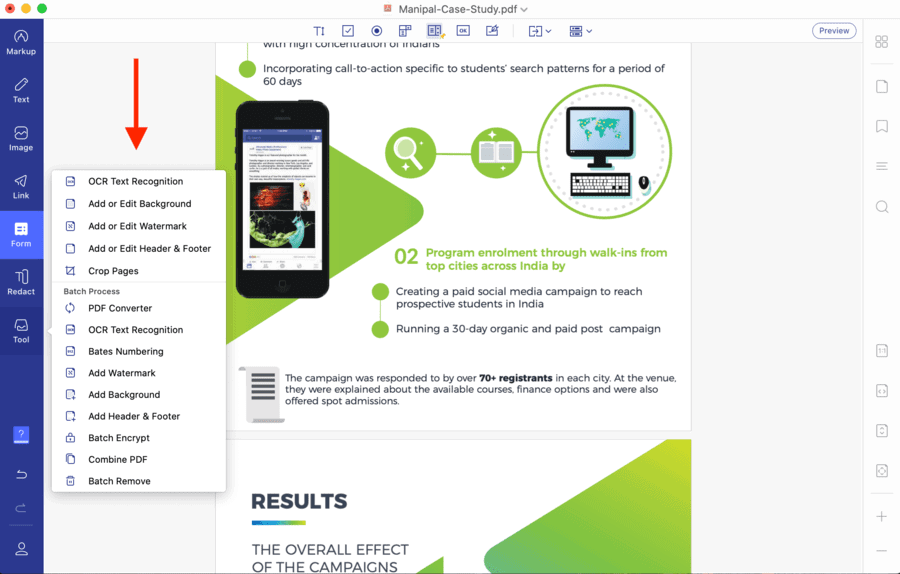 In a nutshell, if you are in a business where content design and delivery are a regular occurrence, then this tool is something you should get right now. It has complete protection along with a 360-degree functionality absent in almost all its competitors.
The software makes creating and editing PDFs easy and super quick. Make sure you at least try it and clear your doubts.
Why stick to the trial version when you can get PDFelement for Mac for as much as 40% less? There is a huge holiday offer going on right now. You can also avail this Christmas sale discount by clicking here!
I hope I was able to cover all the features this superb tool has to offer. Once again, it has very minimal flaws and yet delivers 100% control over PDF editing and customization.
What we think about
PDFelement for Mac