Time has changed the way businesses operate today. Now, mobile workforce is no more dependent on heavy desktops or mainframe computers for work. Today's tablets are loaded with high-end features and can survive unpleasant shocks, tumbles, drops, and dips. These devices cater to oil, automotive and police professionals who need a mobile computer for seamless workflow management. They also demand a device that can be handled by one-hand and is ergonomically perfect.
Built for Mobile Workforce
Panasonic, a known name for rugged laptops, offers a complete portfolio of tablets that delivers power and performance needed in the most demanding work environments, resulting in increased productivity and an augmented return on the investment. The brand has developed a series of tablets with 'chemically hardened display glasses' that can withstand heavy vibrations and shocks. When exposure to extreme environments is a constant challenge, these devices don't shy away from getting dusty, shocked and wet.
The fully rugged Panasonic Toughpad FZ-G1 comes with ATEX zone 2 certification. The ATEX directive consists of two EU directives describing what equipment and work environment is allowed in an environment with an explosive atmosphere. This fully rugged tablet has set new standards for outdoor viewable tablets by being certified to work in ATEX Zone 2 environments, and are designed to increase 'mobile productivity' for different private sector professionals and industrial employees.
Easy Rugged Computing Experience
Today's fast-paced businesses demand frequent data collection exercise, be it regarding work order management, asset management or logistics. These 'readable in sunlight' Toughpads make data entry and task tracking easier in the field.  Balancing functionality and durability, these 'small enough to slide in a pocket' tablets can be taken to any location.
A Game Changer for Mobile Workforce
With Toughpads, the vital real-time information is put accurately and efficiently, assuring smooth supply-chain management, productivity and customer service demanded in different industries including aviation, construction, automotive, oil, etc. Passing military standards, each device from the series fulfills a field staff's need for rugged computing devices, which don't compromise on functionality and performance.
With these devices, police and oil professionals too can have immediate access to the required information, be it regarding purchasing history, current inventory, stock counts or even writing FIR reports in the field. Similarly, sales staff in the field can instantly write and send sales orders to the central depository, whenever or wherever needed.
Easy and Accessible
All Toughpad devices are designed to meet users' Internet, data entry, book keeping and GPS data collection needs. With a glove or even a greasy hand enabled touchscreen, viewing high definition images or working on documents is super fun now. Wi-Fi, Bluetooth® and cellular data connectivity only ensure a great user experience. The Enhanced GPS system adds no weight to these lightweight devices. This means that one doesn't have to worry about attaching an external antenna to collect GPS data.
Next-Gen Devices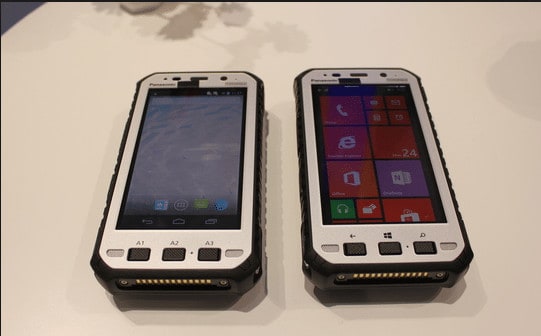 Toughpads come equipped with next generation processor technologies, high storage capacities and a wide choice of operating systems to choose from. Long lasting and hot-swappable batteries also get charged very quickly, giving the field workforce several hours of continuous data access. Some of the add-ons include serial ports, bar-code readers, fingerprint readers, magstripe readers and 4G LTE carrier modems to experience a powerful performance.
The Ultimate Ruggedness
Each model is survival tested to withstand sudden drops, bumpy roads, heavy dust and stubborn moisture. Qualified under the strict army ground standards, these Toughpads can be confidently used by military forces in hazardous locations. Each unit is sealed tight against the water damage and dust intrusion. The high performance processor provides superb visual and graphic performance, while the capacitive multi-touch panel and water-tolerant design take rugged computing to another level. Having built-in high-definition audio, a Micro SD card slot and a front-side full-HD, Toughpads also fulfill your entertainment needs. Designed to meet the same standards as Toughbooks (Panasonic's Rugged Laptops), Toughpads are way more resilient than the ordinary tablets.
Array of Options for Customization
With an optional detachable keyboard, these devices take versatility to a new level. This is not it; few Toughpads can be flipped up to 1800. After adding the keyboard back, now these devices act like laptops, with all pluses of a bigger machine. Each Toughpad is assembled and configured as per the users' individual needs, thus offering a variety of options.