PDF is wildly used in our daily working life for its features, such as the ability to embed data, tables, and spreadsheets. It is reading-friendly for people with all that information in a document. However, in terms of data analytics, especially for handling large amounts of data, Excel is way easier than in PDF form. And then you might need to extract or transfer data from a PDF form to Excel.
Here comes PDF to Excel Converters which make it quick and easy to convert PDF to Excel and vice versa.
A quick search online will bring up an exhausting list of online PDF to Excel converters. This article seeks to highlight their pros, cons, price, reviews, and operating system compatibility of them to help you find your best converter. A table is also attached for you to get a glimpse of the 12 PDF converters.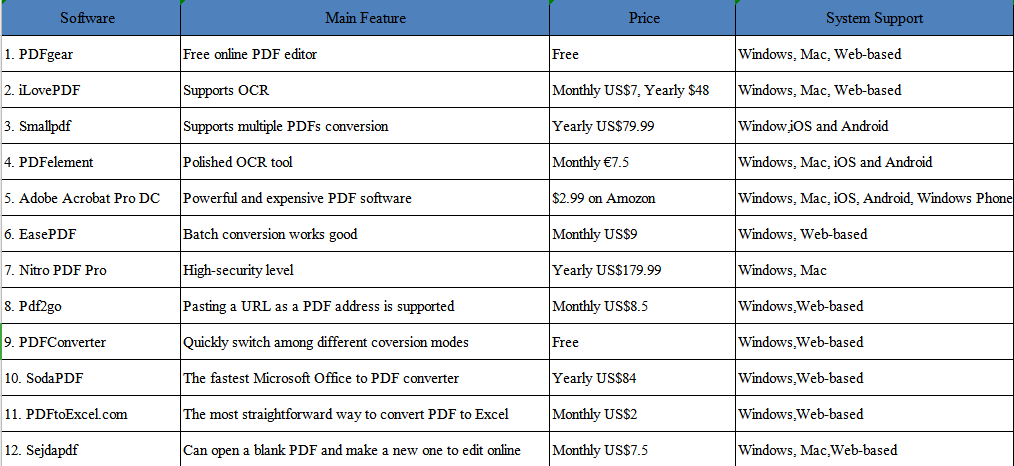 1. PDFgear
PDFgear is an almighty PDF editing tool. All you want to deal with on PDF files can be achieved with PDFgear. It can help you convert PDF files, compress PDF, merge PDF, split and crop PDF online with simple clicks.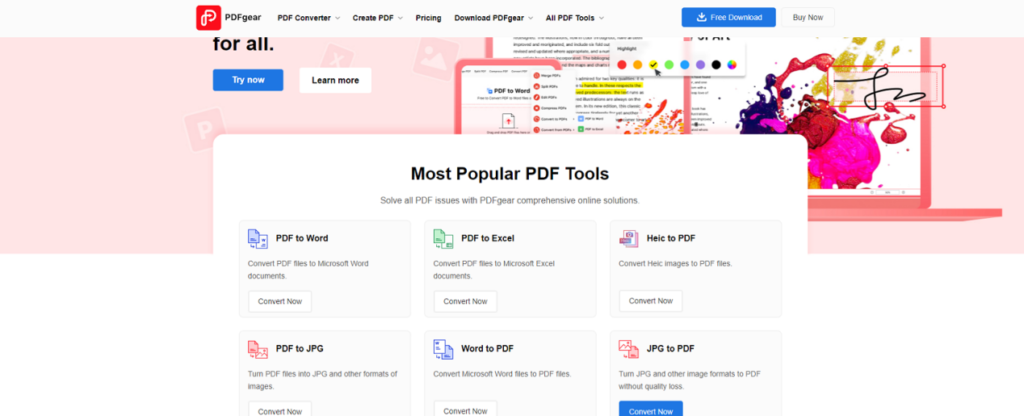 When PDFgear serves as a PDF to excel converter, it allows you to turn PDF files into Excel documents in a matter of seconds. In PDFgear, choose "PDF to Excel" and you can simply drag and drop the PDF that you want to export and then click "Convert Now" to start the PDF to Excel converting process. Once completed, you can save it on your computer.
What's more, PDFgear also supports other conversion modes, such as PDF to Word, PDF to PPT, PDF to JPG, Word to PDF, JPG to PDF, etc.
Features
A totally free online PDF tool.
Pros
Consists of all popular PDF tools
Convert secure and fast
Supports almost all file formats
No need to register
Cons
Supports only the English language now
Price
2. iLovePDF
iLovePDF is one of the best web tools to convert PDF to Excel or convert Excel to PDF. It offers a toolkit to merge, compress, split, convert, watermark, and unlock PDFs within seconds.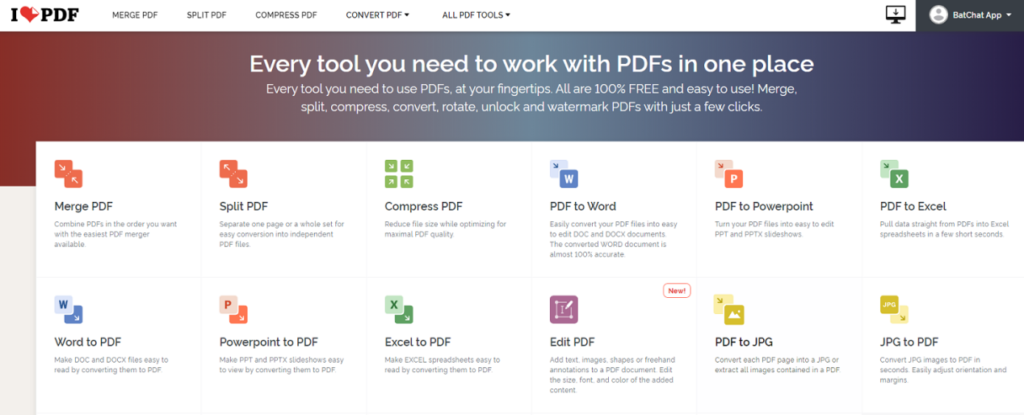 To convert PDF to Excel, just select the PDF file you would like to convert and then tap "Convert to Excel". After the converting process is done, tap "Download Excel" to save it on your computer.
Features
Pros:
Fast convert any type of file from one format to another
Loads of pdf modification options
Dashboard to check all your activities
Multiple languages supported
Cons:
Need to register
Only 15 Mb files on the free web version
Limited feature for the free version
Price:
3. Smallpdf

Smallpdf is another basic PDF editor for PDF converting and other basic tasks. You can convert PDF to excel, word, image, and vice versa.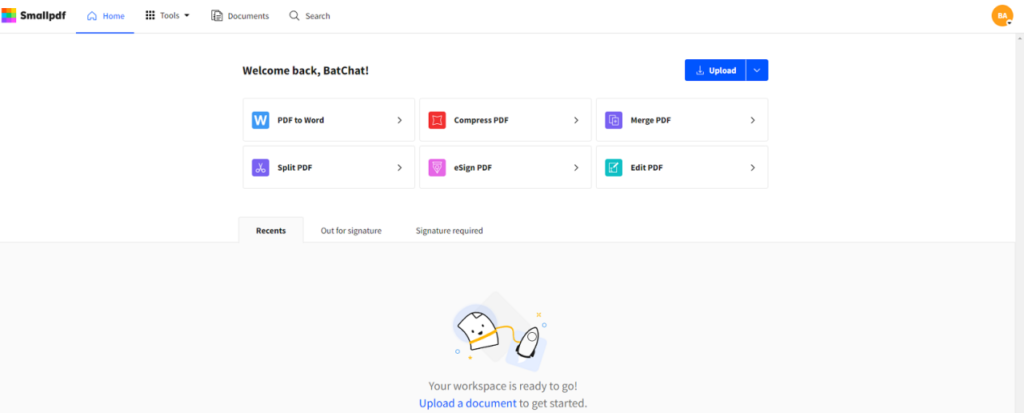 To convert, based on your need, choose "PDF to Excel" or "Excel to PDF", here we take the PDF to Excel converter as an example to show you how to convert between PDF and Excel. First, go to "PDF to Excel" and drop the PDF file you are going to convert. Next tap "Choose to option". Finally, tap "Download". All is done.
Features
Multiple PDFs conversion is supported at once
Pros
Supports multiple file types ( .jpg, .jpeg, .png, .doc to pdf type and vice versa)
Can work on 1 file for free today
Unlock unlimited access for 7 days
Cons
Annoying ads on the free version
Only a web version is available
A little expensive
Price
Monthly €10/month, Yearly €7.5/month, and Billed €90 annually
4. PDFelement
PDFelement is the easiest way to create, convert, and compress PDFs on Mac and Windows. To convert a PDF to Excel, you need to first download PDFelement on your device. And the installation process will take some time, please be patient.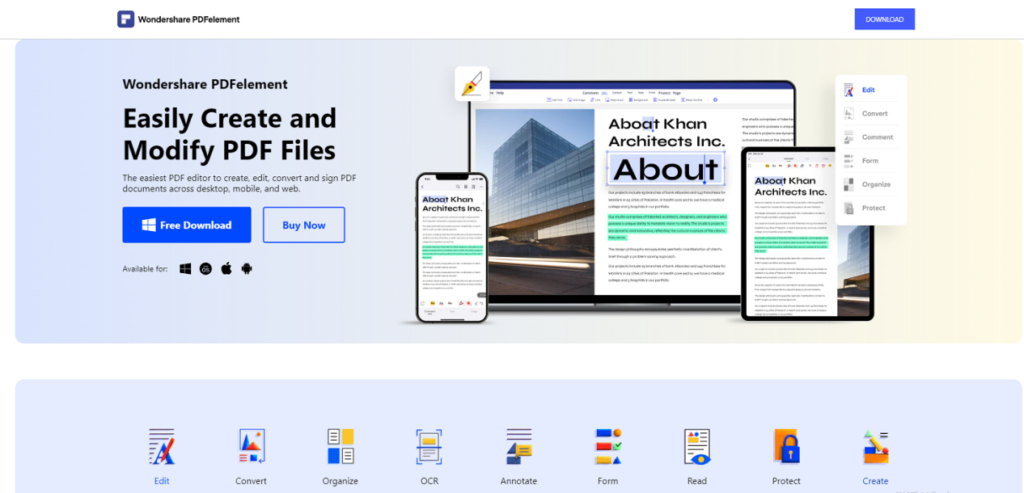 Launch it after installment, and then click on the "Convert PDF" option on the Home window. A pop-up window will appear and show you that you can convert PDF to Word, Excel, PowerPoint, and more.
Click on "Free trial" to proceed. Now choose the PDF that you need to convert and select the output format, here you choose .xlsx or xls. Tap "Save" to start converting. After finishing converting, you can tap "Open" to preview it.
Features
The OCR tool of PDFelement makes it easier to search and edit PDF
Pros
Fast and reliable software
OCR scanner is a great and powerful tool
Extract data into a variety of other formats
Free software download
Cons
Only free convert 3 pages or files
Not recommended for small startups
Price
PDFelement Pro (For Windows only): US$ 79.99/year
PDFelement Pro Bundle (For Windows and iOS): US$ 99.99/year
5. Adobe Acrobat Pro DC
In terms of PDF editor, the first one that comes to your mind must be Adobe Acrobat DC. It is indeed easy and quick for you to convert PDF files to Excel and also bear the ability to convert Excel to PDFs.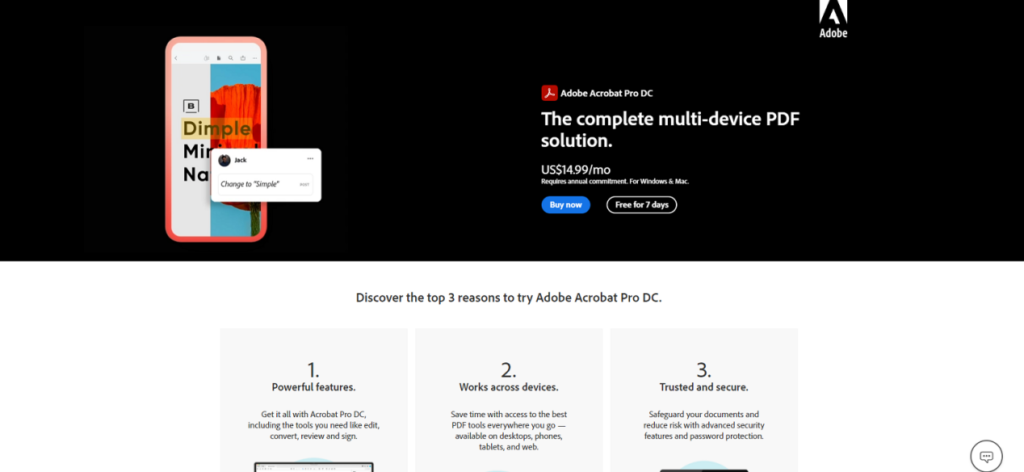 Open the PDF file you want to convert, click on the Export PDF tool, choose your format, then export. Once finished, you can edit it freely.
Features
The most powerful and expensive PDF software
Pros
Al-in-one PDF editor
Friendly reading experience, it starts from where you leave it
Supports encryption
Cons
Expensive
Installation takes time
Price
Various pricing plans for Individuals, Businesses, Students & Teachers
For your reference, Adobe Acrobat DC at Amazon for $2.99
6. EasePDF
EasePDF is another efficient online PDF converter and editor. You can convert between Excel files and PDF, Esign, crop, merge, rotate, and edit PDFs on your Google Chrome browser with it.
To convert PDF to Excel files, go to EasePDF's official site and tap on "PDF to Excel", and then choose "Add Files". You will enter a new page indicating that you can upload up to 50 pages to convert at once.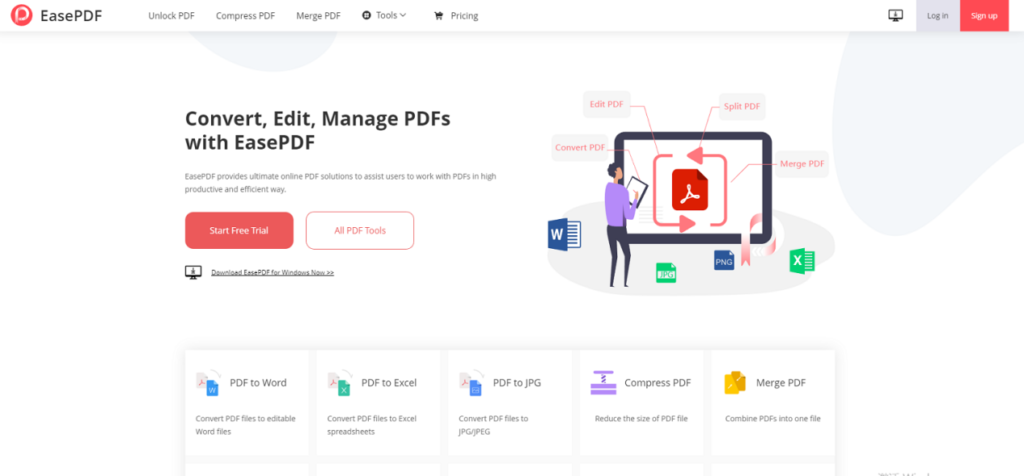 Just upload as you need. Next tap "Convert" to start the process of converting which will take a little time, please be patient. After completing, you can download the exported files.
Features
If you have loads of files to convert to PDFs or Excel to PDFs, in EasePDF, you can make it at one time effortlessly
Pros
Clean user interface
Fantastic features offered online
Cons
Limited feature for free
No online support
Price
Limited Plan: Free
Premium Plan: 9 USD per month or 45 USD per year
7. Nitro PDF Pro
Nitro PDF Pro provides a powerful and professional platform to allow users to perform varied kinds of PDF editing, including converting between different formats (such as Excel to PDF), creating fillable digital PDFs, merging PDFs, etc.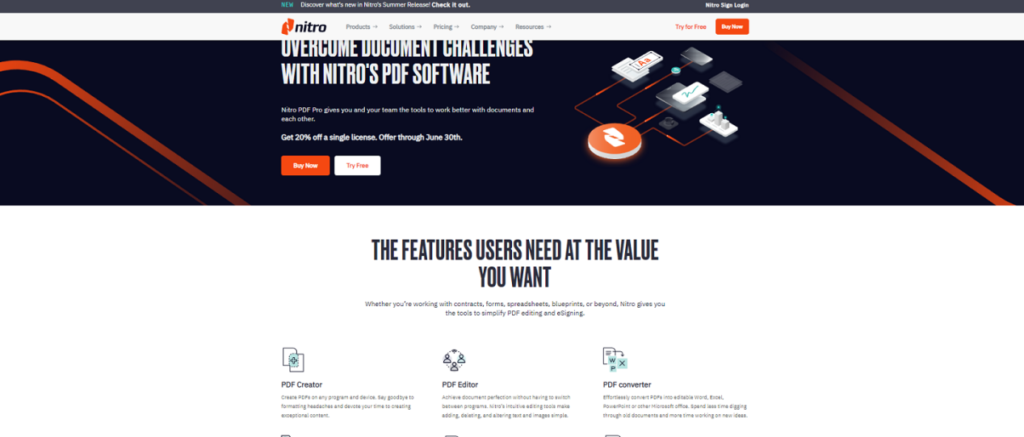 In Nitro PDF Pro, for converting from PDF to Excel, you need first to install Nitro PDF Pro on your computer and launch it. On the dashboard, navigate to Convert and click on "To Excel" and click the "To Excel" button. A pop-up window will remind you to add the PDF for conversion. After adding the file, you can set all the properties based on your need. Finally, click on "Convert" to start conversion.
Features
Nitro PDF Pro is highly recommended for large business enterprises and individuals who pay much attention to data security
Pro
Professional editing tool
High-security level
Cons
Need registration
14-day free trial
Price
For Windows, it cost $179.99 per user per year.
For the Mac version, Nitro PDF Pro Essentials starts at $129.99 per year and $179.99 for Nitro PDF Pro.
8. Pdf2go
PDF2GO is also an online PDF editing tool. Like other editing tools we have introduced above, it also can be used to edit, merge, convert and protect PDF files. Visit PDF2GO and you will find all tools, and it is easy for you to browse and choose the tool you need.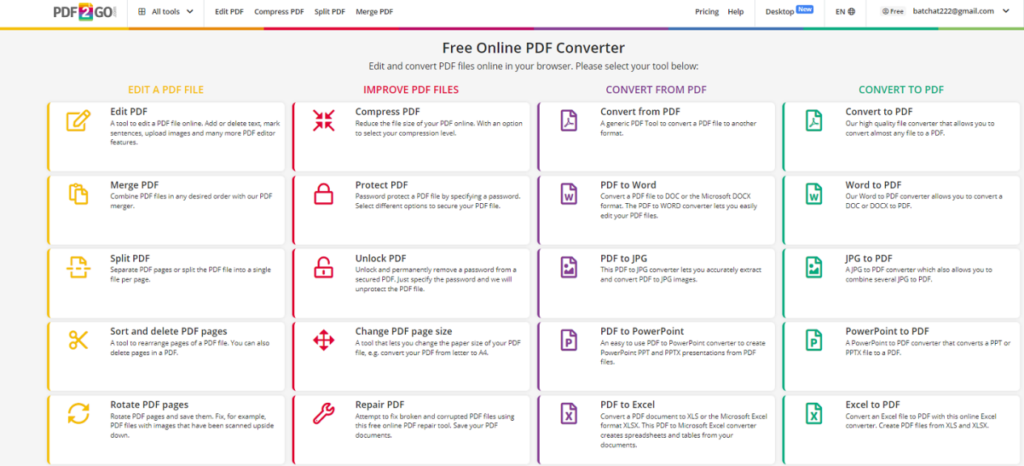 To convert PDF to Excel, just navigate to "CONVERT FROM PDF" and tap on "PDF to Excel" and then you will be guided to a new page, reminding you to upload the file to convert. Click "Choose file" and import the file needed to be converted. Select Excel formats as you want from "Settings". Finally, click on "Start" and exported files will automatically be saved on your computer.
Features
In PDF2GO, when uploading PDFs, you can also paste a URL of your PDF file to convert
Pros
Also available on Chrome Web Store
The free plan is enough
Cons
Sometimes converting failed
Price
$8.50 for the monthly plan
$78 for the yearly plan
9. PDFConverter
As its name indicates, PDFConverter is a pure PDF converter to convert PDF to the most popular formats such as Excel, Word, PowerPoint, and vice versa.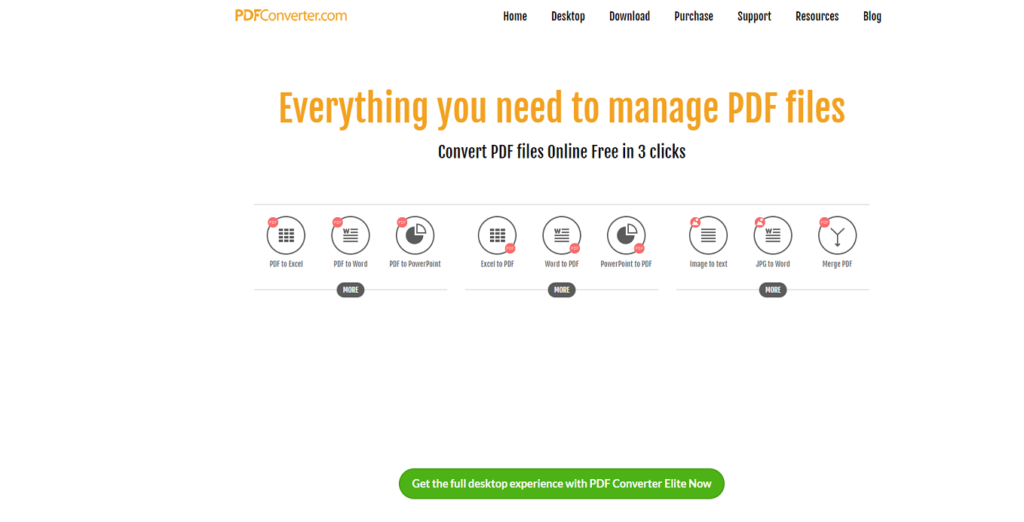 Only 3 clicks to complete a conversion. Go to PDFConverter Home, click "PDF to Excel" and next click the rectangle to upload files that needs to be converted. After finishing converting, click to download it. Much simple.
Features
Switch to other conversion modes quickly after a PDF to Excel conversation
Pros
Converts quickly
Easy to use
Cons
 Lots of ads for the free version
Price
10. SodaPDF
SodaPDF also named Soda PDF Anywhere, is the software solution available both as a desktop and a web browser to edit, convert, merge, split, sign, or secure PDFs according to your needs and help you increase productivity in daily life. Besides individuals, many small, medium and enterprise-level businesses are also enjoying the benefit that Soda PDF brings.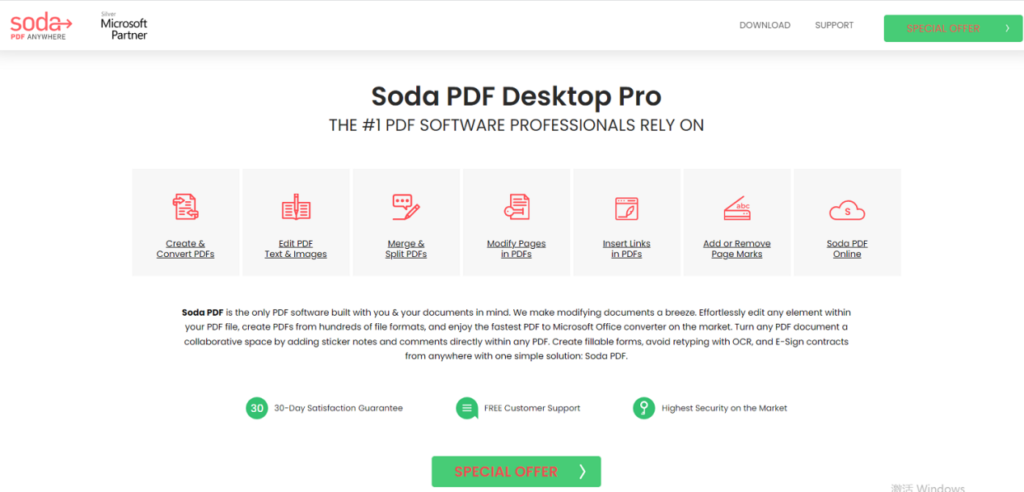 To convert PDF to Excel online, first go to the Soda PDF website, navigate to "Online Tools" and select "PDF Converter". Next click on "Choose file" and after a file is uploaded successfully, you will see Word, Excel, PowerPoint, Image, and HTML listed above, here you click " Excel". Tap on "Convert File". All is done.
Features
Soda PDF is wildly used for its feature with the fastest Microsoft Office to PDF converter on the market
Pros
Neat interface
Relatively low price
Easy to operate
Full range of features
Cons
High-end systems are required for better performance
Price
The paid version starts at US$84.00 per year
11. PDFtoExcel.com
PDFtoExcel is a web-based service PDF to Excel converter. With it, you can easily turn a PDF document into a Microsoft Excel spreadsheet by following these 3 steps. Upload any PDF to PDFtoExcel.com.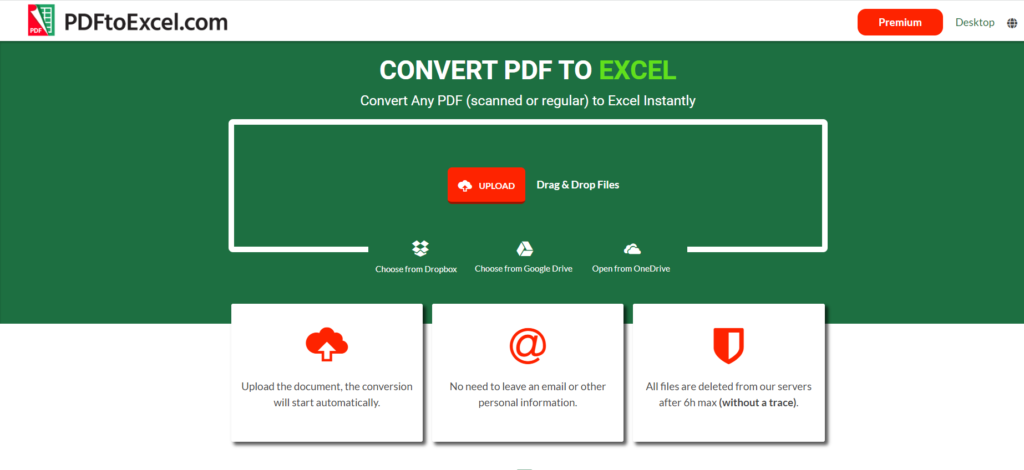 Watch it begin automatically once the file has been uploaded. Download your .XLSX spreadsheet. Much easier.
Features
The most straightforward way to convert PDF to Excel
Pros
Very simple to use
No need to sign-up
Quick conversion speed
Cons
Unsuitable for the agile business
Options are limited to free
Price
The paid version starts at US$2 per month and lifetime of US$150
12. Sejdapdf
Sejda is a comprehensive set of PDF tools. With this software, you can do almost anything you'd need to perform on PDF documents, including converting to excel, merging or splitting pages, and more.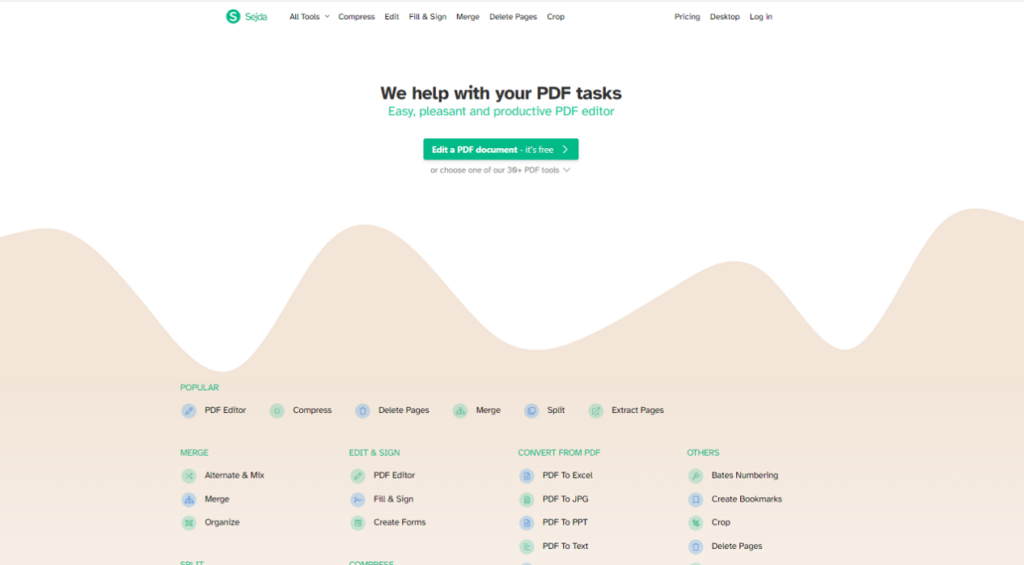 To convert PDF to Excel, navigate to "All Tools" and select "PDF to Excel". Upload PDF from your computer or Dropbox, or Google Drive, or you can directly paste a web URL. Next, as you need, tap on "Convert to Excel" or "Convert to CSV". After the conversion is done, you can download the file.
Features
In Sejda, you can open a blank PDF and create a new one to edit online
Pros
Great for simple PDF edits
Intuitive design
Quick response from Support
Cons
Restriction for pages and tasks per hour
Price
$5 per week
$7.50 monthly
$63 per year for desktop and web
Conclusion
PDF to Excel converter software plays an important role in our daily work, a good one can help us increasingly improve our work efficiency. Above PDF to Excel converters listed, we have tried ourselves one by one and also list their features for your reference. Now choose one among them and let us know how they helped you.