Samsung has released its S10 series devices a few days ago. The fans are going gaga about it at the moment. You know how the gadget world works. As soon as a device goes live, people eye on the next one.
Now that Samsung has broken the bubble, it's time we look into OnePlus. They have one device in working; OnePlus 7. Though we have no idea about how it is going to look like or work, some images surfaced on Twitter throws some light.
OnePlus 7 Photos Surfaced Online, Hinting at a Pop-up Selfie Camera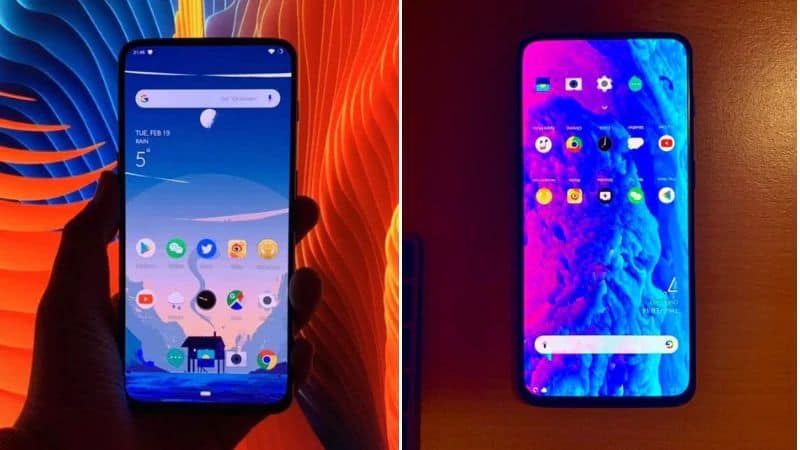 Even as a novice, OnePlus has managed to grab the hearts of millions of gadget enthusiasts. For the same reason, the tech world looks upon them to see what they have to offer. We are nearing the launch of their next offering, OnePlus 7.
A Twitter user has posted some images of a device that is claimed to be OnePlus 7. The design doesn't resemble those images leaked earlier. However, the common feature is the absence of a selfie camera. That means we might see a pop-up camera up front like Vivo Nex or Oppo Find X.
The Twitter user, @Steven_Sbw has posted the images of two smartphones. We can get a clear view of the design of the front using those images. Nevertheless, it is impossible to verify the authenticity of those images. They indicated narrow bezels on the top and sides. You can see a slightly thick chin. The rounded corners and power button are clearly visible. Moreover, OnePlus hasn't left the alert slider too.
An earlier leak, we came to notice hinted at the possibility of having a slider mechanism so that the screen real-estate wouldn't have satisfied for the camera.
As for the specifications, nothing came out. The new leak also revealed zero specifications. Going by the tradition, we can say they will include Qualcomm Snapdragon 855 processor. We also expect OxygenOS based on Android 9 Pie.
Along with the regular variants, Samsung released a 5G variant of the device. We happened to know OnePlus will follow the same path. They will collaborate with the UK operator EE to launch the same. The 5G variant possibly comes with the same specifications except for the RAM, storage, and the ability to work on the fifth generation network.
If you take OnePlus's tradition of launching smartphones, we will see the phone live in action by May 2019.