OnePlus has kick-started their journey with a bang by releasing OnePlus One. They didn't have to look back from day one. The company has gone on launching many iterations (2, 3, 3T, 5, 5T, 6, and 6T). We all know how they have gone about the pricing strategy.
The buzz in the gadget industry is they are about to release next smartphone with Snapdragon 855. Yeah, you can guess it. What makes OnePlus 7 (most probably) special is it may be the first smartphone to have equipped with the brand-new chipset from Qualcomm.
OnePlus 7 to be the First Smartphone to Come up with Snapdragon 855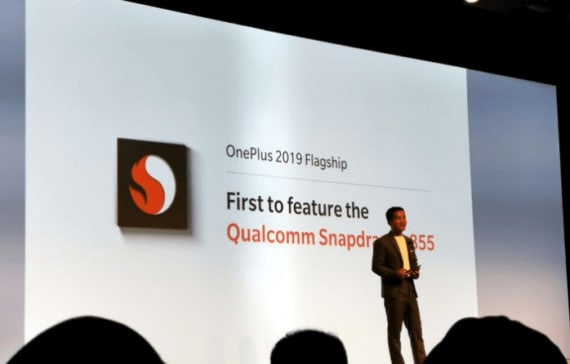 The Qualcomm Snapdragon Tech Summit 2018 has been going on. The OnePlus CEO Pete Lau has made use of the platform to announce they are going to release the first smartphone with the upcoming Snapdragon 855 chipset. You might have already heard that the SoC will support 5th generation mobile communication technology aka 5G.
On the stage, the company head went on talking about how they started with Qualcomm's 800-series chipset. If you can dust off your memory, you will recall they used Snapdragon 801 for the very first device.
Not to mention, 855 is going to be the most powerful chipset Qualcomm has ever manufactured. Made out of 7 nm manufacturing process, it is going to ace in performance and saves power. The X50 modem inside the SoC helps receive 5G signals.
The company hasn't revealed a lot about the new chipset. However, we got to know it comes equipped with 4th generation multi-core engine to provide three times the AI performance of Snapdragon 845 and the first ever Computer Vision Image Signal Processor (CV-ISP) for optic features. Inside the new chipset, the company will include a 3D Sonic Sensor that uses ultrasonic waves for in-display fingerprint sensors. We have to wait and see whether or not it defies the optical fingerprint scanners in speed.
Coming back to OnePlus's next smartphone, we believe it will bear the name OnePlus 7. Lau said that the company is working on a new 5G phone and existing 4G phones as well. Unlike the convention of pricing, we will envisage a mass increase of around $200-300. So, brace yourself!
Almost every other mainstream smartphone makers are working on 5G phones. It's just the matter of who comes first. With the official statement of Pete Lau, we believe OnePlus will shake the net first.
What do you think? Do you think a $300 price increase is worth it? Share with us in the comment section below.