Did one of your AirPods just stop working? Don't worry; you are not alone. If we look into statistics, Apple's top-notch wireless earbuds have acquired an incredible 32% market share during early 2021, with well over 115 million units sold just in the year 2020. An earbud with industry-leading active noise cancellation (ANC) that blends seamlessly into the Apple ecosystem leaves no room for complaints.
However, Apple's latest AirPods Pro still brings a fair number of issues, including battery draining, sound issues, problems connecting with non-Apple devices, and of course, when one AirPod not working. Let's find out why these annoying issues keep hitting AirPods and how you can fix an unresponsive AirPod.
Why is One AirPod Not Working and What Causes it?
It's not always you! While we have witnessed random software bugs and beta firmware usually causing AirPod issues, it can be fixed with an update. On the other hand, gunk and debris, especially sweat, can also leave your one AirPod not working. The solution is simple, though – just wipe it with a dampened cloth and clean water.
There are plenty of other factors like battery, Bluetooth, etc which can make your left or right AirPod stops working.
How to Fix if One AirPod is Not Working? – 10 Simple Methods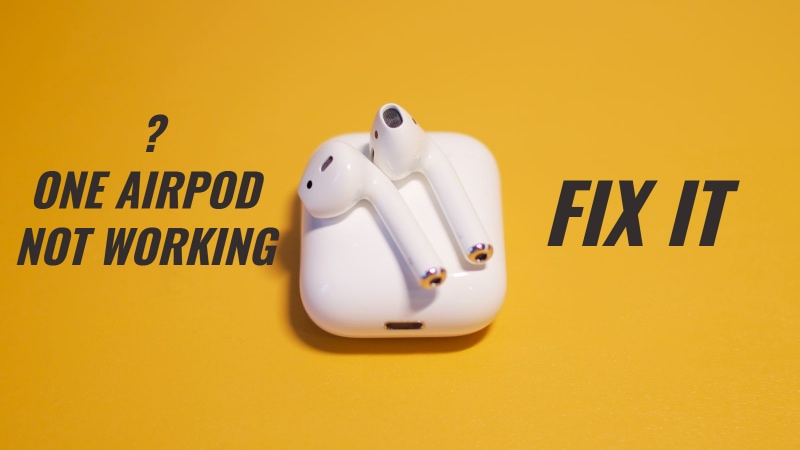 Being an Apple AirPod user, you must know these tricks to fix if one of your AirPod is not working.
1. Adjust Audio/Visual Balance
There is one slight possibility that you have messed up the stereo balance setting. If you accidentally set the entire stereo balance to one corner, you may feel your left or right AirPod is not working. It should be always positioned exactly to the center of L and R.
Follow the steps below to correct the stereo balance if one AirPod is not working:
Open Settings.
Tap on Accessibility.
Under the HEARING section, open Audio/Visual.
Adjust the audio volume balance slider to the center by dragging it to left or right.
Lastly, disable Mono Audio.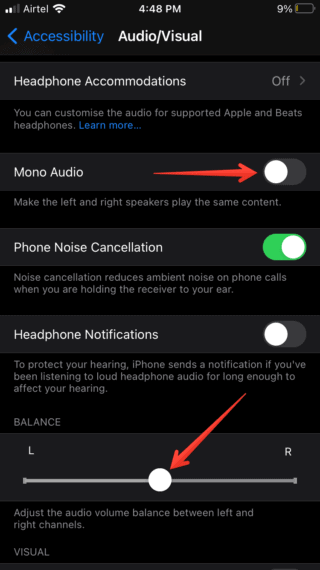 2. Turn Bluetooth On and Off
Not just for Apple AirPods, but this simple troubleshooting method fixes the majority of wireless devices, be it earbuds or Bluetooth speakers. If one of your AirPods Pro is malfunctioning, just toggle your Bluetooth off and on, which will initiate the pairing process from the beginning.
On the other hand, if your AirPods are paired with the rest of your Apple devices like your MacBook or iPad, be sure to turn Bluetooth off across all devices you have paired.
3. Forget Device and Re-Pair AirPods
If toggling Bluetooth off and on didn't work, you can try forgetting your AirPods and reconnecting it with your device. This will remove any custom pairing settings that might be causing one AirPod to not work properly.
Here's how you can forget and re-pair your AirPods:
Step 1: Open Settings on your iPhone and select Bluetooth settings. Now tap on the info button (i) next to your AirPod name. If you are using an Android device, long-press on the Bluetooth toggle, and you'll land straight on its settings page.
Step 2: Next, scroll down to the bottom and tap on the "Forget This Device" option. An action confirmation pop-up will appear on your screen, and after tapping on "Forget" your AirPods will be disconnected from your device.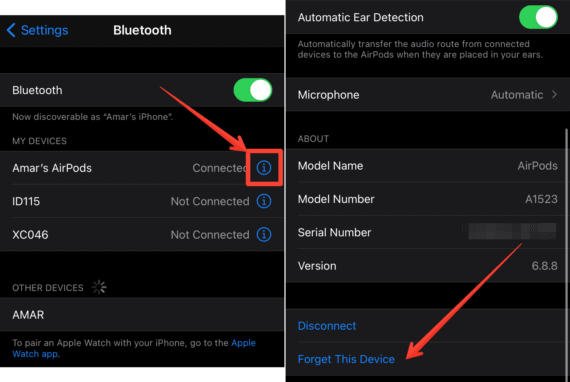 Step 3: To start afresh and re-pair your AirPods, just repeat the steps back when you purchased your shiny-new AirPods. Put both earbuds into its charging case, pop its lid open, and bring it closer to your iPhone. When the AirPods animation appears, tap on the "Connect" button
4. Clean AirPods to Remove Sweat and Dust
Apple AirPods is an engineering marvel and can withstand severe conditions, including heat and water damage. If you accidentally dumped your AirPods into a pool and may lead to one AirPod not working.
Apple's new "water eject" Siri shortcut can vibrate the AirPod speakers and throw water out of its chamber. But before trying the Siri shortcut, find your AirPods and use dry cotton swabs for gently wiping any dust, sweat, and exterior water.
Once you are done cleaning the AirPods, now it's time to make use of the Water Eject Siri shortcut to flush water out of AirPods. It vibrates your AirPods at different frequencies to let science do the magic. However, make sure to turn the volume all the way to 100% for this to work effectively.
5. Check Your Battery & Case Connectors
Speaking of gunk and debris, the little golden contact pins inside your AirPods case can also be damaged with unwanted trash and may not charge your AirPods inside the case. If you suspect the same, simply use dry cotton swabs and gently remove any stain or debris that might get stuck inside.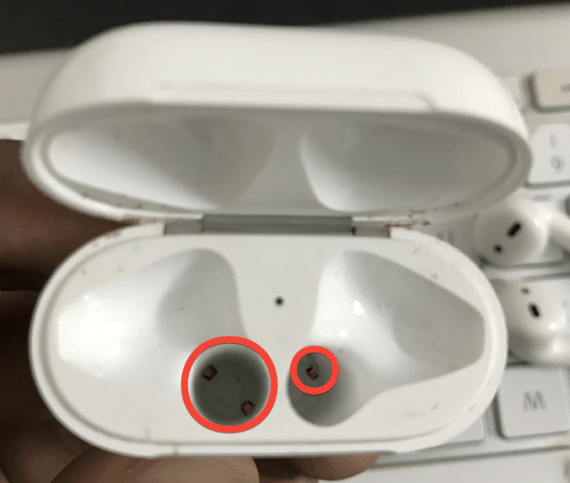 Make sure that both your AirPods and its case are adequately charged. For years, we have been complaining about its rapidly draining battery, but charging the device can fix it.
6. Restart Your iPhone or iPad
Restart – or I prefer it calling the ultimate solution for every malfunction. With an Apple device, or with any device in general, restarting the device has always been a no-brainer, given how effective it is for firmware-related issues.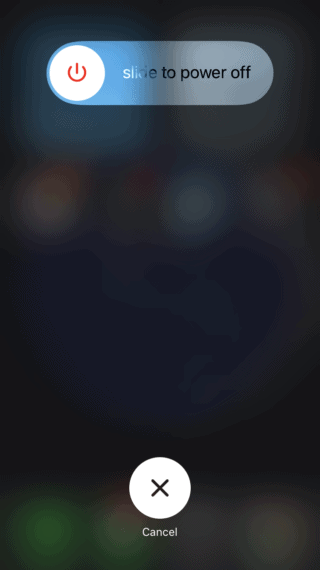 If you are facing the common problem of one AirPod not working, you can simply restart your iPhone and expect every issue to vanish auto-magically. However, if restarting your device didn't get the job done, follow our next troubleshooting steps.
7. Reset Your AirPods
If any of the above steps didn't work and if your right or left AirPod is not working yet, how about resetting your AirPods completely and configuring it from scratch?
To reset your AirPods, put both earbuds inside the charging case and long-press the setup button for 15 seconds until it flashes in orange. You know the rest, right? Pop the lid and pair your AirPods to all your devices once again.
Note: Resetting your AirPods will erase all custom settings including your AirPod's name and disconnects from all devices.
8. Reset Network Settings on Your iPhone or iPad
If you suspect network issues, you can resolve them by resetting the network settings. Beware that it will also wipe out Wi-Fi networks and passwords. If you are okay with it, navigate to Settings > General > Reset and select Reset Network Settings.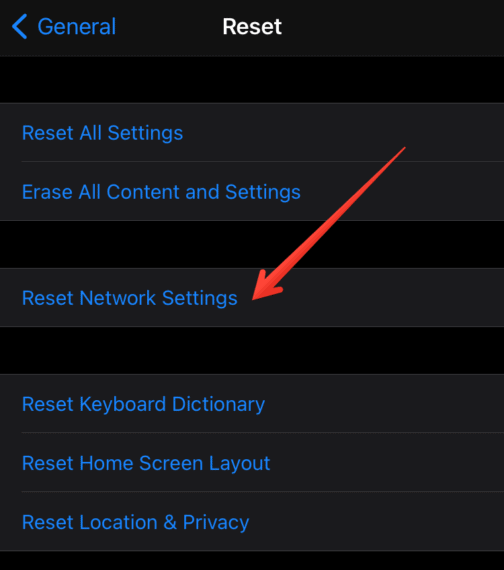 You may need to enter your device passcode to reset all your Bluetooth, WiFi, and cellular settings. After resetting the network settings, re-pair your AirPods to check if it solves the problem.
9. Update Firmware
Thanks to Apple and its software support, you can simply update your iPhone and MacBook software and get it resolved automatically. To do that, navigate to Settings > General > Software Update, tapping on which your device will install the latest software package.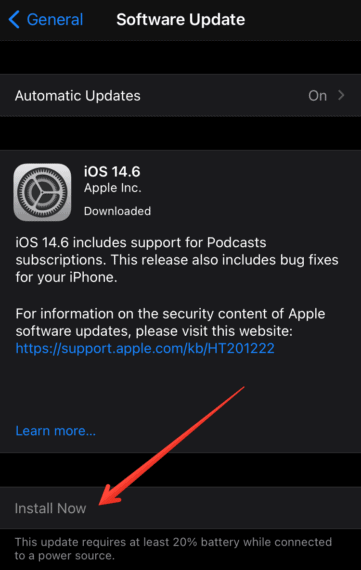 10. Get Help From Apple
Just get it fixed by Apple itself. If your Apple AirPods or AirPods Pro still falls under its warranty, all you need is to visit the nearest Apple Store, repair it, or completely replace your AirPods if it's an unrepairable manufacturing defect. You can locate the nearest Apple Store for searvie and repair here.
If your AirPods are out of warranty and none of the above troubleshooting steps worked, the only choice left is buying new AirPods. I wish this should not be an option for you.
Frequently Asked Questions about AirPods Problems
We have been asked a lot of common questions about AirPods connectivity issues and listed them below to make it easy for you to get quick answers.
Why is my AirPod only playing in one ear?
The first thing you need to check is
Audio/Visual balance
. Make sure the slider is at the center of
L
and
R
. Also, Bluetooth connectivity errors are the foremost reason for your AirPods to play only in one year. If the same is happening to you, tap on Forget Device from Bluetooth settings, and even if that doesn't work, reset the network on your iPhone.
How do I fix an unresponsive AirPod?
I would suggest checking your battery first. AirPods has history-sheeting records of rapid battery draining even when not in use. Also, be sure to clean the golden contact pads inside your AirPods case if any gunk is obstructing power.
Why is my left AirPod not working when talking on my phone?
As we discussed in
method #01
, the audio balance might have been tuned improperly, leaving your right or left AirPods not working. This common problem, however, could easily be fixed by readjusting the audio balance to the center of
L
and
R
.
Why are my AirPods not working when connected to Mac?
Make sure your AirPods are select at the Audio output. To verify it, open System Preferences > Sound and select Output. Here you will find available audio devices and you should select your AirPods here. If right or left AirPod is not working when connected to Mac, adjust the Audio output balance to center.
You now know how to fix AirPods connectivity problems
All ten troubleshooting steps were pretty simple, right? Solutions like toggling Bluetooth off & on and forgetting your device are pretty common, even for non-tech-savvy people.
And if you are facing the issue of one AirPod not working properly or if your AirPod only playing in one ear, the first thing you should check is Audio/Visual balance.
I hope the above methods can help you out. However, if any of the solutions didn't really work, the problem might lie with hardware and you may make it work by visiting Authorized Apple Store.