NVIDIA has quietly launched the MX350 and MX330 GPU on 12 February 2020. For now, the company has only unveiled two GPUs but in the future, we can see more GPUs in the MX300 series.
The MX 350 is an entry-level mobile graphics card. The GPU is specially built for laptops and will replace the older MX200 series, 250 counterparts that launched a year ago.
According to NVIDIA, the GPU is 2.5 times more powerful than Intel's 10th generation Ice Lake i7-1065G7 core display.
The official also said the new MX 350 graphics card can achieve faster photo and video editing, and better gaming performance. Moreover, the card combines NVIDIA Optimus technology to provide the perfect balance between battery life and performance.
Alongside the MX350, the company also announced the MX330. The company also claimed that the MX330 is twice more powerful than the i7-1065G7 core display. Both GPUs are listed on the company's official website and reveal that they support GDDR5 memory interface. And also support a number of APIs, OSes, and interfaces.
NVIDIA MX350 Specifications
The GeForce MX350 is built on the 14nm process. It is based on the GP107 graphics processor and also supports DirectX 12.0. The chip is designed in a way to ensure all new games will run on GeForce MX350.
Talking about the specifications, the GeForce MX350 features a 1,354 MHz base clock and 1,468 MHz boost clock. It has a 2GB of GDDR5 memory which runs at 7 Gbps across a 64-bit memory interface to output a memory bandwidth of 56.7 Gbps.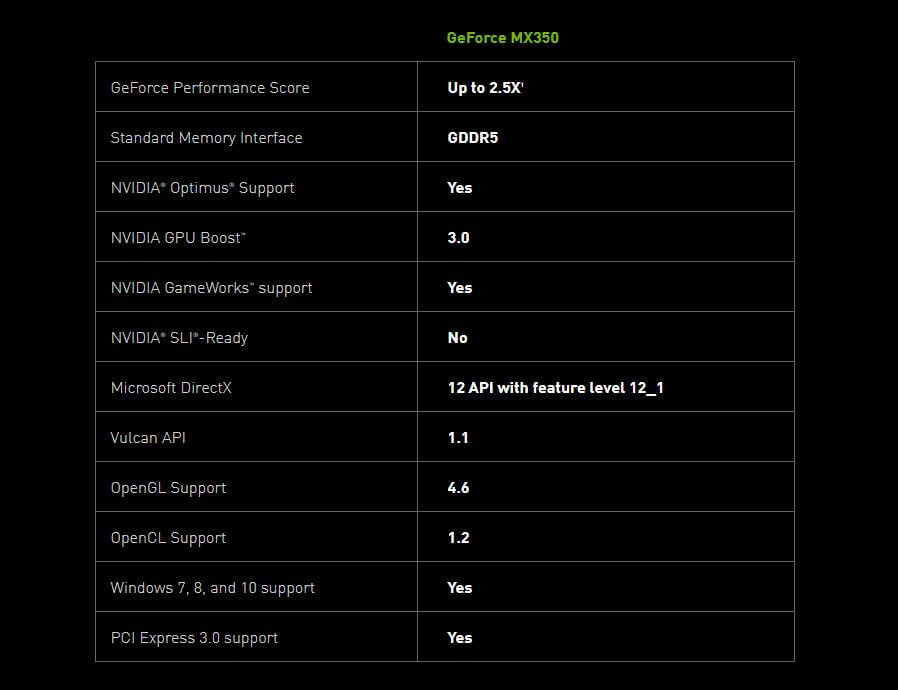 However, the Nvidia MX350 does not connect directly to monitors thus there is no display connectivity. So it will mainly be used for laptops.
There are a number of reviews about the GPUs on the internet. A user on the Chinese website Zhihu ranked the GeForce MX350 between the GTX 1050 and GTX 960M in terms of performance.
With similar specifications, GeForce MX330 should have the same level of performance as GeForce MX250. You can see the benchmark scores of both GPUs below.

On the other hand, the GeForce MX330 is slightly overclocked than the GeForce MX250. The graphics card on the MX330 also has 2GB of GDDR5 memory.
The memory is communicating across a 64-bit memory bus, just like the MX350. However, the memory is clocked at 6 Gbps, so the memory bandwidth is down to 48.06 Gbps.