What we think about
NordVPN
It's an appealing VPN option to choose from if you want to enjoy the best speed and security at an affordable price.
When talking about the best VPNs, NordVPN surely deserves one of the top spots and for all the right reasons. After all, the Panama-registered VPN provider is packed with features like torrent support, high performance, DNS leak protection, kill switch, and strong encryption.
Apart from the technical features you'd look for, NordVPN also features several extras like onion, P2P support, double data encryption, Pause feature, dark web monitor, and malware protection, which add to its overall reliability as a VPN.
The story doesn't end here. There's more to the features, which we shall discuss in detail below. So, give it a read to know why you should or shouldn't consider NordVPN as your dedicated service.
NordVPN: What's Good and What's Not!
Before we begin with the in-depth review, here's a quick overview of NordVPN's pros and cons.
What We Like
The possibility of data leaks while using NordVPN is low to zero.
Unlike other VPNs, NordVPN does not log data. It surely keeps track of basic information like the timestamp of the last session status, customer service information, and email address. But it's done only to maintain the account.

Using NordVPN, you can connect up to six devices at once. This means that you won't have to buy a separate VPN subscription anymore.
What We Don't Like
When you are using this VPN, you cannot connect to the public Wi-Fi network. But to fix this issue, you can set up an auto-connect feature.
Another thing that does not work in favor of this VPN is its static IP address. While the static IP address makes it hard for hackers to track down NordVPN's users, it is still better to have a dynamic IP address.
NordVPN Features
Here are a few of NordVPN's features that make it one of the best options.
#1 Servers Around the World
With around 5,400 plus servers in 59 locations, NordVPN has spread its operations successfully around the globe. Having such a massive number of servers loosely translates that this VPN offers great speed and security.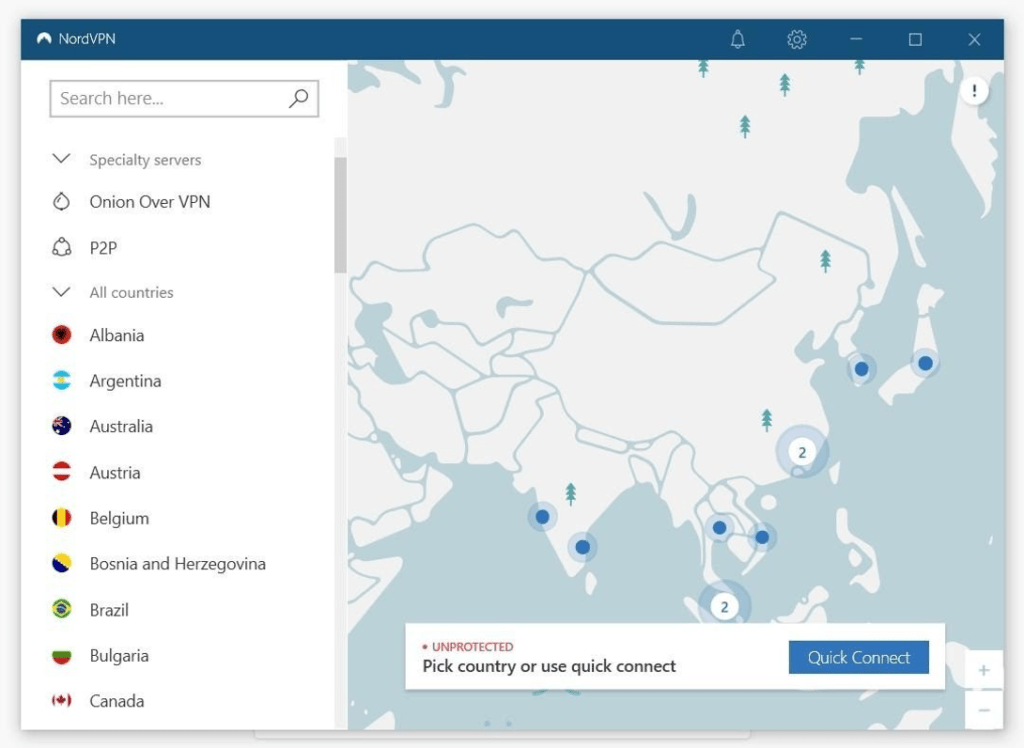 When using NordVPN, you can connect roughly six devices at once. And its incredible speed and security are unmatchable.
#2 Kill Switch
Another thing that makes NordVPN a popular choice is its kill switch. This switch comes in handy when you download some files, and the VPN connection is lost for a few seconds.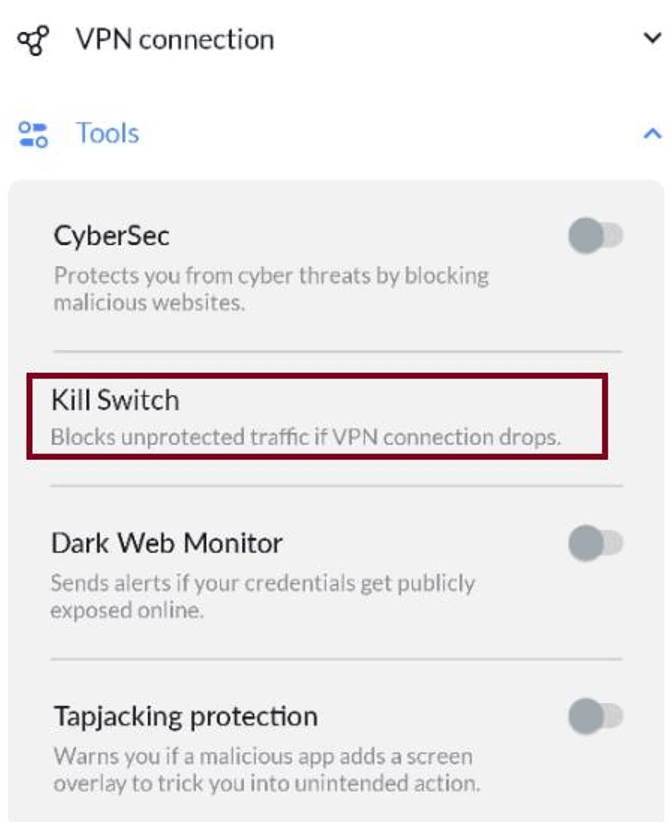 At that time, the kill switch stops everything so that your activity and identity are not exposed. So, no matter what you do or whether you have a stable internet connection, your activity will remain protected.
#3 Minimal Logging
You might know that the Internet Service Provider can see your activities when you are doing something online. And they can even share the information with government agencies or any other third parties. But when you connect to a VPN instead of an Internet Service Provider, your VPN accesses the information.

If you are using NordVPN, your online activities are secure, and information such as downloaded content, time spent on VPN, websites visited, software used cannot be accessed.
However, NordVPN can see some of your activities, like the timestamp of the last session status and email address, to keep the account in check. So, all in all, this VPN does not log more than it has to.
#4 Double VPN
If you are concerned about your security, you don't have to worry about it anymore because NordVPN uses a double VPN system. This means all the data goes through different servers so that it can be secured and encrypted correctly.

This process strengthens data security to the extent that even Internet Service Providers cannot access the information.
#5 Data Usage
Out of all the features, this one is everyone's favorite. And why not? After all, it allows you to stream content without the fear of bandwidth throttling or slowdowns. It offers an optimized speed, given that it has over 5000 servers across the globe which distribute the traffic load.

Moreover, NordVPN does not have any upload or download limit, unlike other VPN services with monthly caps. It also supports SmartPlay technology which is incorporated in all NordVPN apps, which secures streaming even further.
Most importantly, by using NordVPN, you would be able to watch most of the Netflix shows that you have no access to because of Netflix's geographical restrictions.
#6 Strong Encryption
Another aspect of NordVPN is its robust encryption feature. To offer better and enhanced security, the company uses IPSec and IKEv2.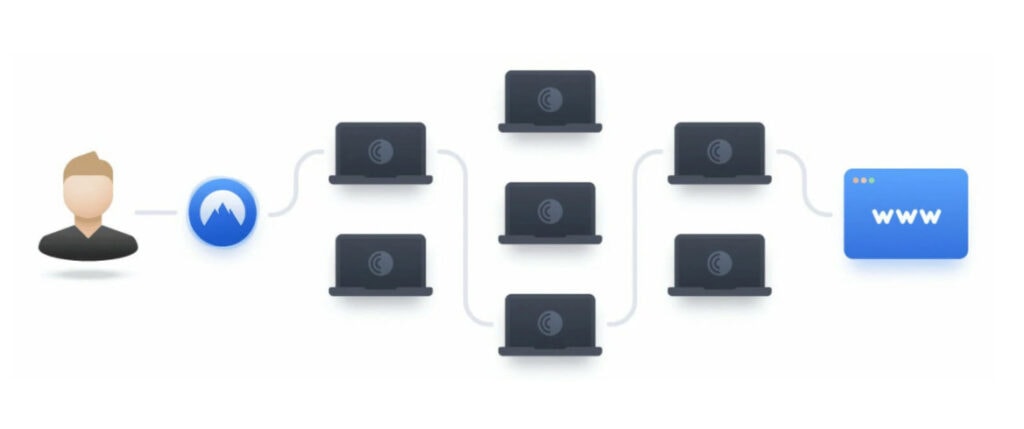 This doesn't let the user's identity get exposed even if the internet connection is lost. It keeps your identity safe even when switching from Wi-Fi to a mobile hotspot or your data.
Besides this, NordVPN also uses AES with 256-bit keys. This is the level of encryption standard that is usually used in high-level organizations.
#7 DNS Leak Protection
When you connect to any VPN, the complete online traffic is routed through an encrypted tunnel to the VPN provider's DNS servers. So, a DNS leak is nothing but a security flaw that allows your DNS queries to reach the default DNS servers which belong to your internet service provider.
Some cases in which this can happen are:
The system preferences or settings have been reset recently.
Using a VPN provider which does not provide DNS leak protection.
You have set up the VPN manually.
To keep all your DNS queries private, NordVPN sends them through a secure VPN tunnel. So, all your DNS queries are resolved on the same VPN server that you are connected to.
#8 Onion Support
The Onion Over VPN feature is a unique one provided by NordVPN.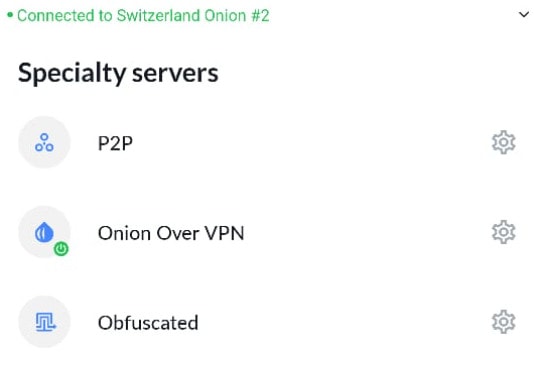 A few of the primary reasons why it is advantageous and important are:
It offers absolute privacy from your ISP and all other authorities.
It adds another security layer for your online traffic.
You can use the Tor browser by connecting to the regular NordVPN server.
NordVPN Pricing
NordVPN offers three primary pricing plans, monthly, yearly, and two-year plans.
You can get monthly billed accounts for $11.95. Its annual plan cost is around $4.92, whereas its two-year plan is as low as $3.71. While the company always comes up with new plan prices and discounts, you can consider these as standard pricing.
Summer Deal – 75% OFF on NordVPN
If you choose NordVPN's two-year plan, you could save up to 72%, plus you can get a three months free subscription.
But beware of small prints. When paying for a NordVPN subscription, you must read all the details carefully.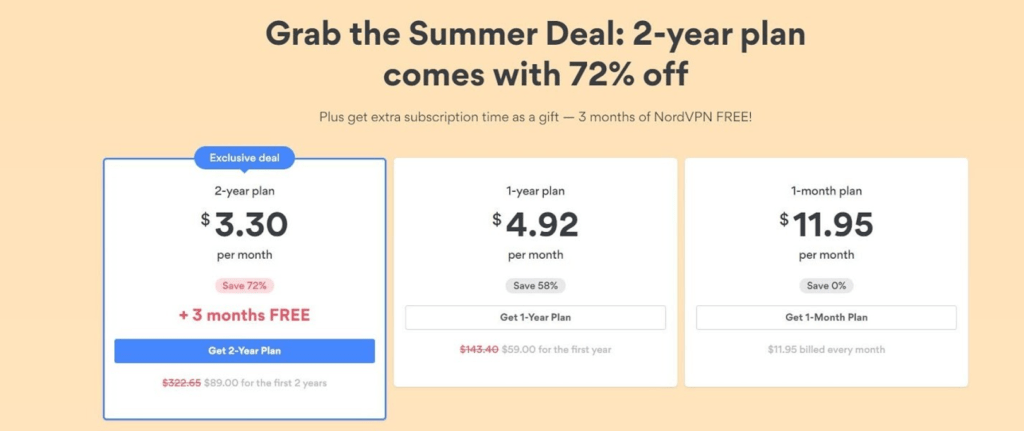 Is NordVPN Good Value for Money?
The short and simple answer to this question is yes! After considering the security, speed, and level of encryption NordVPN offers, it is safe to say that it is a good value for money.
You can get other VPN services at a comparatively lower price, but then, you won't be able to enjoy the exclusive benefits that NordVPN offers. So, all in all, this VPN is rightly priced for what it offers.
What Are the NordVPN Payment Methods?
To pay for NordVPN's subscription, you can choose one of the several options that this company accepts. Like cards, PayPal, Bitcoins, Amazon Pay, SOFORT Banking, UnionPay, and more.
Performance Testing: How Fast Is NordVPN?
While the double VPN security and privacy features are amazing, its performance and speed cannot be ignored. Since this VPN offers uncrackable encryption, it reduces the internet speed.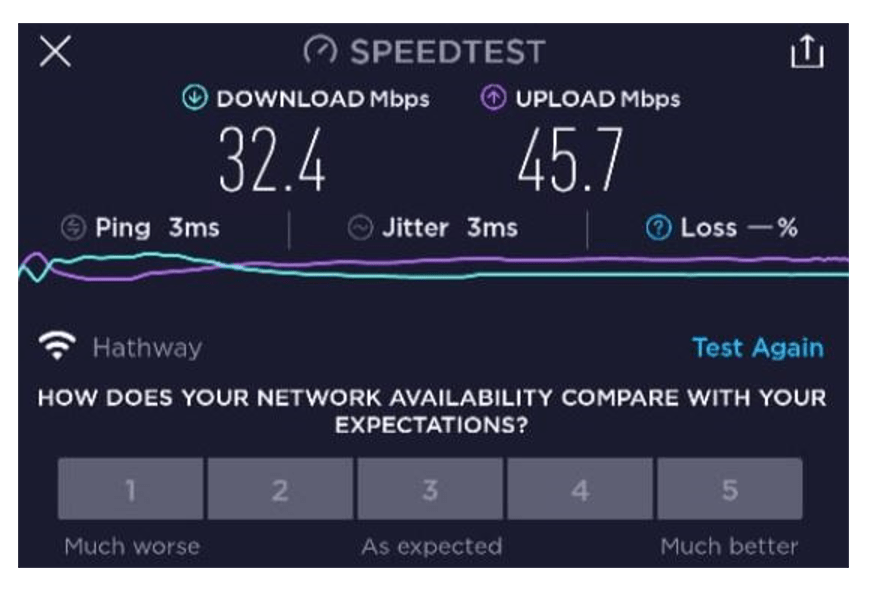 However, this does not hamper the experience of watching online content. Even if the speed drops, it is still one of our favorite VPNs, as it allows access to almost all online content.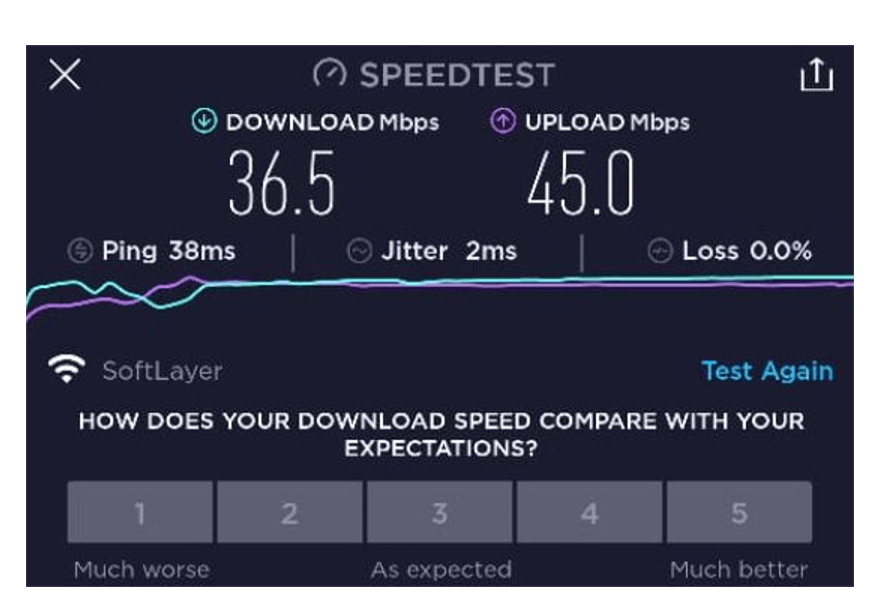 The upload and download speeds keep changing, but you would be able to get your work done without any disturbance or connectivity loss.
Whether it's Netflix, Amazon Prime, or Disney+, none of the platforms can defeat the robust connectivity of NordVPN. Although this VPN does not promise to unblock anything and everything, it surely does its job right and helps us watch the best content.
Does NordVPN Have Browser Extensions?
To make the overall user experience better and more manageable, NordVPN offers a browser extension that you can use to change the VPN location, connect or disconnect quickly.
NordVPN offers a smooth browser extension for both Chrome and Firefox proxy. Using the extension is one of the fastest and easiest ways to connect with the VPN and start working.
With this feature set on your side, you will never get overwhelmed. All you have to do is click a few times, and you can get connected to the best server.
How to Setup NordVPN Apps?
Are you struggling with understanding how to set up NordVPN apps? If so, NordVPN has a range of video tutorials to set up NordVPN on various platforms.
You can follow the tutorial guides and set up and connect NordVPN for macOS, Windows, iOS, and Android devices.
NordVPN Competitor Comparison
Still confused whether
you should be using NordVPN or get service from any other VPN providers? If so, this little comparison might help you understand why experts recommend this VPN service.
When compared with competitors like ProtonVPN and ExpressVPN, it's seen that NordVPN has more VPN servers. While the competitors have around 3000 servers, this one has more than 5400 servers.
NordVPN has a no-logs policy, and it also offers live chat customer support. On the other hand, its competitors do not provide these benefits.
NordVPN Customer Support
While using NordVPN, you can refer to its support website if you face any issue or need help.
From this website, you can read informative blogs to get answers. You can also click on Help and then choose the category you need help with. Finally, you can simply dig a little deeper to get all the answers to your questions from this website.

Frequently Asked Questions
NordVPN is recommended for its improved security and speed!
After a detailed review of NordVPN, its pros, cons, features, pricing, and competitor comparison, it can be considered a versatile option. It's an appealing VPN option to choose from if you want to enjoy the best speed and security at an affordable price.
NordVPN has passed the speed test, and its double VPN security makes it difficult for hackers to leak the data or user's identity.
All in all, it's a professional and better VPN that is designed to improve the experience and deliver results quickly.
What we think about
NordVPN