While everyone is working on foldable smartphones and bezel-less display phones, Nokia is working on something else. According to a leaked image, Nokia is about to release a new feature phone. Yes, this reminds us of the old days of Nokia when the company dominated the feature phone market with its offerings.
However, this feature phone can also be called a smart feature phone because it runs on Android. We have seen Reliance Jio launch its feature phones named JioPhone with KaiOS. Now, Android has come to the feature phones as well which is a huge threat to the existence of KaiOS.
Nokia's feature phone running on Android might be announced soon
The first images of Nokia-branded feature phone running Android have leaked. This will be the first time that Nokia launches a feature phone powered by Android if it happens. Prior to the Nokia comeback a few years ago, we saw Nokia phones running on Symbian OS as well as Windows 10 Mobile OS. But there was never an Android-powered Nokia smartphone or feature phone.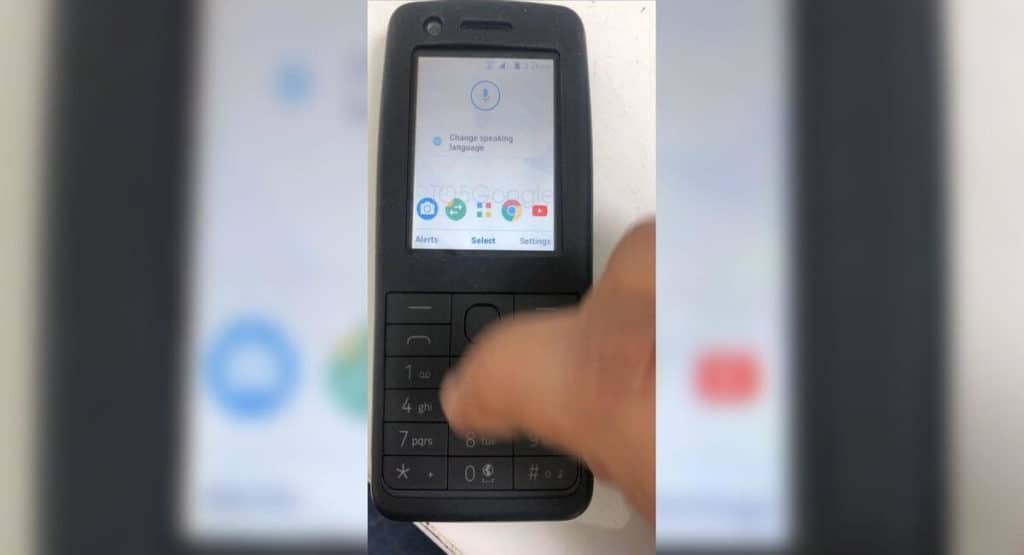 Also, this will be the first time that we see Android on a touchless phone. While everything will be the same as traditional Android phones, these feature phones running Android will use D-pad for navigation. From the image, we can notice that there is a rubber case around the phone which hides the branding. However, 9to5Google's source claims that this is a Nokia-branded phone.
This leaked image also reveals that the Android-powered feature phones will also have apps such as YouTube, Chrome, and Camera. Also, the notification shade seen on Android phones will obviously not be available on feature phones. Therefore, a new tab called "Alerts" can be seen on the display of this feature phone. This is most probably a way to see notifications from apps on this phone.
Since apps such as Chrome and YouTube are visible, we believe that the phone should feature Google's Play Store too. This means that you can download apps optimized for feature phones on this device. Presumably, the feature phone is also running the latest version of Android, Android 9.0 Pie.
It is also said that the Android version running on feature phones will be different from Google's Android Go. If you are unaware, Android Go is a trimmed-down version of Android that can run on entry-level smartphones with just 1GB RAM and 8GB storage.
Since this is a feature phone, it is expected to come at an even cheaper price compared to Android Go phones. This might be Google's sincerest attempt yet at running Android on every phone in the world including feature phones.