Nokia had a monopoly on the phone market. There was a time when people didn't bat an eye on other manufacturers. Despite the relaunch, the company is yet to taste such popularity.
HMD Global took over the brand name and revived the company from dying. Along with the Android devices, they also released the legendary Nokia 3310 with some considerable changes. Looks like, there are more to come.
Nokia 105 (2019) Launched with 25 Days Battery Life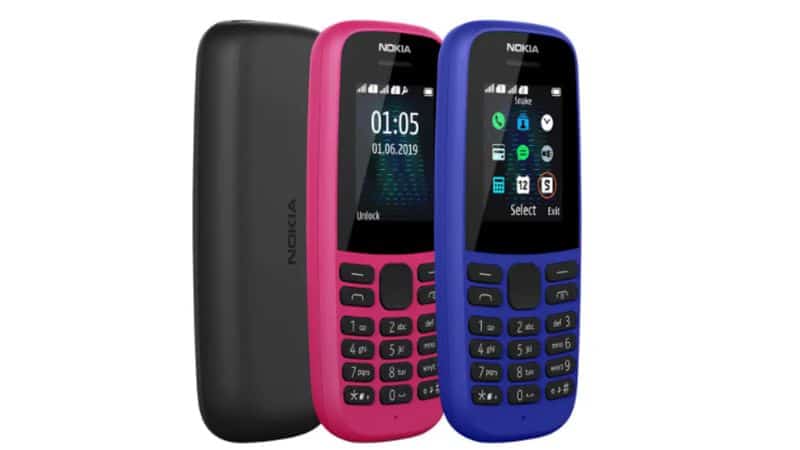 On Tuesday (20-08-2019), the company gave rebirth to a legendary device launched in 2013. For those who want to stay away from the digital fuss and still stay connected to their loved ones, Nokia 105's 2019 edition is going to be a promising pick.
In case you don't know, the device already went live in July. They are now bringing it to India. From the looks, we can perceive it features an island keymat number pad and the classic Snake game. You can buy it in different colors.
As we delve deep into the details, the phone sports a 1.77-inch QVGA screen with 120x 160 pixels resolution. I hope you are not disappointed for the lack of full HD+ resolution on a feature phone. Under the hood, the gadget carries 4 MB RAM and 800 mAh removable battery. Running on Series 30+ OS, Nokia 105 features a micro USB v1.1 port, FM radio, and 2G connectivity.
The company claims the device can last up to 25.8 days. Moreover, they also boasted it to have 14.4 hours of talk time. For felicitating the signal for FM Radio, they have also given a 3.5-mm headphone jack.
You can turn on or off the torchlight by pressing the up key twice. In case you have to kill the boredom from a feature phone, the company also included six games from Gameloft on a try and buy basis. The games include Danger Dash, Ninja UP!, Nitro Racing Airstrike, Sky Gift, and Tetris.
The Chief Product Officer of HMD Global, Juho Sarvikas said in a statement that the Nokia 105 had sold in tens of millions across the globe proving its popularity and timeless quantity as a legendary phone. He also added it is the fourth generation in a line of feature phones designed for those who want to embrace mobility.
The official sources said the model has already hit the market at a price of Rs. 1199.