It hasn't been a while since we reported Nokia was all set to re-launch the most indestructible phone of all time; 3310. We didn't expect them to do it so soon.
Yeah, they have launched the phone ahead of Mobile Word Congress held in Barcelona. Unlike the images spread on the social media, it doesn't come with a touch screen. Neither does it run on Android OS.
So yeah, in this article, we are taking a dig into what has changed and what stays similar.
Nokia Re-Launches 3310 Handset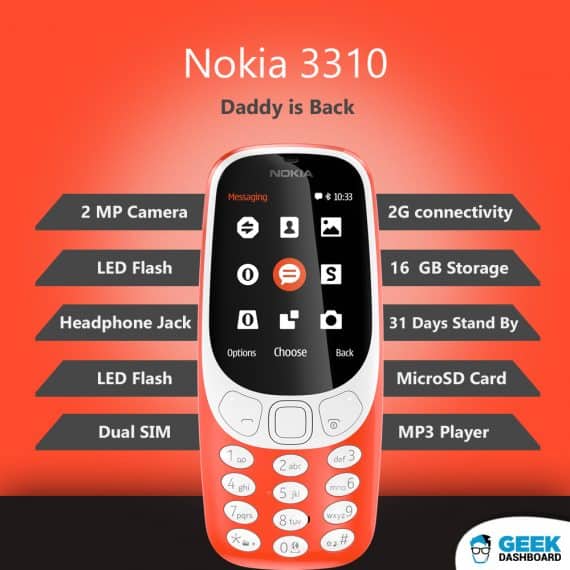 We all know the history of Nokia. They were dominant in the phone industry. When Android had come to the scene, their decay started. The reluctance to embrace the change has nearly brought them to the grave. Even Microsoft couldn't cope up with the Android craze.
Back in 2016, HMD Global has acquired the brand name; Nokia. Then, they launched an Android device called Nokia 6. Even if it doesn't get launched globally, Chines received the phone with both hands. (Not to mention, the price and specs don't do justice as compared to the competitor models).
Now they are playing with our nostalgia. Nokia 3310, the most indestructible phone launched 17 years back has got another life. This time with a few revamped features!
The new Nokia 3310 is literally a feature phone. The company opted for a 2.4-inch QVGA display. Of course, that change is needed this time.
Also Read:- Nokia 6 Android Smartphone with 4GB RAM, 5.5 Inch Display Announced
The handset is available in four different color variants; yellow, glossy red, dark blue and matte green. Don't you think the phone looks elegant?
You will have 22 hours of talk time (10 times more than what original one had). Moreover, the standby time, as claimed by the company is one whole month. It seems like the beast didn't lose its power!
You get the iconic snake game on the phone. In order to entice you up, the company has come up with an SD card slot (supports up to 32 GB), 2 MP camera and 2G web browsing. You will have Opera Mini bundled inside the phone.
Whenever you get bored, you can entertain yourself by listening to the music from this nostalgic device. Yeah, it has a 3.5-inch audio jack.
The phone looks so elegant that there will have tons of people who can't wait to get their hands on it. They didn't go for a premium pricing. You can buy it only for $51.
So, will you buy Nokia 3310 once it hits the market? Of course, I will!