Newton Mail is shutting down on September 25, 2018 since the founder Rohit Nadhani couldn't figure out the profitability and growth against the competitors' apps like Apple, Samsung, and Microsoft. But don't worry as there are many Newton Mail alternatives present on the market and we have gathered few best alternatives for Newton Mail in this article.
Emails are a basic form of formal communication when it comes to communicating on the internet. Many organizations and companies use email as a form of communication to and from their employees. As the time goes on, emails became more modern and full of features. Newton Mail which was previously known as CloudMagic was one of the best email application which offered a whole lot of features like the read receipts, scheduling emails, and more. It was very helpful to many people but unfortunately, now it's time to say Good Bye and look for Newton Mail alternatives.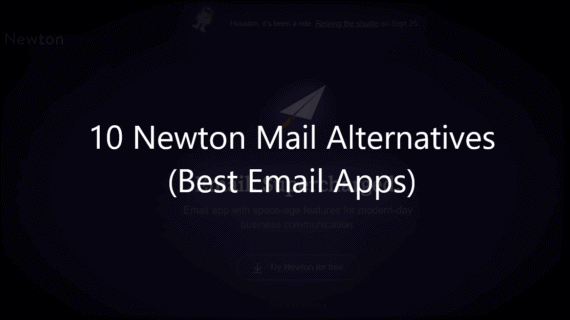 CloudMagic Newton Mail Alternatives
1. Gmail
One of the most used mail app, Gmail from Google, is one of the Newton Mail alternatives which is free to download on Android and iOS. As you might expect, Google brings out the color and very intuitive material design with Gmail with rounded buttons and animations that are lovely to watch. Feature-wise, it has all that you would need from a basic mail app like different folders, reminders, and auto-reply which is a new introduction from Google which understands the body of the message and gives you suggestions of short messages to send if you cannot type for some reason. Using third party tools, you can also send encrypted emails using Gmail.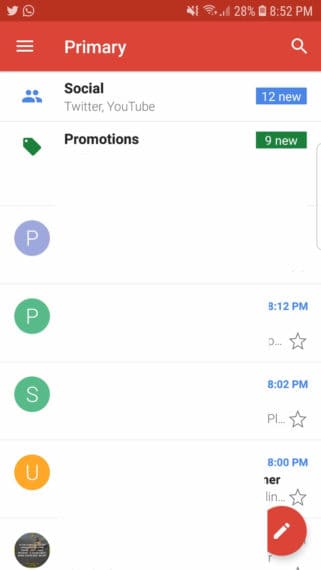 Availability: Gmail is available to download for Android and iOS
Features: Intuitive Material Design, Easy-to-use UI
Price: Free
2. Microsoft Outlook
If you want an app that can do multi-tasking like having a calendar, planner, reminder as well as mail, then Microsoft Outlook is the app for you. As mentioned in the 10 Best Calendar apps article, this app can do wonders for people who love to multi-task as it has features like the ability to add multiple accounts, syncing to contacts and more. Its simple design is also one factor that it grabbed the 2nd spot and is one of the free alternatives for Newton Mail.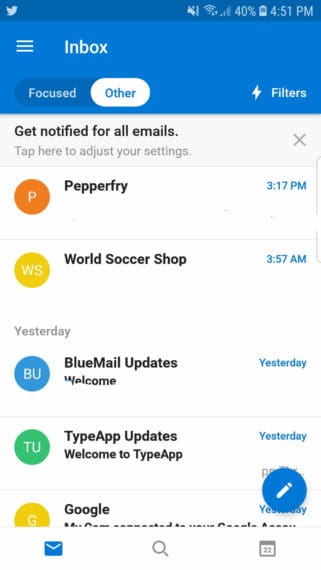 Availability: Microsoft Outlook is available for Android and iOS
Features: Simple Design, Ability to do Multiple Tasks
Price: Free
Download Microsoft Outlook for Android
Download Microsoft Outlook for iOS
3. TypeApp
TypeApp is one of the modern apps in the list. This app is made for those people who have multiple accounts on different mail websites but want their all notifications in one app. It makes it easier to manage multiple accounts at the same time. Also, the notifications can be adjusted to quiet hours, customisable sounds, and the ability to enable a dark theme for those night owls. If you need new email addresses regularly, then you should consider creating free temporary emails.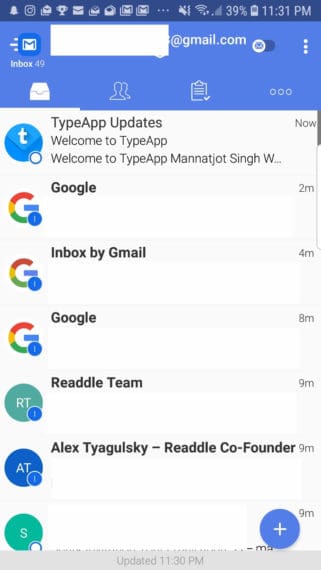 Availability: TypeApp is available for Android and iOS
Features: All accounts at one place, ability to customize sounds at quiet hours
Price: Free
4. Boxer
Boxer is a simplified email app for iPhone and Android with lots of features, starting off with the quick responses which are similar to Google's but is more diverse. Then comes the ability to have all the accounts in one, just like the TypeApp. Also, it has a feature of liking the message which sends an automated message of appreciation to the sender and the integration of cloud services like DropBox.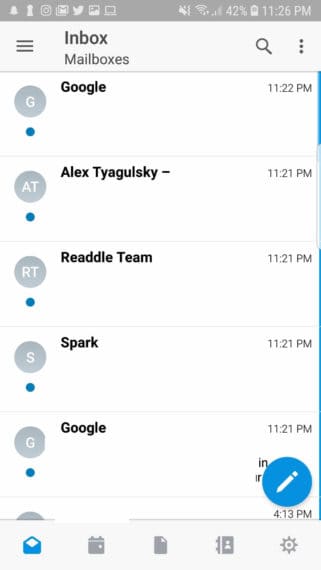 Availability: Boxer is available for Android and iOS
Features: Integration of Cloud Services, 'Liking' the Message
Price: Free
5. Aqua Mail
Aqua Mail app for Android is one of the fun ones in the list of Newton Mail alternatives. Its interface is very flexible and modern looking and it also packs many features such as an option to enable the dark theme or set your theme according to your needs, built-in text editor, and formatting tool. Also, it comes with having only one account for all other accounts.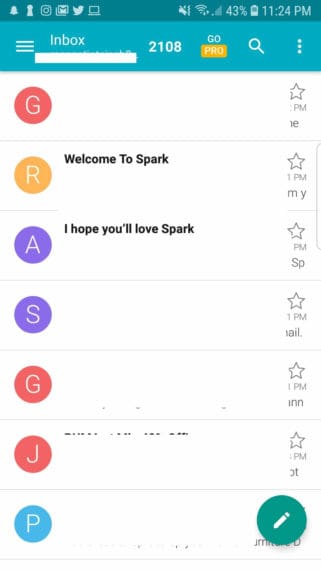 Availability: Aqua Mail is available for Android
Features: All in one account, Flexible UI
Price: Free, with a Pro Version costing Rs. 690
Download Aqua Mail for Android
6. Yahoo! Mail
Yahoo Mail has been around for a long time but due to its improvement in material design and usability, it has made it to this list of alternatives for Newton Mail. The main theme is in the Yahoo's Signature Purple color with the options of customising it. It has the options to open tabs of emails so that you can keep track of previous emails. Another feature that is only available in Yahoo! Mail is the Stationary add-on which customizes the borders, text type, size, etc. in the message.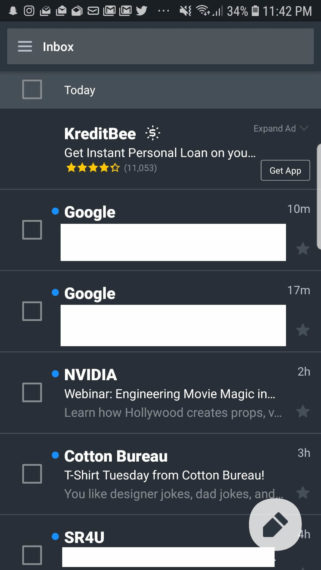 Availability: Yahoo! Mail is available for Android and iOS
Features: Theme Customization, Yahoo's Stationary
Price: Free
Download Yahoo! Mail for Android
7. Inbox By Gmail
Inbox is another app from Google in this list which is a good CloudMagic Newton Mail alternative offering various features like it intelligently categorizes the emails with similar messages, real-time updates of messages like if you have a concert ticket mail but the time gets changed, so it will update it in real-time. Other features like snoozing of emails, highlighting important information in the mail are also present.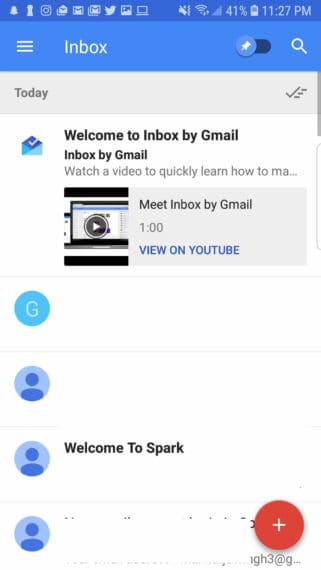 Availability: Inbox is available for Android and iOS
Features: Real-time Updates, Intelligent Categorizing
Price: Free
8. MyMail
MyMail app is a simple, streamlined alternative for Newton Mail with good features like swiping actions that can either mark your message as read, put it in a folder or mark it for later. It also comes with 150 GB of storage for emails which is a unique feature. All the other shenanigans like accessing multiple accounts, switching through them are also available.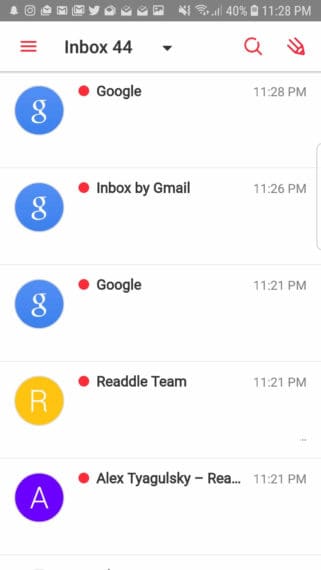 Availability: MyMail is available for Android and iOS
Features: Swiping Actions, 150 GB of email storage
Price: Free
9. Spark
Spark is a Newton Mail alternative for iOS devices and it's a great app. Starting with the features, it has an ability to have all mail accounts in one, just like other apps in this list. It also categorizes emails automatically so that you don't have to look through hundreds of email just to get to one. It material design is simplistic with light-toned colors. Quick replies are also available with the option to customize them and integration with cloud storage providers like Google Drive, DropBox and more is a plus point.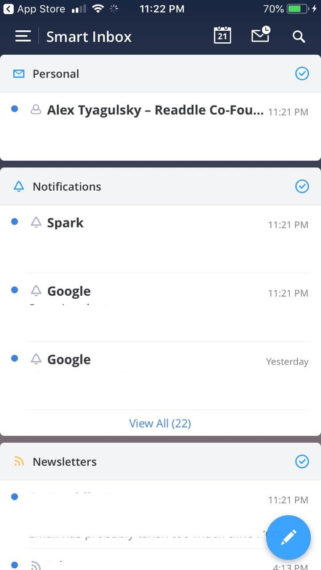 Availability: Spark is available for iOS
Features: Simplistic Material Design, Integration of Drive Services
Price: Free
10. Blue Mail
Blue Mail is another email app for Android and iOS with good features. It has a pretty beautiful and calm interface with an integrated calendar app. There is also an option of Smart email which lets you focus on the person you are talking to. Dark Mode is also available to save your eyes in the dark and all-in-one account which lets you unify all the mail services in one.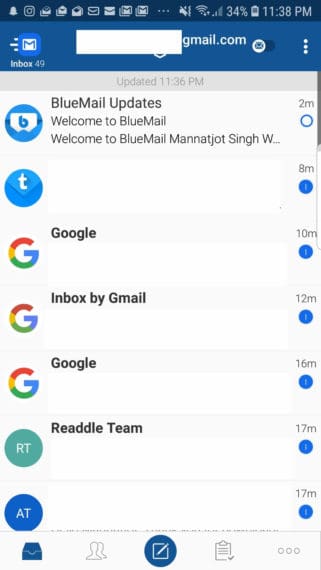 Availability: Blue Mail is available for Android and iOS
Features: Smart Mail, Calm Interface
Price: Free
Download Blue Mail for Android
Conclusion to Newton Mail Alternatives
Everybody's going to miss the Newton Mail once its shutdown, but as they say, the show must go on, these Newton Mail alternatives will help you out to move on from the Newton Mail and who knows you might start loving them as well.
All in all, this list of CloudMagic Newton Mail alternatives will help you choose the best mail clients that you may find helpful if you were a user of Newton Mail. If you know any other mail app that could've made it to the list, feel free to share your ideas and thoughts in the comments below.