Bitcoin trading can be an exciting way to involve yourself in the world of cryptocurrency, but many people do not know where to start.
You should take the time to do some research before starting to trade Bitcoin. Then, you will need to get a wallet to store your cryptocurrency and choose which Bitcoin exchange to conduct the trading on. From there, you can work to develop advantageous trading strategies that increase your chances of getting a profit.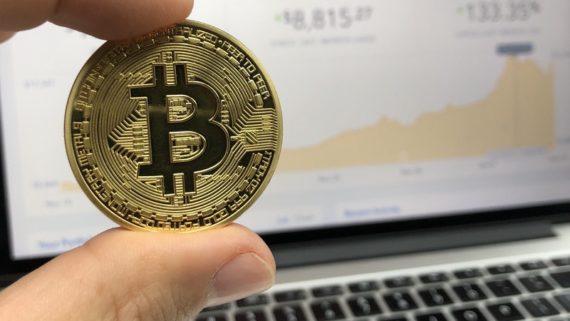 1. Understand Bitcoin, Including the Risks and Rewards
Before you start trading Bitcoin, make sure that you have a good handle on the potential risks and rewards associated with it. Compared to traditional investment options, cryptocurrencies are extremely volatile. While this means that the potential for profit is great, the same is true of the potential for loss. This volatility is both the biggest risk and the largest reward associated with trading Bitcoin.
Additionally, you must realize that nobody regulates Bitcoin and there is no insurance on it. This means that once you convert your fiat currency into Bitcoin, you cannot store it in any bank and rest assured knowing it has insurance against bank failure.
At the same time, millions of people feel that investing in and trading Bitcoin is a smart decision, as they see this cryptocurrency as the way of the future. These people point to the lack of regulation as a bonus since it will allow Bitcoin to continue growing across borders, increasing its value and the reward for investors. You must do your research to confirm that you are willing to take the risk to earn the rewards associated with Bitcoin trading.
2. Get a Bitcoin Wallet
Once you have chosen to go ahead and trade Bitcoin, you will need to make sure you have somewhere to store it. Remember that unlike fiat currencies and other traditional assets, you cannot store Bitcoin in a regular bank account. Instead, you store Bitcoin in a digital wallet. This digital wallet contains the private keys that you use to access your cryptocurrency. You will have a public Bitcoin address, as well, and need the combination of this and the private key to complete transactions.
There are multiple types of Bitcoin wallets to choose from:
If you plan to trade the cryptocurrency, you will want it to be reasonably accessible, so you will likely not want to use a paper wallet.
Mobile wallets are good for daily access but are at a high risk of cyber attacks from hackers.
Web wallets are highly convenient but the organization responsible will have your private key.
Desktop wallets are more secure than either of these, but still relatively accessible for regular trading.

The most secure storage method is a hardware wallet like Ledger Nano S but it is less accessible.

Some Bitcoin traders make the mistake of thinking a Bitcoin wallet is not necessary because a cryptocurrency exchange can store your crypto. The thing to keep in mind is that exchanges present an attractive target for hackers, so it is safest to only keep there the amount of Bitcoin that you plan to use for trading. Store the rest of it securely in a separate wallet.
3. Choose an Exchange to Trade On
With your wallet set up, it is time to figure out which cryptocurrency exchange to use for trading Bitcoin. Consider the following:
You want to opt for an exchange that has a strong reputation and reasonably long history, as this shows you that the exchange in question has good security measures in place and takes appropriate steps to protect your Bitcoin.
You should also pay attention to what methods you have for funding your account, particularly, if you are a beginner who does not have any Bitcoin yet. Some exchanges only allow funding in cryptocurrencies, while others let you deposit via credit or debit cards or services like PayPal. If you plan to increase how much Bitcoin you trade, make sure you can add fiat funds then buy crypto.
Do not forget to pay attention to transaction fees, as well, since you do not want to lose all your potential profits from commissions.

Finally, round out your search by looking at the other cryptocurrencies available on the exchange, customer support accessibility and ratings, ease of use, rewards for new users, and anything else you feel is relevant.
4. Popular and Recommended Exchanges
One of the best choices for trading Bitcoin is CEX.IO, which began back in 2013 and continues to maintain a strong reputation. CEX.IO is a nice choice thanks to the ability to buy and sell a range of cryptocurrency pairs, the 24/7 support, and the multiple trading platforms, including both web and mobile versions. Those new to Bitcoin trading particularly appreciate the various payment methods available at CEX.IO, including Visa, Mastercard, and bank transfers. This makes it incredibly easy to start trading cryptocurrency on CEX.IO or simply buy Bitcoin for further holding even if you currently have none.
Other popular crypto exchange platforms are Bittrex, Binance, and Coinbase.
5. Learn How to Reduce Your Risk While Trading
If your risk appetite is low, you should stick to top value stocks as suggested by tradingsim.com instead of diving deep into cryptocurrencies. Now, you are ready to start trading Bitcoin. Take the time to do some research before you trade too much of this cryptocurrency, so you can develop a strategy that works for you and minimizes risk. There is a great deal of advice available online that can help you reduce the risk mentioned when trading Bitcoin.
A very smart rule of thumb is to never commit more than 1 percent of your capital for each trade. This is the rule that those who trade other high-risk assets also follow, and it works well to minimize losses since you never know how long a losing streak will last. You should also take the time to set up some limits for yourself before each trade, including a stop-loss point and a profit withdrawal level. Make yourself stick to those limits, and you will be less likely to experience a significant loss.
With the right strategy in place and by using a trusted exchange, you can enjoy trading Bitcoin and have an improved chance of making a profit.