You know the online streaming game has already on the rise in India. We have Netflix, Prime Videos, and Hotstar as the main competitors. While the last one offers free content along with premium, the first two ones only give access to their content for the paid subscribers.
The pricing strategy is entirely different for three of them. When you compare the cost of Netflix with others, you will know it's the most expensive. However, the recent reports suggest the US-based online streaming company is ready to decrease their pricing in India.
Netflix is Going to Experiment with Lower Pricing in India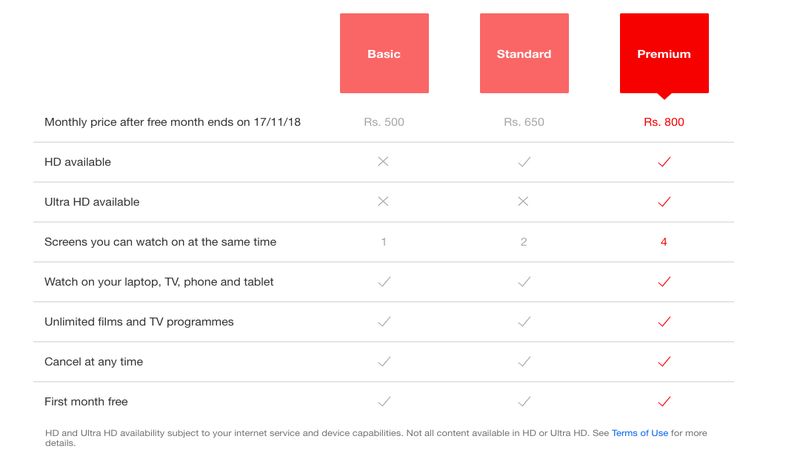 You know Netflix is one of the pioneers in online streaming. Though it took some time to come to India, the service has always been on the top in the category. The main reason most of the people don't choose Netflix over other service providers is the high price.
The company's chief product officer, Greg Peters said during Tuesday's earnings call that they are ready to experiment with a new plan priced below the current basic plan. He was answering a question on how they will increase the subscriber base in the country. The service will expand its reach to Hindi and other Dravidian languages as well.
Also Read:- You can Now Stream Video Attachments on Gmail Without Downloading
Netflix's long-term goal is to reach 100 million subscribers in India. For that, they are ready to introduce a lower pricing tier than the existing basic plan. At present, Netflix is the most expensive streaming service in India. Their pricing starts from Rs. 500 per month for a single screen playback and the HD service begins at Rs. 650 per month. It's the same as that of what you get in the US
However, Amazon has taken a different path in pricing. For the Prime service, you will have to pay Rs. 129 per month or Rs. 999 per annum. In the US, the yearly Prime service costs you $119. Amazon has realized that Indians don't digest such expensive pricing for an online service.
They will not only target India but other markets too. In India, there are 300 million smartphone users. They want to get 100 million of them to use the service. As an attempt to do so, they will look at expanding the local language options. They already have a few as Netflix original Hindi series like Sacred Games, Ghoul, and Love Per Square Foot.
Ted Sarandos, Netflix's chief content officer said what they had was a product that people understood more, talked to their friends more about that was written in the press and certainly talked about more by influencers, and then delivered with content that isn't otherwise available in the market series being produced at the quality (about Sacred Games).