Netflix Games is the new addition to its Android application from the streaming platform; known for its popular original movies and series. This new experimental feature from the streaming platform was in development for a long time on its platform.
Besides, the new update of the streaming platform will give users access to 5 different games with a couple of them related to its original series.
5 New Netflix Games for Android Users
The announced games from the streaming platform as of now are only available for the Android devices; that have installed the Netflix application. Moreover, iOS users can soon experience the newly announced games.
The 5 new games on the platform include Stranger Things: 1984 (BonusXP), Stranger Things 3: The Game (BonusXP), Shooting Hoops (Frosty Pop), Card Blast (Amuzo & Rogue Games), and Teeter Up (Frosty Pop).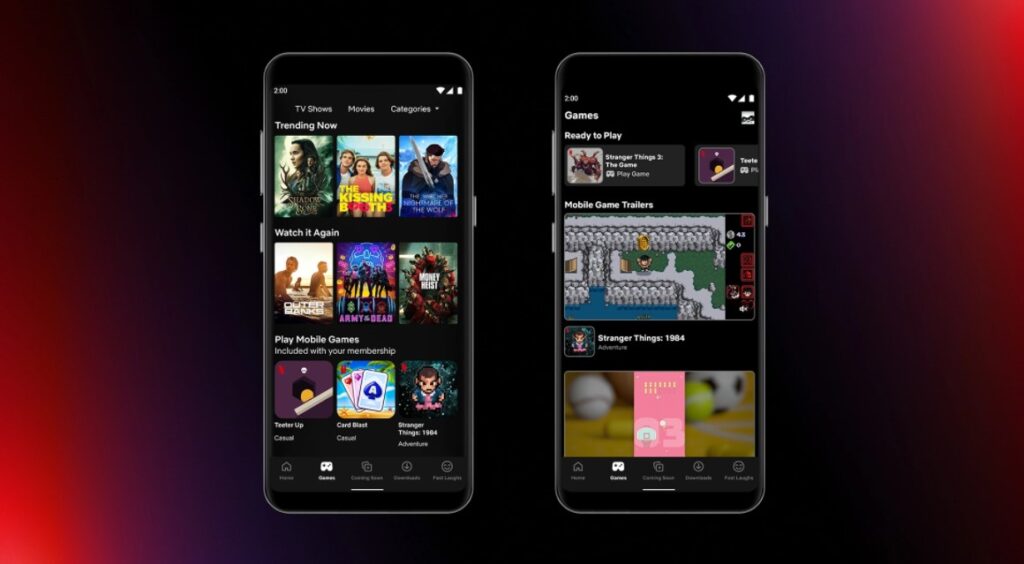 Users can select them from the dedicated games tab provided specifically for the Android application. Furthermore, Netflix has designed a drop-down categories page for the game section on Android Tablets.
Additionally, the users in India have the option to change the language to regional ones like; Bengali, Hindi, Punjabi, Marathi, and Tamil, etc. The default language of the games is English, if not changed to a specific language by the user.
In a blog post; Mike Verdu, VP, Game Development at Netflix says,
Just like our series, films, and specials, we want to design games for any level of play and every kind of player, whether you're a beginner or a lifelong gamer.
This time Netflix is trying to approach the user in a different way for generating revenue. Since the streaming platform doesn't run any advertisements on the inside; the platform may make this the source for generating more revenue.