MSI HX Gaming Laptops have arrived in the Indian market equipped with 12th Gen Intel HX series processors and NVIDIA GeForce RTX Graphics. The new laptops launched in India from MSI come with a premium build and design, costing a hefty amount.
Some highlight factors from the latest HX series laptops are the OLED display, high-performance chipsets, GPU, and many customizable options. Let's check out the pricing, specifications, and availability of the MSI HX Gaming Laptops Series in India:
MSI HX Gaming Laptop Series Specifications
The new MSI HX lineup of gaming laptop feature three laptops: the Titan GT77, the Raider GE77 HX, and the Raider GE67 HX. However, the Raider GE77 HX laptop among the lineup comes as a more high-performance machine.
Includes a UHD+ resolution OLED display supporting 240Hz high refresh. The company has added a 0.2 ms response time for the display and a decent contrast ratio for a better viewing experience.
All the laptops from the lineup arrive with an RGB Light bar. A mechanical keyboard with Cherry MX Ultra Low Switches. Under the hood, the laptops feature the 16-core Intel HX series that delivers up to 150W Maximum Turbo Power.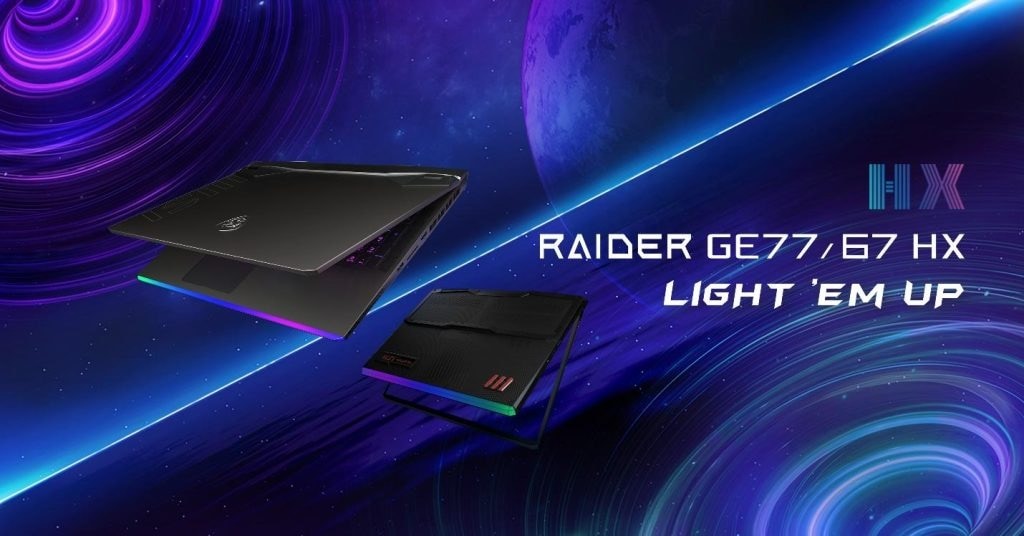 However, with the help of Overboost technology, users can churn out more power. It ranges up to 250W on both CPU and GPU. The storage provided on these laptops is up to 128 GB of RAM and up to 32TB of internal storage.
The display sizes of the laptops vary from 15.6-inch or 17.6-inch. The resolutions mentioned above include the UHD+ and QHD+ screens.
Furthermore, MSI equips the laptops with HD or full HD webcams differing from model to model for attending video conferences. The physical aspects of these powerful machines have a bulky weight and range from 2.5 kg and can go up to 3.1 kg.
Price and Availability
The MSI HX laptops with 8GB RAM and Intel Core i7 chipset cost Rs. 2,79,000. On the contrary, in India, the laptops featuring the higher-end i9 chipsets and higher RAM get a price tag of Rs. 5,26,990.
These laptops from the brand will be available for sale in offline retail stores and official MSI stores in India.