When one decides to buy a smart budget TV in 2020, there are a few brands that come to mind. Starting from the budget dominator Xiaomi with its Mi TV lineup or Smart TVs from Realme. But there is a new brand in the Indian market which has recently launched its smart TV and it looks promising on paper.
Here I am talking about the Lenovo-owned brand 'Motorola'. The Moto is well known for its smartphone, especially for the iconic Razer smartphone. The company has recently launched multiple electrical devices recently in India. Be it a washing machine, a smart TV, AC, and Refrigerator.
Today we'll be reviewing the latest Moto ZX2 80cm (32 inches) HD Ready LED Smart Android TV with Dolby Atmos and Dolby Vision.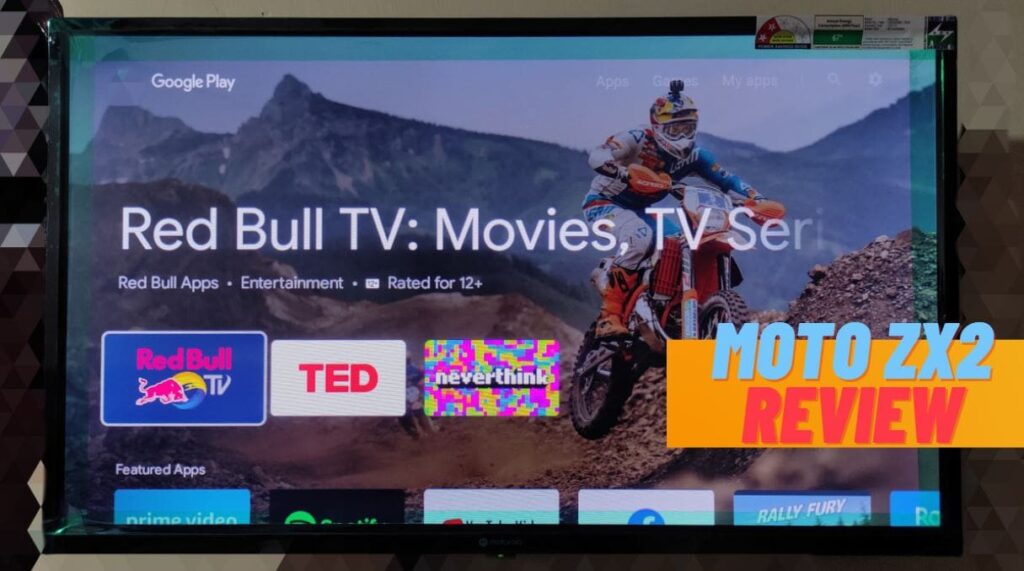 The TV launched at a price of Rs 13,999. However, now it is listed with a price tag of Rs 15,499 on Flipkart. Do note, this is not a review unit and we have purchased it from Flipkart at Rs 12,500 with a bank offer included.
Motorola ZX2 Specifications
Starting things from its specification the Moto ZX2 80cm (32-inch), comes with an LED display with a resolution of (1366 x 768) with an aspect ratio of 16:9 and a refresh rate of 60 Hz. It is powered by the 1.5GHz Quad-Core, MediaTek CA53 processor with G52 Graphics engine coupled with 2GB of RAM and 16 GB of internal storage. For sound, it has a 40 W speaker with Dolby Atmos, DTS Studio Sound, and Dolby Audio.
The Display
Talking about the picture quality the Moto ZX2 produces some great colors which are pleasant to the eyes, with good viewing angles. Its colors are vibrant and punchy as well. To enhance your viewing experience, like every smart TV, it has various modes such as standard, Vivid, Movie, and Sports.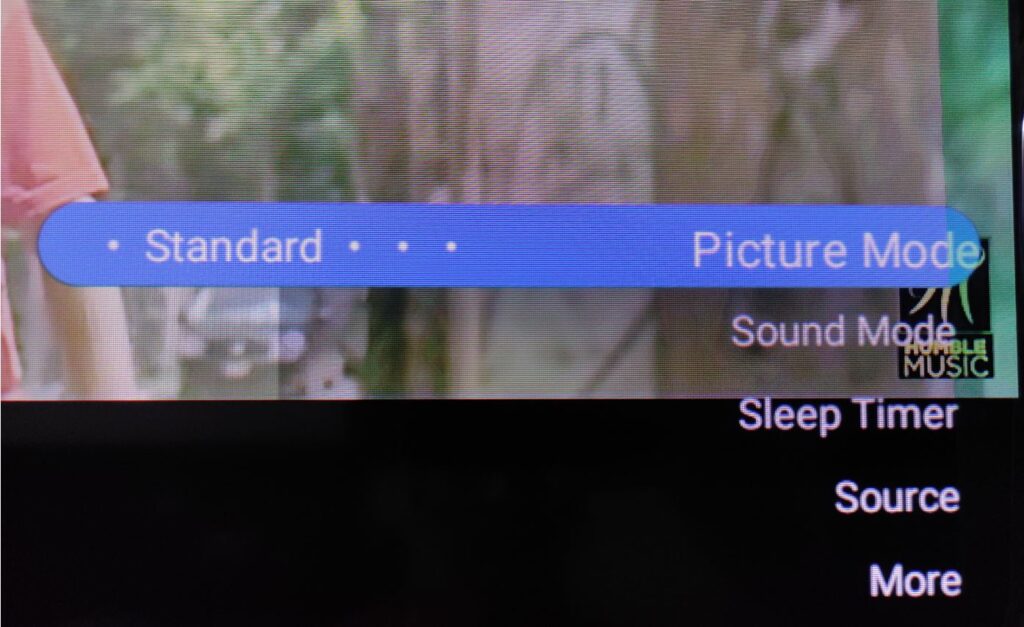 Moreover, the Television is powered by AutoTuneX+ Technology, which adjusts picture settings automatically for an immersive viewing experience based on the content being shown. Dolby Vision enables dynamic metadata from scene to scene i.e, picture changes, contrast, brightness, and hue levels from scene to scene rather than one constant brightness, contrast level throughout.
Well, with some good picture quality there is something which you can't ignore, 'It's Pixels'. If you look closely at the display you can watch every single pixel (or led) in it, which looks weird. Moreover, when you open something white on Tv you can even see its RBG with naked eyes, but for that, you'll need to come too close to the Tv. As you can see in the image attached below,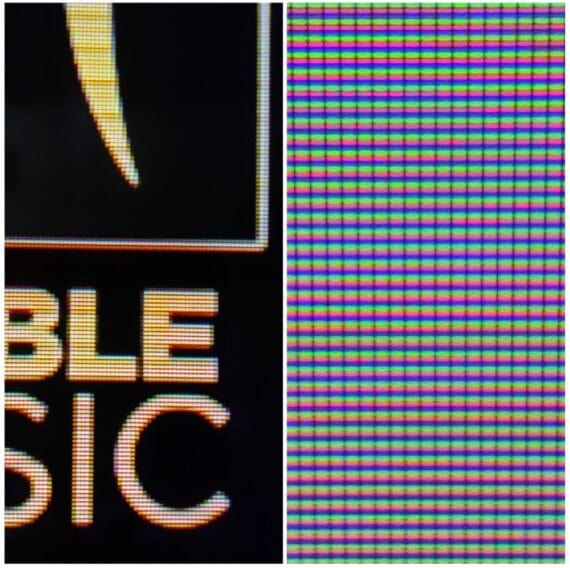 One can see every single pixel of the Moto ZX2 with RBG with naked eyes. However, it'll not affect your watching experience.
Clean Android Experience
Moving to the UI and performance, the television gives you a clean Android experience and runs on Android 10. It is one of the first smart TV in the country to run on Android 10. Being an Android TV it has Google Play Store pre-installed, from which you can download all your favorite Android Apps on TV. It supports OTT Apps such as Prime Video, Disney+ Hotstar, Eros Now, Sony Live, Hungama, Zee5, and more.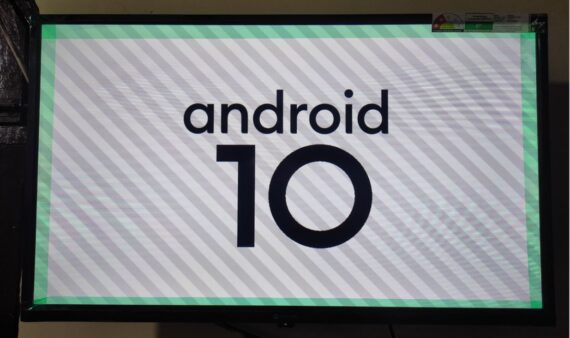 The OS comes with a lot of new features, such as Enhanced Speed and Accuracy, Improved Memory Optimization, Dark Theme, and Fast Boot, etc.
The Remote and Other Features
The remote has a num-pad with playback controls and some dedicated apps buttons such as Netflix, YouTube, Google Play Store, and Zee 5. To make your life easier it has a dedicated button for Google Assistant and a microphone on top of it. Moreover, it also has other buttons such as Text, Guide, Home, Back, and Exit.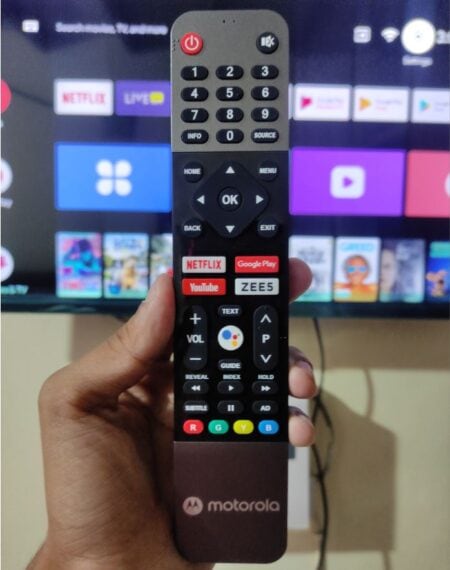 However the remote is too big and looks bulky. I prefer small remotes with a minimal design like the OnePlus TV remote.
The Massive 40W Speakers
Moving towards the key feature of the TV, which is sound, the Moto ZX2 has a 40 W speaker, yes 40 W speaker in the budget. It has the 360 Degree Surround Sound Feel with Dolby Atmos, 20W High Bass Speakers, 20 W High Octave Tweeters with 4 Unit Setup, and an Amfisound Pro Soundbar.
As mentioned above it comes with Dolby Atmos supports which you can manually turn On and Off, to enhance audio quality. The TV produces great quality sound and it justified its 40W speakers. The TV produces clear audio even at high volume. It has different sound modes such as Standard, Music, Sport, and Movie.
I would recommend you to not boost your audio above 80 because it's too loud, which is great for a small party.
The TV comes with various ports on the back. It has one LAN, 1 Digital out, 1 HDMI, 2 USB, and 1 Antenna port on the left side.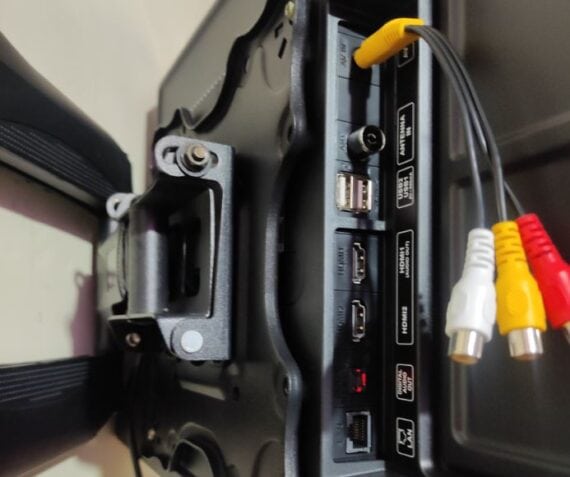 For connectivity, it has Two Way Bluetooth 5.0, and HDMI 2.1a compliant ports. Also, available is an In-built Chromecast and powerful Google Assistant with voice commands, you can also operate your other smart devices via the Google Home App.
Our Verdict
If you are looking for a smart TV in budget with some good picture quality and massive 40W speakers and if you are not someone who watches the TV too closely. With clean latest Android performance, Dolby Vision, and Dolby Atmos features, The Moto ZX2 (32-inch) is perfect for you.