As with every major software or operating system, Microsoft also has a herd of beta testers named Windows Insiders. Before making any official change to the platform, they release the same to the insiders to get the feedback.
However, this time around the release surfaced online unannounced. They have released a new build to the Windows Insiders 32 bit accidentally with a huge design revamp to the start menu. And, the build also included a GIF search tool.
Microsoft Accidentally Launched Windows 10 Insider Build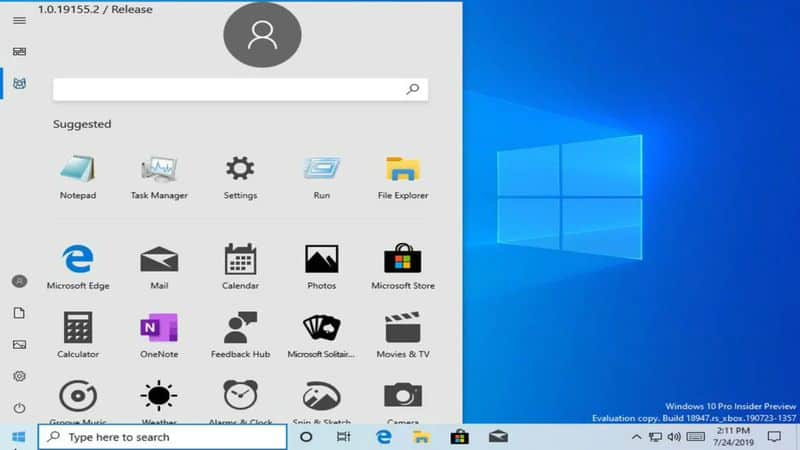 However many times the companies get their hands dirty with the accidental release of builds, we haven't heard the same about Microsoft. It looks like they also fell into the trap this time. On Wednesday, they released an internal-only Windows 10 version to the beta testers.
As you read earlier, the new build brought with it a new start menu along with a GIF search tool. The build, with the name Windows 10 Build 18947 hit Windows Insiders using 32-bit machines in the Slow and Release Preview rings.
The company says in a forum post that they actively test and validate each of their preview builds internally before sharing them externally, however, a configuration change allowed this build to release to multiple rings simultaneously, including external rings.
They also adds they have made necessary remediation in their Fighting service and have implemented additional changes to help prevent from this happening in the future.
First spotted and publicized by a Twitter user NTAuthority, the start menu design lacks the renowned Windows live tiles. So, we think the build is still in a nascent stage that it wasn't supposed to go out anytime soon.
Within the emoji picker section, the build included a GIF search tool. In the tablet mode, the start menu was center-aligned with a transparent background.
Once the build surfaced online, they have pulled out the build. Those who updated to the latest build will find themselves in trouble if they won't rollback. You can verify the installation of the build through WINVER application.
In case your system hasn't installed the build yet, you can pause the updates for seven days to prevent doing that. In order to rollback, you have to go to Settings>> Update& Security and select Recovery option. Once you are there, you need to follow Go back to the previous versions of Windows 10>> Get Started.