Microsoft unveils its new products at the Build 2023 event showcasing its new AI chatbot for PowerBI and an organizing service for data analytics. The tech giant has revealed its AI Copilot project specifically made for the PowerBI and Power Pages. Next is Microsoft Fabric, the latest product for an end-to-end solution to data and its organization across the analytics environment.
Apart from bringing major updates in the AI world with the inclusion of ChatGPT on their Bing search, Microsoft has started implementing the capabilities of Artificial Intelligence in its data analytics program making new standards. These new hosts of AI features will make a good addition to the Azure suite of data management and analytics tools.
Microsoft's AI Revolution with Fabric and Copilot in Data Analytics
Microsoft Fabric is currently available for preview and it's a human-centered analytics unified business product. It combines all data and analytics in one place for a more collaborative field. The Fabric will showcase the best of Power BI, Azure Synapse, and Azure Data Factory into one harmonious software as a service (SaaS) platform. It's a product that can seamlessly spread across many departments of data analytics.

The Fabric helps Data Engineers, Scientists, Analysts, and warehousing professionals collaborate on a single platform. It leads to maintaining a data culture of a well-functioning environment across the organization.
The fabric has six major features such as Data Factory, Synapse Data Engineering, Data Warehouse, Data Science, Real-Time Analytics, Data Activator, and OneLake. You check about them in detail on Microsoft's official announcement notes.
Microsoft Copilot for Power BI and Power Pages
The introduction of Copilot on Power Pages and Power BI will push the integration of AI bringing a lot of new changes to the products. On the Power Pages, the Copilot has the capability to generate natural language descriptions and data-centric forms with the use of simple inputs. The AI Copilot can even generate web page layouts, edit themes and create images on Power pages.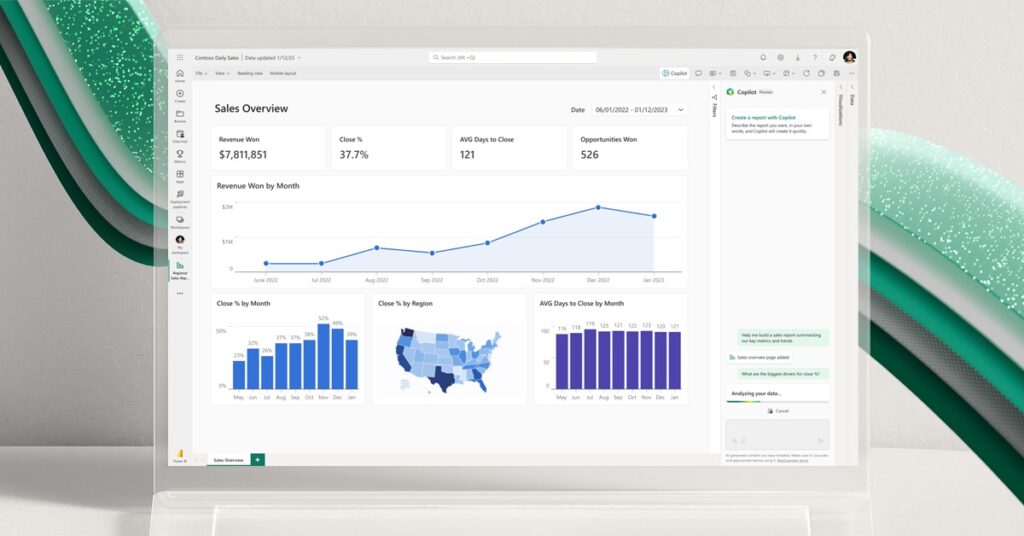 In PowerBI, the large language model (LLM) will help the users in taking advantage of the data. Analyze the data in depth more efficiently. Users have the vicinity to input the insights that they have gone through and the Copilot generates the results accordingly. Moreover, the Copilot on PowerBI has the ability to edit and generate DAX calculations along with building narrative summaries.
The Copilot can do much more by asking data questions and giving detailed results with the inputs that users have provided the chatbot. Microsoft has even showcased the Power Virtual Agents which help in making meaningful and friendly conversations with customers.
Furthermore, these agents will connect seamlessly to APIs and data sources, and using generative AI, users can create bots. These bots have the ability to intelligently deal with questions thrown by customers by accessing information directly. This means the bots can provide answers in a more natural and human-like way.