If you are a Windows computer user, you are familiar with the Notepad application. It is a simple text editor Microsoft has introduced into the platform in the 80's. They haven't given the application the adequate amount of update treatment ever since.
In a recent blog post, Windows Insider program employees Dona Sarkar and Brandon LeBlanc shared a list of new features that will make their way to the latest Windows 10 Insider Preview Build. Among changes to Windows Ink, more options for signing in, improvements for Microsoft Edge, the Edge PDF reader, and Windows defender, updates for Notepad stood out.
Microsoft Notepad is Finally Getting an Update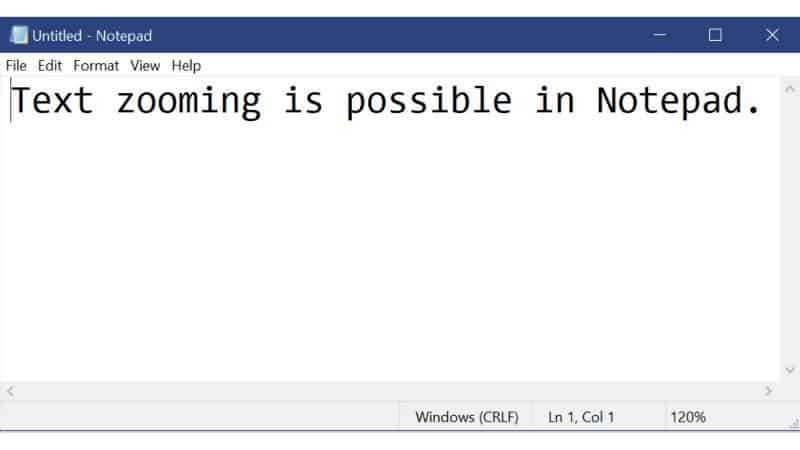 You know Windows isn't lazy when it comes to the software updates. They release periodical updates without fail. However, they have kept a few inbuilt applications un-updated for years. For example, Paint stayed the same for a long time (even it does). Last year, they have introduced an update to the application as a new one named Paint 3D.
Microsoft's terminal program Command Prompt also remained unchanged for quite some time. But they managed to bring some new changes recently to the platform.
The most significant feature is the ability to zoom. You can hold down the Ctrl + Plus or Ctrl + Minus to zoom in or zoom out. Moreover, it is possible for you to do the same by following Ctrl+ Scroll Wheel as well.
An alternate method is to select View >> Zoom. Ctrl+ 0 restores the default zoom level.
By the time this update hits the platform, you can wrap-around Find and Replace. If you highlight a text and then open Find dialogue box, you can see the word automatically in the text field. And, Notepad remembers previously entered values and populate those on its own the next time.
Notepad app now shows line and column numbers in the status bar when word-wrap is enabled. Though the status bar is active by default, you can turn it off.
Simultaneously pressing Ctrl+ Backspace results in the deletion of the previous word. Windows reportedly improved the performance for opening large files.
Another feature that Microsoft will roll out to the Notepad is the support for arrow keys to unselect text first and then move the cursor.
Microsoft has announced the Notepad support for macOS, Linux, and Unix line endings back in May.
For now, the new features are available for Windows insiders in the form of Insider Preview Build 17713 (codenamed Redstone 5). We hope the regular users will get the update later this year.